What is LINC?
The  Leadership for INClusion in the Early Years programme, LINC, is a Level 6 Special Purpose Award (Higher Education), that is designed to support the inclusion of children with additional needs in the early years. The course is offered for free to early years teachers and is fully funded by the Department of Children and Youth Affairs. Once qualified, graduates will perform the role of Inclusion Coordinator within their early years setting.
The programme is mostly delivered online i.e. participants watch lessons and interact with the tutors who teach the programme using forums and our online learning platform called Moodle. There are seven classroom sessions throughout the year.
Why are applications being re-opened?
There are a limited number of spaces still available for the LINC Programme starting in September 2019. It was decided to re-open applications for a period of one week (Thursday, May 30 to Thursday, June 6 at 4pm) in order to allow any interested settings to apply for a place in the final year of the programme. Settings with a current LINC student/graduate (or applicant for 2019/20) can now apply for a second place on the programme.
Who can apply?
Any early years' setting with a pre-school room that is contracted for any DCYA Early Years Programme (ECCE/CCS/TEC) can nominate someone for LINC. The setting manager can nominate themselves or any member of the setting's staff.
To be eligible for the programme, candidates, at a minimum, must hold a level 5 major award in childcare.
In order to fill the limited remaining spaces, settings that already have a LINC student or graduate working in their setting are now invited to nominate a second candidate.

Random selection of eligible applicants will apply. Priority will be given to eligible applications according to the following criteria:

Settings that do not currently employ a LINC student/graduate.
Settings that already employ a LINC student/graduate and have over 22 ECCE-aged children attending*.
All other settings.
*Children registered with Pobal as on 6 June 2019.
If there are two LINC Graduates working in my setting what happens?
Only one LINC Graduate can be appointed as the official INclusion COordinator for that setting. Settings with two LINC Graduates will only receive the INCO capitation payment in relation to one graduate only. For the purpose of AIM rules and compliance checks there should only be one primary INCO to whom the INCO capitation will relate, however, settings can allocate tasks and both graduates can work as a team. If the primary INCO leaves the setting, the second graduate can be immediately appointed as the INCO, by completing the Notificaiton of Changes form, ensuring there would not be any gap in additional capitation due.
What locations will the 7 classroom sessions take place for the upcoming year?
The 7 classroom sessions will take place in the following locations, please note that 2 locations (from the original 9 locations) are full and are no longer available for this round of applications, they are marked in red.
---
North Cork: Mallow GAA Sports Complex, Carrigoon, Mallow, Co. Cork. P51 XV58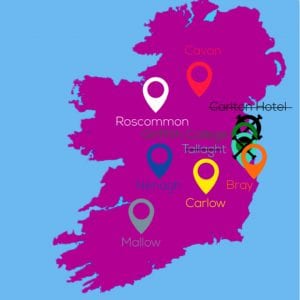 Roscommon: Tully's Hotel, The Square, Castlerea, Co. Roscommon. F45 K127
Cavan: Cavan Crystal Hotel, Dublin Road, Cavan. H12 P6E5
Carlow: Woodford Dolmen Hotel, Kilkenny Rd, Mortarstown Upper, Carlow, R93 N207
Dublin North: Carlton Hotel, Old Airport Rd, Cloghran, Dublin, K67 P5C7 (Full)
Dublin City Centre: Griffith College, South Circular Rd, Merchants Quay, Dublin
Dublin West: Maldron Hotel, Whitestown Way, Tallaght, Dublin 24, D24 XC9W (Full)
Wicklow: Royal Hotel, Main St, Bray, Co. Wicklow, A98 F8D3
North Tipperary: Great National Abbey Court Hotel, Dublin Rd, Nenagh South, Nenagh, Co. Tipperary, E45 KA99
---
What dates will the classroom sessions take place?
Once students have accepted a place on LINC they will be split into two groups and these groups will attend classroom sessions on alternative Saturdays. The Saturday session dates are outlined below:
| | |
| --- | --- |
| Programme and IT Induction | |
| September 7 & 14, 2019 | Depending on your group you will be assigned one of these dates |
| Module 1 | |
| September 21 & 28, 2019 | Depending on your group you will be assigned one of these dates |
| Module 2 | |
| November 9 & 16, 2019 | Depending on your group you will be assigned one of these dates |
| Module 3 | |
| January 11 & 18, 2020 | Depending on your group you will be assigned one of these dates |
| Module 4 | |
| February 22 & 29, 2020 | Depending on your group you will be assigned one of these dates |
| Module 5 | |
| April 18 & 25, 2020 | Depending on your group you will be assigned one of these dates |
| Module 6 | |
| June 6 & 13, 2020 | Depending on your group you will be assigned one of these dates |
What information do I need to apply?
You will need the following information in order to complete an application on behalf of your setting:
Setting details (Pobal reference number and contact information).
Candidate details (name; contact details, including personal email address and postal address; PPS number; date of birth, UL/Mary Immaculate College ID number if they attended either UL or MIC previously; highest qualification; and the last educational institute attended).
Full details of your candidate's relevant qualification at Level 5 or above (name of educational institute; year started and completed; qualification level; award title).
A copy (scan/photo) of your candidate's certificate.
In order of preference, you must choose up to three locations where your candidate could attend classroom sessions.
You can watch a video here on how to make an application. Applications can only be make using a laptop or desktop computer no mobile phones or tablets.