In this edition of the LINC blog, current student and soon to be graduate, Emma Cleary, outlines how it took time for her colleagues to adjust to the changes that she was implementing as INclusion COordinator for her setting, and time was all that was needed.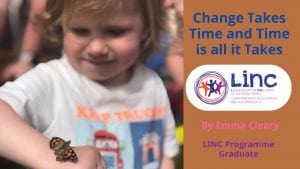 The saying 'Rome wasn't built in a day' never really held much weight with me, until I embarked upon the LINC course.  Introducing new ideas into an established system is long known as a challenge in every industry or walk of life, a fact I knew of; but naively never applied to the start of my own journey on LINC.  And what a journey it was…
There I was last September, a fresh-faced student with my boss's nomination and support from co-workers, embarking upon an exciting world of learning and inclusion, intent on taking it all in.  I thoroughly enjoyed revelling in my new learning and was super enthusiastic in sharing and implementing the many ideas from LINC in my setting, almost on a daily basis.
The October team meeting rolled around and 'BAM!'  I came face-to-face with fearful and defensive reactions from my colleagues that I was not expecting.  "This is too much, it's all changed."  "Sure, we're doing that already." And the one that stuck with me, "What's wrong with the old way?"  I was shocked, and if I'm honest a little bit hurt.  They had encouraged me to take on a year's learning and told me it was going to be great, now they were telling me my ideas were not worthwhile, they didn't want things to change.  What was going on?
That night I wondered "Why should I bother if I'm the only one that's interested?"  I felt confused and very disheartened, reflecting on those thoughts over and over.  What is the point of making changes to be more inclusive?  I concluded that it is of course; for the benefit of children, their families and the wider society.  I needed to persevere. However, the hurt from that team meeting stayed with me for a while.  I took my team's reluctance to change personally.
Those who know me would call me a 'talker' and through many conversations with team members, I gradually gained insight into what happened.  The way in which I bounded in enthusiastically every day with something new felt threatening to them.  They felt I was belittling everything they had done over the years up until now, that their way was wrong, and my new ways were right.  Poor communication also played a role, too much talking and not enough listening on my part.
Shortly after Christmas, while reflecting with my team on all the new inclusive practices we had brought in, I had the biggest light-bulb moment of my life!  My team weren't unwilling to change.  Things had changed.  It just took TIME!  Change can be daunting for some, and because I enjoy new experiences, I had totally underestimated this fact.  Listening to and recognising my colleague's fears or worries and reaching compromises in our conversations had helped diminish those fears.  Team members felt heard, valued and respected.  They no longer felt it was a case of right and wrong ways of doing things.  Empowered, they began to open-up to more challenges and embrace these new challenges in their own time.  Having this realisation changed my way of interacting with my team from then on.
Studying further into LINC, I began to learn the tools and strategies needed to collaborate with my team effectively such as; listening and responding to needs, building effective partnerships and positive communication strategies.  Lessons and reflections helped me to realise the vision of the kind of leader I wanted to be, a transformational leader who encourages, inspires and motivates others to shape the inclusive culture of the setting in the best possible way.
By June, my team and I looked back on that fateful meeting in October with delight at how different we now were; strong, cohesive and much more effective.  This aspect was one of the most invaluable lessons of my LINC journey.  To those embarking upon their own LINC journey or taking on new challenges, in moments of doubt, take heart and persevere.  Remember, it's not about you alone!  Change is inevitable however it doesn't happen overnight, or by individuals working in a vacuum.  Listen to your team, be supportive, have empathy and realistic expectations.  Be reflective as you never know when you will have your 'AHA' moment.  Most importantly, remember that change takes time, and time is all it takes.
The LINC Programme would like to sincerely thank Emma for contributing to our blog. If you would like to contribute, please email linc@mic.ul.ie with the subject line blog and we will get back to you.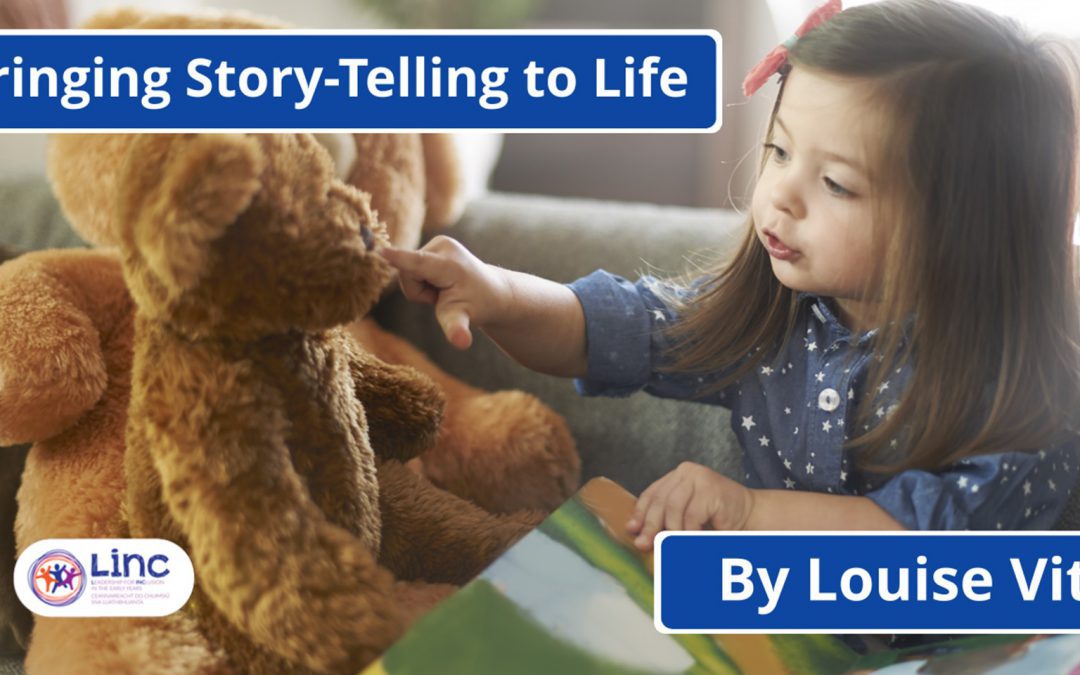 Bringing Story-Telling to Life In this edition of the LINC Blog, LINC student Louise Viti describes how story-telling in her setting has supported children's social interaction, play experiences and imagination. Think back to your own childhood...
read more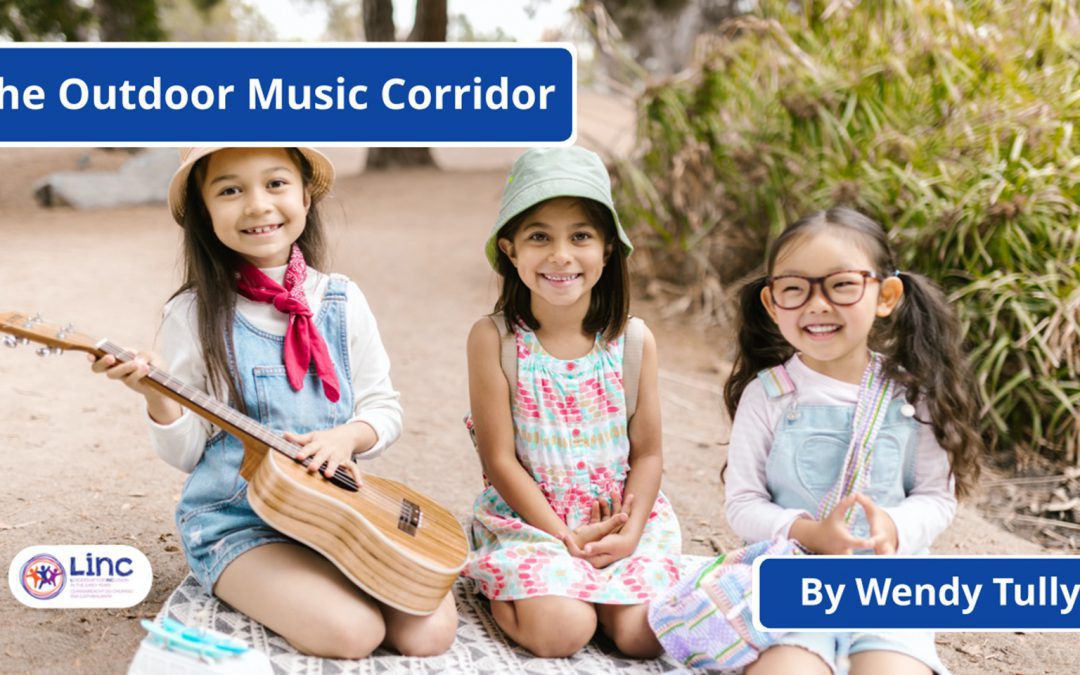 The Outdoor Music Corridor In this edition of the LINC Blog, LINC Graduate and LINC+ Participant Wendy Tully describes how one simple idea helped to foster social interaction between the children of her setting. "Music is a moral law. It gives...
read more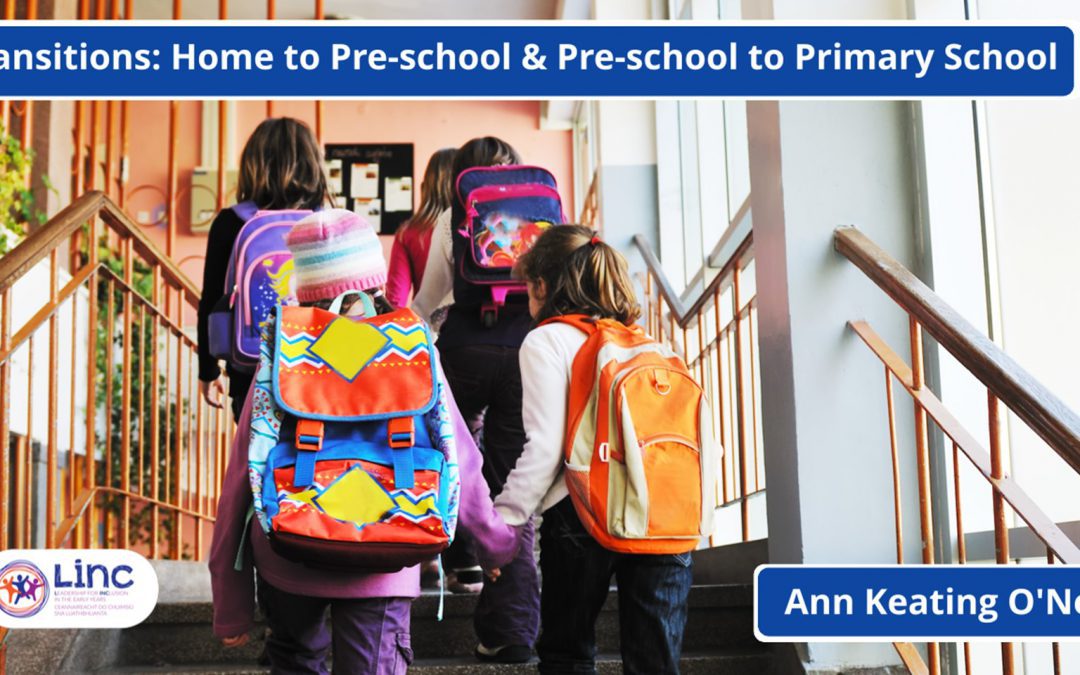 In this edition of the LINC blog, Ann Keating O'Neill, LINC Graduate and Owner/Manager of Shining Stars Preschool Lisronagh, Co. Tipperary, describes how she manages the two major transitions for children in her setting. I have always put a lot of...
read more