In this edition of our blog, LINC tutor Carole Dee describes how her team created a positive experience for the children of their setting despite the challenges of Covid-19 .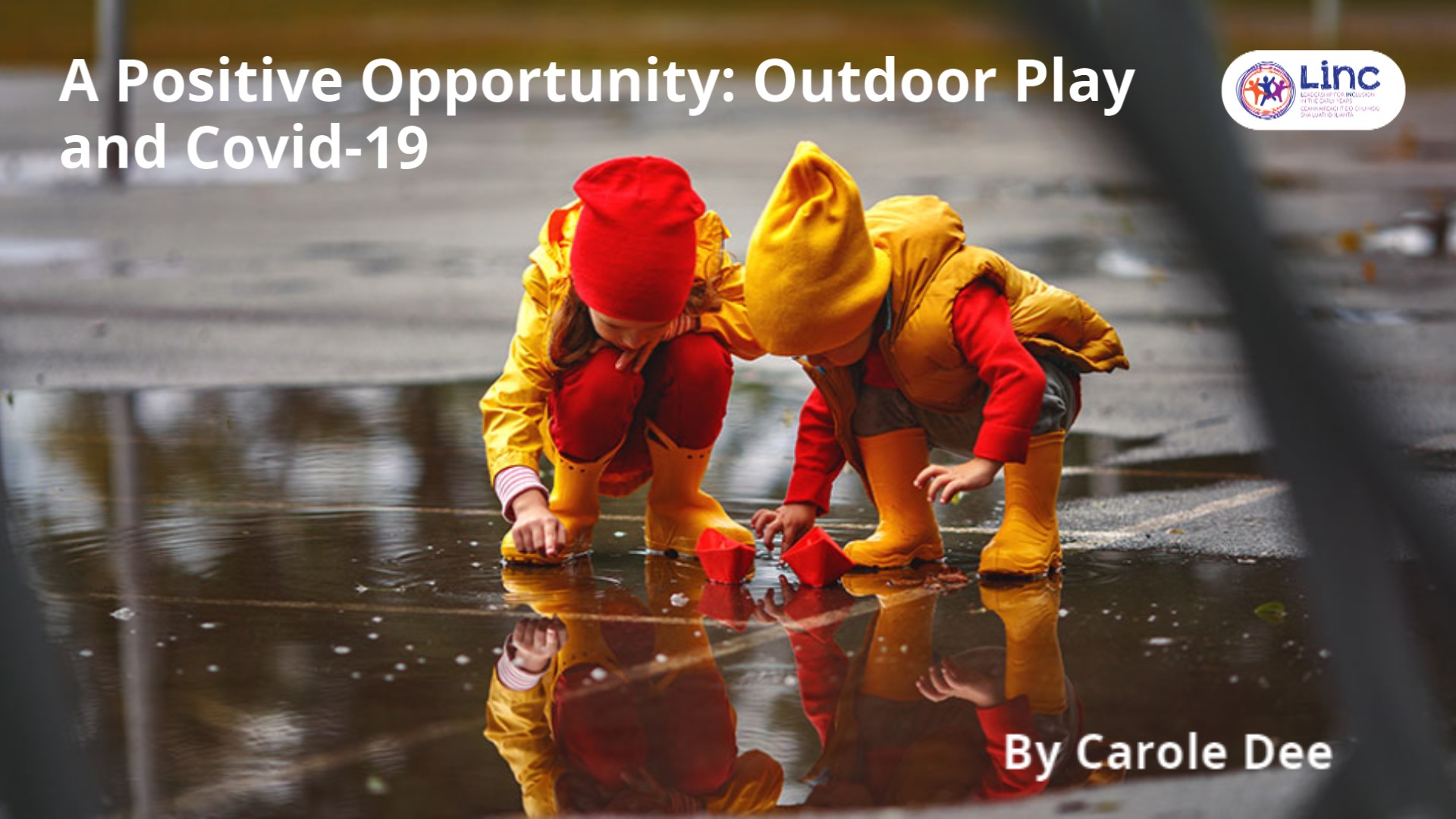 While I am passionate about the value of outdoor learning, making the shift to seamless provision back in 2014 was something I felt quite apprehensive about at the time. I worried about how parents and my team would respond to this shift in approach. There were some minor concerns, but all were reflected on and addressed, resulting in a very positive outcome.  Over the past number of years, our outdoor environment has continued to evolve as we enhance it to cater for the varying interests and needs of the children. The response has been amazing, and we felt confident and proud that we were providing a quality outdoor learning experience for young children.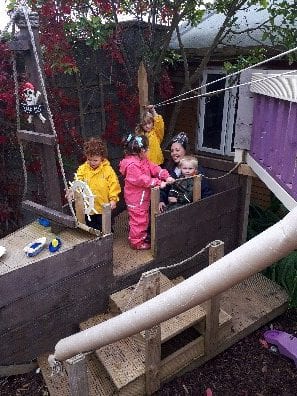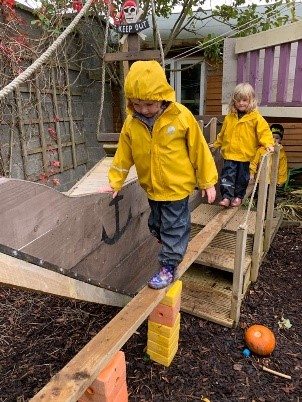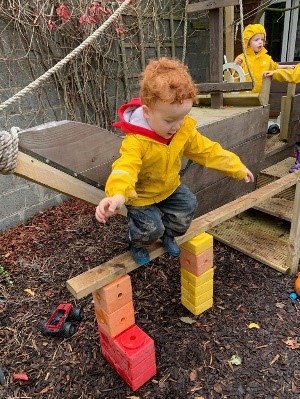 An interest in Pirates inspired the construction of a Pirate ship and facilitates risky play as little pirates "Walk the Plank!"
The covid-19 pandemic has caused us to reflect further on our practice and with public health authorities encouraging pre-schools to be outdoors as much as possible, we saw this as an opportunity rather than a limitation.
"Why don't we take our passion for outdoor play a step further and use this public health guidance to evolve from providing seamless provision to identifying ourselves as an outdoor preschool?"
After discussing this on a staff Zoom meeting, it seemed like a no-brainer to us! Each member of the team embraced the idea and so we got to work planning how we would approach this change. We reflected on what could be potential concerns from parents and endeavoured to have solutions in place before we presented the idea to them. We completed Covid related training and researched what changes were necessary regarding Covid and put a plan in place to adapt our environment accordingly.
The biggest issue we predicted was being outdoors for 3 hours in wet, cold weather. So we used the phrase "There is no such thing as bad weather, only bad clothing" to introduce parents to our proposal of an outdoor clothing rental scheme. We proposed that we would source quality clothing and rent them to families for the year at a fraction of their cost. Parents welcomed this proposal as they did not have to source clothing, making it easy and affordable for them.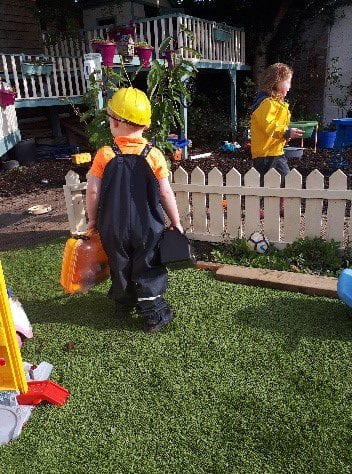 High quality outdoor dungarees and raincoats were purchased from a reputable Irish company. The fabric is wind and water proof but also breathable, so children won't overheat in warm weather.
We examined the environment itself and plans were made to have children enter directly into the outdoor area, rather than through the building. We would need outdoor handwashing facilities and an outdoor sheltered area that would accommodate adults (our current sheltered areas only fit children!) Sanitizing stations for adult use would need to be located in several points around the garden.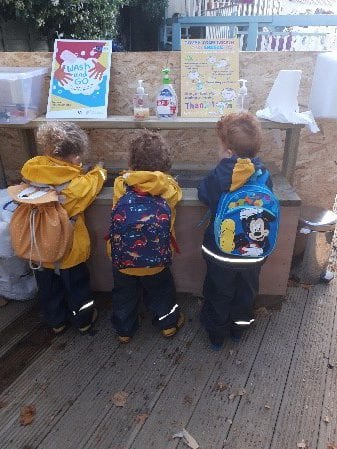 A trough style sink was constructed from plumbed from the main building to provide hot water (inspired by Scandinavian forest schools)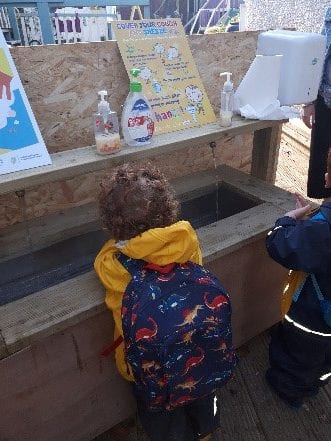 We explained to parents via email and phone calls what our plans were and invited their feedback. Everyone agreed because of Covid-19 that an outdoor pre-school was a good idea, and remarkably, parental concerns were minimal and easily reassured. We invited parents in with their children in small, socially distant groups, over the course of a week to spend some time in our outdoor environment to see how an outdoor pre-school functions. The first day was a beautiful sunny morning and parents remarked how wonderful the "set up" was but the second day was very stormy with wild winds and heavy rain! This was really beneficial for parents to experience. They remarked how they, as adults, were inappropriately dressed, how they sought shelter (in our new outdoor area) but the children continued to play and seemed quite excited by the rain! The howling wind and torrential rain provided everyone with a reality check. One mother commented "Oh, so you really are going to stay outside in the rain?" and another Dad commented that "the kids are having a ball, it's the adults you need to convince!"
An outdoor room was constructed and children now decorate the outdoor environment for festivals and celebrations!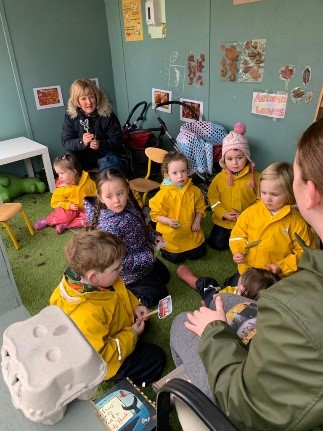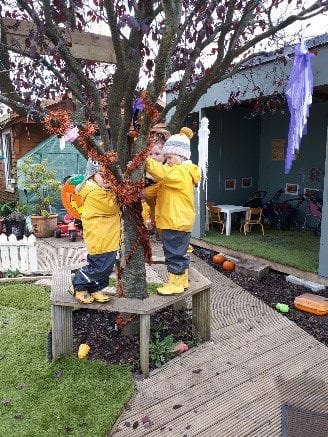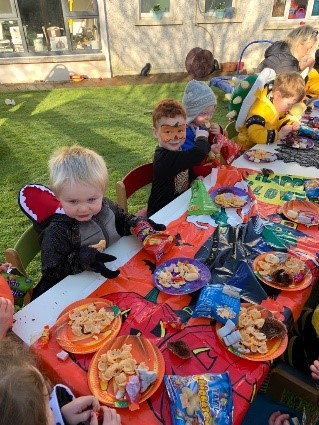 We followed up by communicating with parents the benefits of purchasing waterproof hats and gloves and regularly sent them video clips of their children embracing outdoor play! Seeing how much fun their children were having helped those parents who were a little anxious about the transition. We also realised that we needed to reassure parents that the indoor environment was still available to children who wished to use it. It wasn't off-limits but is now used for small group activities. For us, as early childhood teachers, we feel our indoor and outdoor environments have "flipped" in terms of their purpose.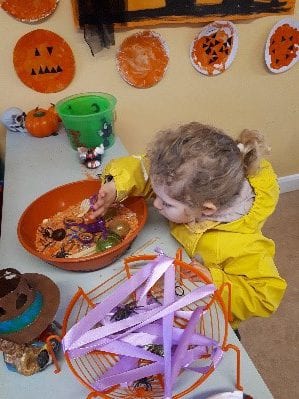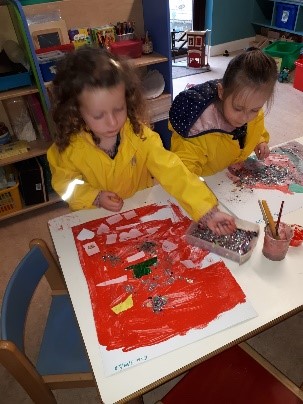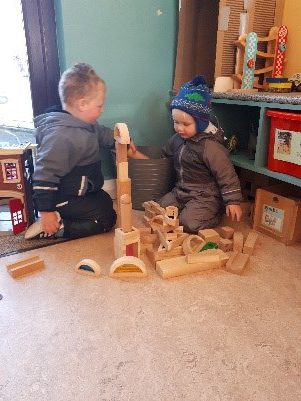 So, the Covid pandemic provided us with an opportunity to flip what we thought was already good practice completely on its head to become even better! I am thrilled with how successful this change has been thanks to the support of parents, my enthusiastic team of early childhood teachers and of course a very happy group of children!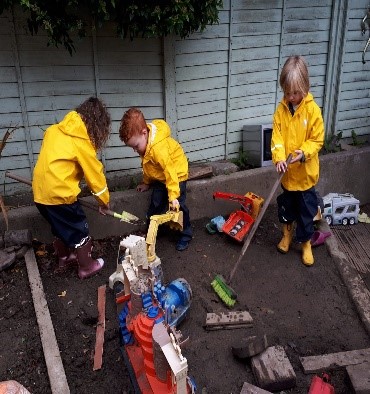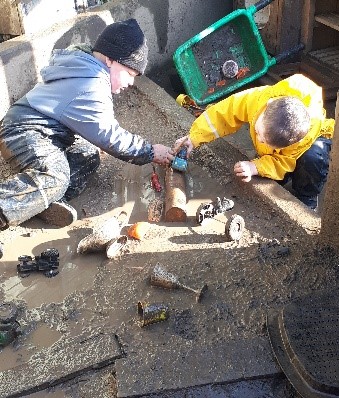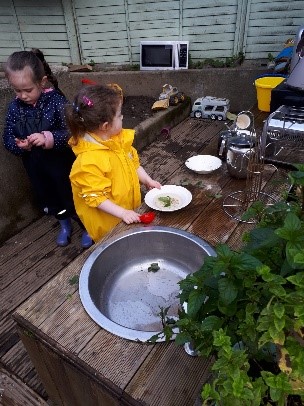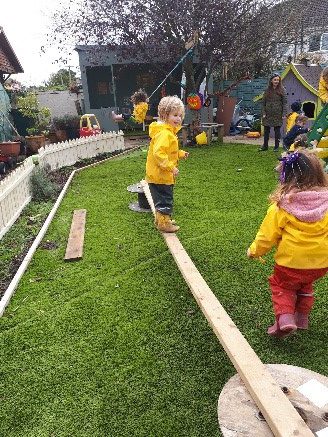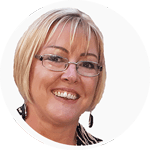 Carole Dee
LINC Tutor
Carole has worked in the Early Years sector for 15 years, owning and managing a play based sessional pre-school in Newbridge, Co. Kildare. She holds B.A. Hons Degree in Early childhood Teaching & Learning from NUI Maynooth and a Diploma in Teaching Adult Learners from City & Guilds. Carole's experience includes teaching QQI Level 6 and for a number of years for Early Childhood Ireland. Carole has delivered Diversity, Equality and Inclusion training workshops for Kildare County Childcare Committee for the past 3 years while also being an assistant tutor on the LINC Programme, giving her much insight into the area of inclusion in an early years context.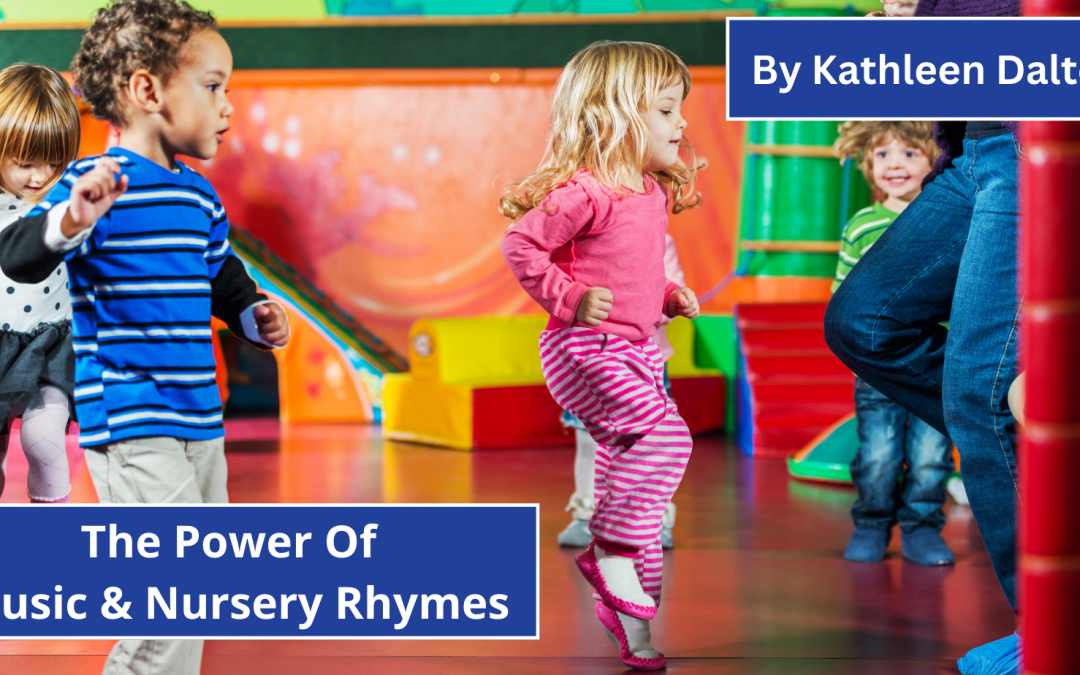 The Power of Music & Nursery Rhymes In this issue of the LINC Blog, LINC Tutor Kathleen Dalton emphasises the significance of music and rhymes in children's development. While reflecting on her role as Inclusion Coordinator (INCO) Kathleen highlights the...
read more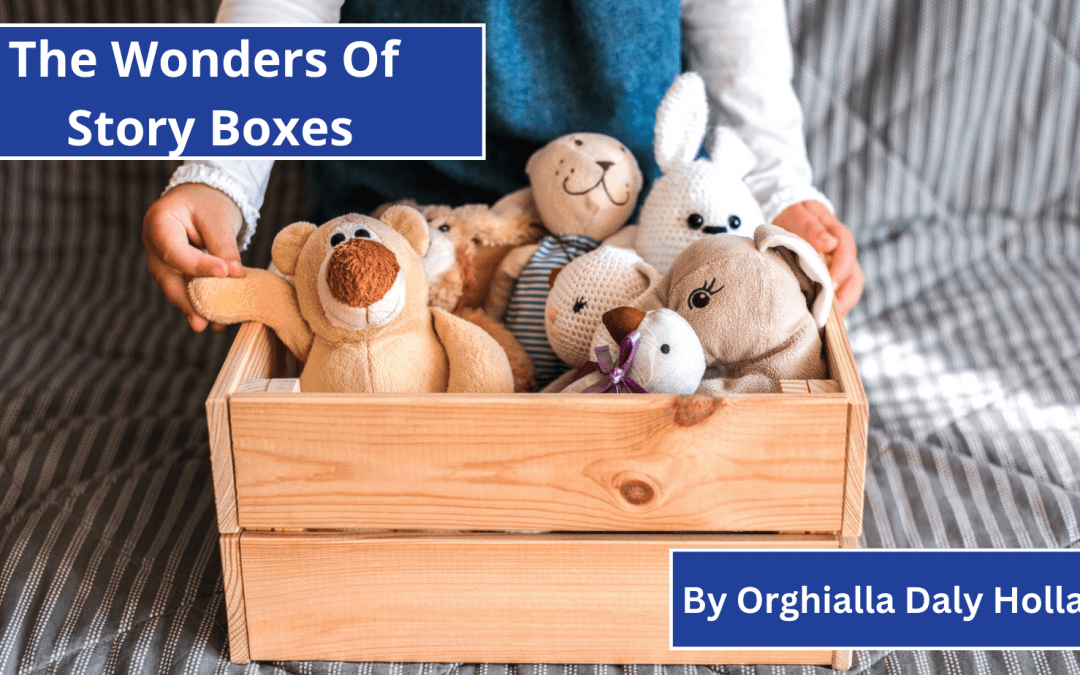 The Wonder of Story Boxes In this edition of the LINC Blog, INclusion CoOrdinator Orghialla Daly-Holland delves into the concept of Story Boxes. Orghialla describes how the purpose of a Story Box is to create a hands-on literacy experience for children. She...
read more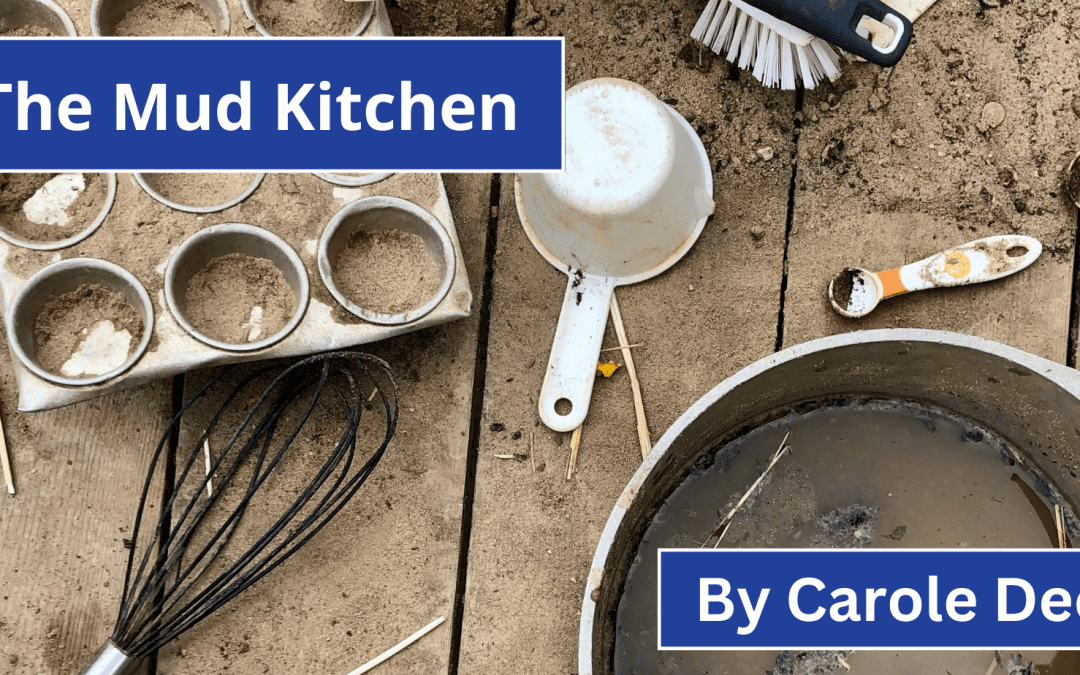 The Mud Kitchen In this edition of the LINC Blog, LINC Tutor Carole Dee describes how her Setting's Mud Kitchen encourages children's social and emotional development and provides endless opportunities for open ended, sensory play.The Mud Kitchen is without...
read more