In this edition of the LINC blog, programme tutor Paula Harte describes her information technology learning journey, and how, as a new academic year begins, her personal experiences have helped her and her students to adapt to an online learning environment.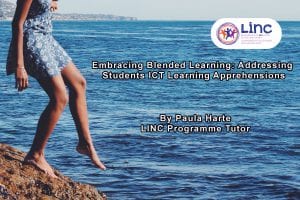 As a tutor on the Leadership for Inclusion (LINC) Programme since it was first launched in September 2016, I have been on a learning journey alongside my students over the past two years. Not only have I gained an insight into the professional practice of many students who are now Inclusion Coordinators (INCOs), but I have also enjoyed watching them grow and gain competence and confidence in other areas of the blended learning element linked to the LINC programme (pardon the pun!); that of Information Communication Technology (ICT).
When I reflect back on my delivery of the first module of the programme in September 2016 in Donegal. I remember seeing eager, exited and enthusiastic faces looking and listening to me in the audience as I gave them an overview of the module and assessment methods. On the other hand I could also see the faces of some students who (for want of a better word) looked "slightly apprehensive". Especially when I mentioned phrases or words such as "paperless assessment", "all tasks carried out on a computer or laptop", "online", "Moodle", "discussion posts to forums", "tutorials" and "Turnitin". Indeed for some of the students their apprehension was now palpable and they probably thought that I was speaking a totally different language! This is when I decided to change track as I didn't want the students to feel totally overwhelmed and perhaps unduly concerned by the use of ICT throughout the LINC programme.
So, I decided I would lighten the mood by telling them a few stories of my first encounter with the ICT world. First of all, I regaled my first ever cohort of LINC students with stories of how, many moons ago, I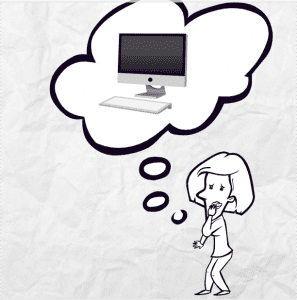 didn't know where or how to turn on our lovely new family computer! Then when I had mastered that task, I thought if I placed my hand on the mouse all my typing would disappear! My mantra during this period was "don't forget to save, save, save!". To top it all off I used to ask one of my children to turn the computer on before I was going to use it in order to "heat it up".  So with a lot of tut-tutting and rolling of eyes they reminded me that I wasn't doing the ironing, or cooking something in the oven and that the computer didn't need to heat up!  I continued to reassure the students that with perseverance, experimentation (on many an occasion exasperation) and the help of a few ICT courses my confidence grew. Hence enabling me to look upon ICT as a friend not a foe.
These tales brought laughter and comparative stories from the students which consequently lightened the mood. I then went on to inform the students that there is a lot of support provided by Mary Immaculate College (MIC) in the form of tutor support and advice. The Blended Learning Unit (BLU), ICT Helpdesk and the LINC administrative staff members are only too willing to assist with their queries no matter how trivial a student may feel that they are.  Actually it is worthy to note, the number of LINC programme participants who considered themselves 'competent', or 'very competent', at using technology for educational purposes after completing the LINC programme was 22.51% greater than the number of participants who retrospectively considered themselves 'competent', or 'very competent' in this domain prior to completing the LINC programme.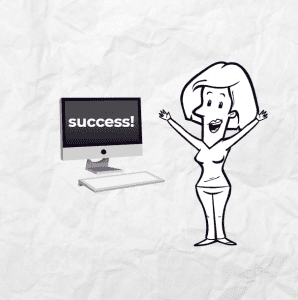 Therefore, by dipping their toe into unchartered ICT waters (so to speak), many students on the LINC Programme have had a very positive experience. So perhaps for some of the currently enrolled Early Years Teachers about to embark on the LINC programme of study 2018/19, or for others who are contemplating applying next year; all may not be as daunting as it seems in respect of embracing, experimenting and utilising ICT in a blended learning environment.