In this LINC blog, tutor Margaret Joyce outlines some handy tips to ensure that Halloween is a fun, rather than fearful experience for young children.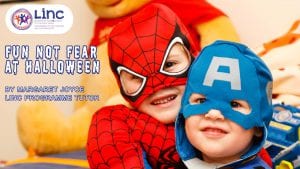 Halloween is generally a time associated with dressing up, fun, games and 'scary monsters'. Many children love Halloween and the excitement around this time of year can build for weeks in advance. It is an exciting time at home and in preschool, with shops filled with a variety of costumes, some funny, some representing cartoon and television characters, and other costumes in line with the traditional scary characters usually associated with Halloween, e.g. ghouls, monsters, witches and skeletons. It is a time that can be about making lasting happy childhood memories with a little careful planning.
It is important to recognise that Halloween may cause huge anxiety and fear for some children, particularly now that children are starting in preschool from an earlier age. Thus, preschool teachers need to be aware that some children may not be comfortable with activities associated with Halloween.
Also many children with additional needs may be very scared by the noises and visuals associated with this time of year. Children with Autism Spectrum Disorder (ASD) can be highly sensitive to certain sounds, smells, colour and visual displays. Children with sensory needs may also become really upset, so while many children love the excitement, it is really important to be mindful of the profile of all the children in your care when planning for this occasion.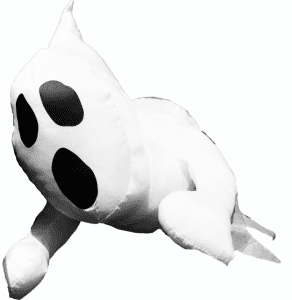 Here are some tips to make Halloween Fun without the Fear
Prepare in time. Throughout the month of October prepare the children for Halloween. Read age-appropriate stories, support with story sacks or props where applicable.
Talk about what is real and what is pretend, this is not obvious to young children. This discussion is particularly important to eliminate fears of some 'less than friendly' costumes and decorations visible in homes, shops and schools at this time of the year. As adults we know that a scary mask is just a mask, but young children often see the monster mask as a real monster. This may cause fear and anxiety long after Halloween has passed!
Do not transform your preschool room or home to a festoon of ghosts, goblins, monsters and pumpkins in the child/children's absence in the hope of surprising them on their return! Instead, having discussed Halloween first, invite children to bring in little decorations or indeed make them and let them decorate the room, it will be fun and a lot less scary.
Support children with ASD, communication difficulties or children who do not have English as their first language by using social stories to prepare children for the celebrations. Create a visual story with photographs of what Halloween may look like in your classroom or in the home, display this well in advance. This will support and prepare children for the festivities associated with Halloween. The Middletown Centre for Autism provides some good ideas for visuals to support children with ASD which will help to support and manage emotions http://best-practice.middletownautism.com/links-and-resources/videos/.
Do not try to avoid Halloween altogether. It is an opportunity to gently introduce children to understand and express their feelings.
Avoid scary decorations such as monsters, ghosts and skeletons. Instead provide fun elements such as pumpkins, friendly witches and any other decorations which are fun. Avoid decorations and ornaments with loud noises which may scare young children or children with sensory needs.
Add some attractive Halloween costumes to your dress up area well in advance. Some children like to dress up, other children do not like it at all. Be mindful of this if arranging a Halloween party or dress up day.
As parents, try to avoid associating Halloween with large amounts of sweets and candy, plan fun activities and party games instead.
Never push children to dress up or to take part in any activities that they are not comfortable with.
As a preschool teacher or a parent, acknowledge your child's fears. This is really important. Young children are just starting to make sense of the world around them. It is really difficult for young children to differentiate between fantasy and reality. For some young children Halloween is a terrifying experience. It is really important to acknowledge all young children's emotions, not just fear. Supporting emotional literacy in young children, giving them the language to express their emotions and acknowledging those emotions will support the child's overall mental health and wellbeing. Trace Moorney books are a valuable asset both in preschool and the child's home to support young children identify and express their emotions. http://www.tracemoroney.com/books