In this edition of the LINC blog, tutor Margaret Joyce shares some advice on getting your child ready for the transition from pre-school to primary school and what parents can expect their child to experience on their first day.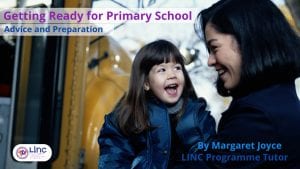 The first day in primary school is a big day for every child and their parents. As a parent, you may feel a little anxious, but try to avoid showing this anxiety in front of your child. Remember school has changed a lot over the last number of years and children can really have great fun and interactive learning experiences. You will be amazed at all your child will learn in the first few weeks and months. All the areas of the primary curriculum can be found here: https://www.curriculumonline.ie/Primary/Curriculum.
On the first day your child may meet; their new teacher, the principal, and other members of staff who may work alongside the class teacher, such as a support teacher or a special needs assistant (SNA). Your child will usually be given a particular seat with a group of children and there are often four or six children to a table. Each table may have a name and your child may come home and declare they are sitting with 'the giraffes!' Teachers generally change this around on a weekly/monthly basis so that all the children get to know each other and make friends. They may have one or two breaks in the yard, often without the other classes for the first few days. This allows them to adjust to their new surroundings. All schools have lots of staff on yard duty to take care of the children and make sure they are mixing and playing. They will have lots of fun in the classroom with interactive games and the majority of schools now have interactive white boards in the class which children really enjoy. There will be lots of music and movement breaks. They will not be allowed to leave the class until collected by you or someone appointed by you. So, as a parent, relax and be really positive with your child about their new school.
Here are some tips to support that move and make the first day a good foundation for the weeks and months ahead.
Do plan a little in advance.
Talk to your child casually about school and all the positive things that will happen; new teacher, new friends, and school books.
If possible know the teacher's name, Miss/Mr… and the principal's name also. This will be a change for your child as generally in pre-school the teachers are addressed by their first name.
If you have a list of books/copies to send in clearly label them all. Also, explain to your child that the teacher is going to take the books and 'mind them' in school; sometimes children get upset when the teacher 'takes' the books and doesn't give them back!
Don't buy really expensive colours/crayons; they can easily get mixed up between children so no point in having your child stressing about this!
Provide two small lunches and separate them. This will ensure that your child will not eat everything together and help avoid hunger later in the day. Provide snacks and drinks that appear on the school healthy eating policy. Sometimes it's difficult to come up with healthy ideas for lunches; there are some really good ideas here: https://www.safefood.eu/Education/Primary-(ROI)/Healthy-lunchboxes.aspx.
Try to settle your child back into a good bedtime routine a week before they start school. This can be done by bringing bedtime back a bit every night until the child is waking naturally. Make sure they have enough time to dress independently; it is much better that they do this for themselves rather than you doing it for them. Perfection is not important, praise them for their efforts!
Label your child's jumper, coat and PE top (anything they might take off during the day). It is impossible for the teacher to identify a jumper when twenty of them look the same!
Do not:
Give your child drink bottles or lunch boxes that the child cannot open themselves.
Spend a fortune on designer school bags either, basic and easy to manage are the best.
Use language like 'BIG SCHOOL'; 'new school' is much better. How would you feel if you had to start a 'BIG NEW JOB'! A little scared maybe?
Emphasise anything that might cause anxiety for the child, keep the language simple and positive.
Expect too many answers or too much information when your child comes home from school. Often you will hear 'we did nothing' or 'I didn't have any friends'. This is rarely true, really the child is just overwhelmed with all that is happening and they will tell you in their own time, often at bedtime, so do try to allow time for this.
Send in treats in the form of food or drinks in your child's lunchbox unless the school allows them as the child will only become upset if told to bring them home.
Expect to be always able to talk to the teacher casually at the door. You may have been able to do this in pre-school, but remember, in primary school the teacher may have a lot of children and she/he cannot leave these unattended while talking to you. Instead send in a note if it is something minor that you need a response to, make an appointment or check with the secretary to find out if the teacher accepts or responds to emails.
Overall, make this a positive experience for you and your child. Whether it is in dressing themselves, doing a little bit of homework as the year progresses or helping to make their own lunch; praise them for their efforts; it is the process that is really important, not the end product. Praising the child for their efforts will help them to become strong, capable independent learners.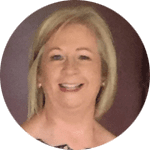 Margaret Joyce
LINC Programme Tutor
Margaret has a BA in Early Childhood Studies and Practice (NUI Galway) and a Masters in Child, Family and Community Studies (DIT). Prior to this she completed the Registered Behaviour Technician programme at Queens University Belfast. She worked for a number of years as a Special Needs Assistant in a mainstream primary school working with children with a range of additional needs, and also in an ASD specific unit with pre-school children where she provided July Provision for children with ASD. Margaret held the role of lead co-ordinator on a disability project hosted by Longford / Westmeath CCC's before taking up the position of LINC tutor with Mary Immaculate College in 2016. She also tutors part-time for Longford/ Westmeath ETB delivering QQI levels 5 and 6 in Early Childhood Care and Education in Athlone Community College.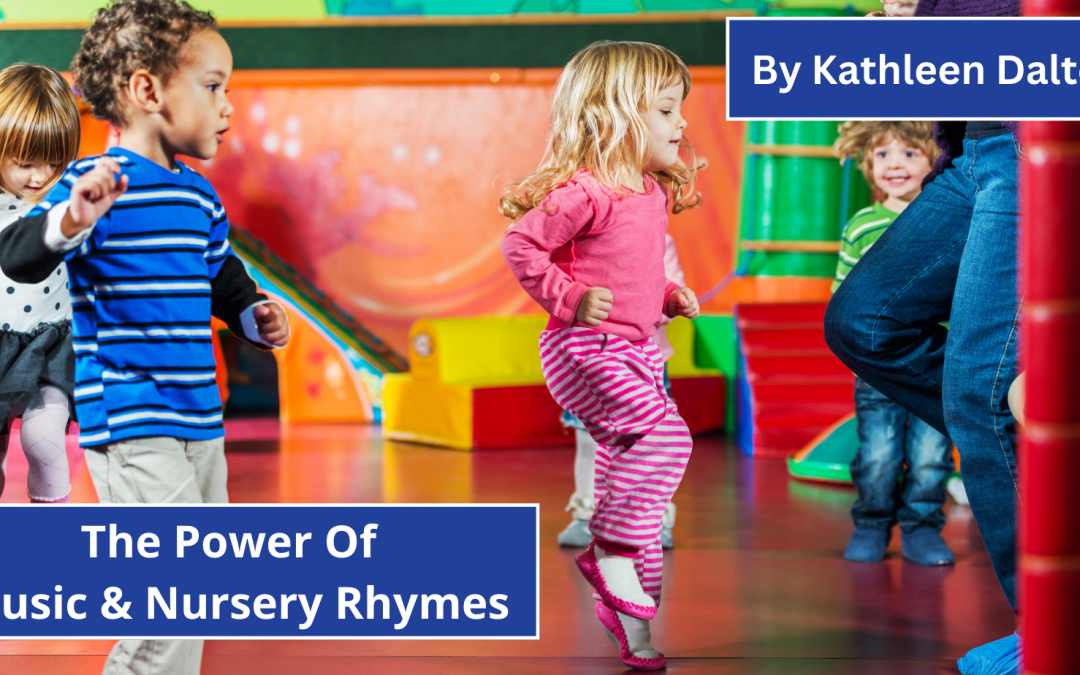 The Power of Music & Nursery Rhymes In this issue of the LINC Blog, LINC Tutor Kathleen Dalton emphasises the significance of music and rhymes in children's development. While reflecting on her role as Inclusion Coordinator (INCO) Kathleen highlights the...
read more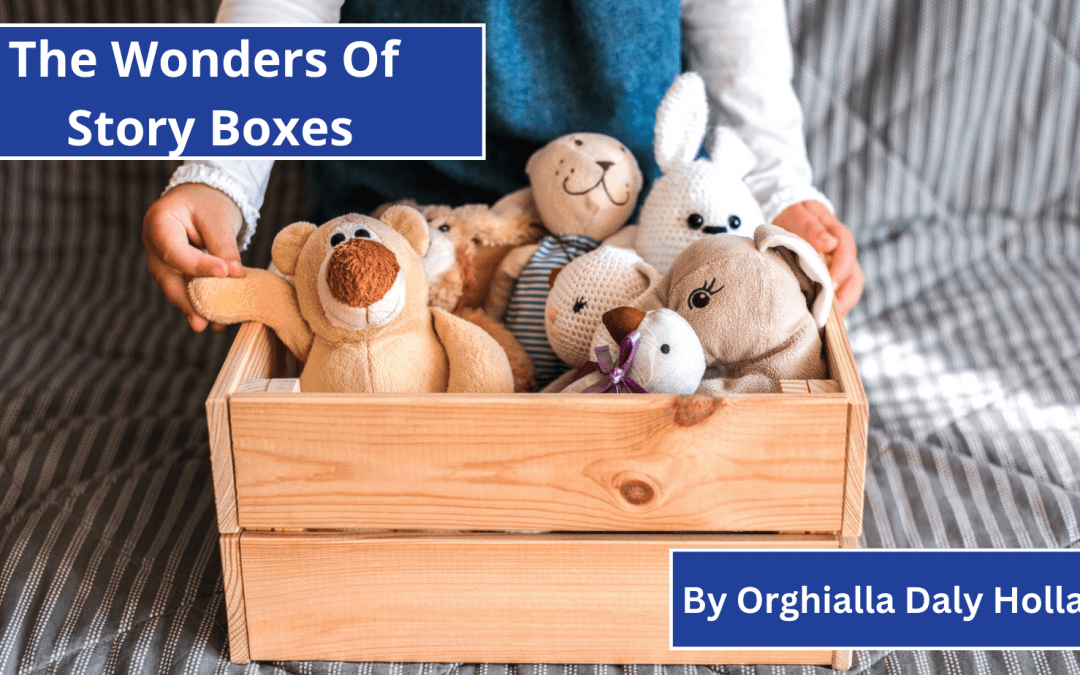 The Wonder of Story Boxes In this edition of the LINC Blog, INclusion CoOrdinator Orghialla Daly-Holland delves into the concept of Story Boxes. Orghialla describes how the purpose of a Story Box is to create a hands-on literacy experience for children. She...
read more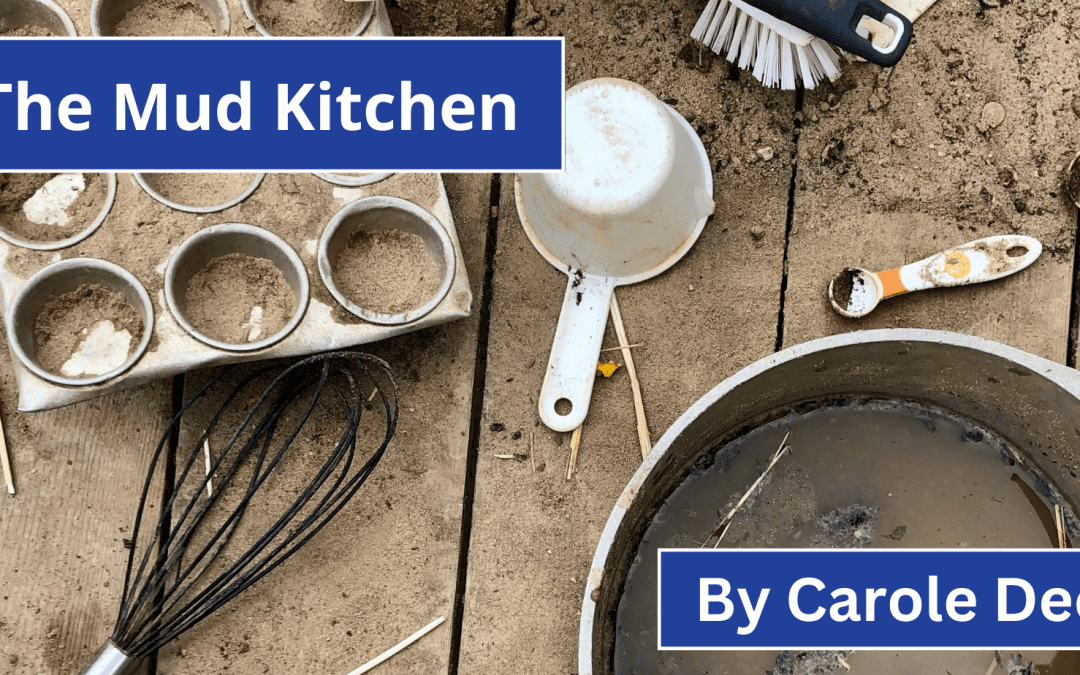 The Mud Kitchen In this edition of the LINC Blog, LINC Tutor Carole Dee describes how her Setting's Mud Kitchen encourages children's social and emotional development and provides endless opportunities for open ended, sensory play.The Mud Kitchen is without...
read more