In this edition of the LINC blog, programme graduate Hazel O'Connor recounts her career journey and the people who influenced her along the way.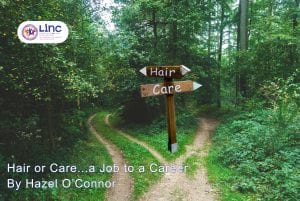 Many moons ago, not long after leaving school, I found myself standing outside the door of my local FÁS office. I didn't know exactly what I was looking for but was sure I'd know when I found it!
Inside, the lady took the details of my education (not much) and work experience (even less) and then suggested what the norm was at the time, 'hair or care'. Basically, the only two options considered open to a female with my education was hairdressing or childcare. Having completed work experience during school in a small community playgroup, I decided that it would be 'care' and signed up there and then. Little did I realise that day that care was a career I would be choosing for life.
During the training, I obtained work experience in a local crèche with an amazing employer, and in time, secured full-time employment there. This was the route my life took for the next 10 years or so. Working full-time with children up to 12 years old and, in retrospect, 'winging it' in terms of preschool care and education. Looking back, I remember proudly displaying the WATOTO packs we received from Trócaire, when we welcomed families from different nationalities into the service, never realising how we were misrepresenting those very families. I also remember having templates for everything, identical arts and crafts activities and lots of table top work! Our hearts were always in the right place but we needed training and support.
Around that time I was invited by my local county childcare committee to take part in a pilot training programme around equality and diversity. This was a light bulb moment for me which I didn't recognise until afterwards. The amazing Ann Halligan guided us for over a year to a Level 6 qualification in Equality and Diversity. For Ann, I'm sure it must have been very challenging at times. We were, after all, coming to her very green and often resisted the self-reflection which was crucial. She managed to guide us all through, encouraging us and praising us at every step of the way.
Back at the crèche I slowly but surely introduced changes, not only to the environment and the curriculum, but to myself and my own bias. I felt renewed in my role and began to see how important it was.
Roll on a few more years and I signed up for the Level 6 Learner Fund, where again, we had some amazing tutors, particularly Hanna Fitch, who inspired me and relit my passion for quality early childhood care and education (ECCE).
It was at this stage that I decided to open my own service. It was a dream that was quietly burning away since the beginning, but without the people I met along the way it would never have ignited into a reality in 2015.
Today I run a play-based, emergent, child-led preschool with a strong emphasis on 'loose parts play' (my new passion). In 2016, I completed LINC training in Mary Immaculate College. This training made, and still makes me feel empowered, educated and well-informed around areas of inclusion, in particular for children with additional needs. It renewed my desire to educate myself even more and so I signed up for my Level 7 degree this year.
There is no denying that childcare is not an easy career to choose; I still have another job at the weekend to make ends meet. Nevertheless, the families, co-workers and tutors I have met along the way have shown me how rewarding it can be. We have a long, long way to go but we are evolving and I hope that through government support and the support of each other we will continue to see changes for the better implemented.
ECCE stands for early childhood care and education and for me this care and education should not only be for children but for all of us. Thankfully childcare has come a long way since those early 'hair or care' days and I look forward with renewed vigour to what the future will bring
The LINC programme would like to express its sincere thanks to Hazel for sharing her experience with us. Applications for the programme open in March 2019, for more see www.lincprogramme.ie.