In this edition of the LINC programme blog, Jennie Buchanan, an early childhood teacher and LINC programme participant, discusses moving towards a more child-led curriculum and the benefits of planning activities around a child's current interests.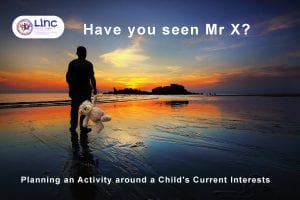 My name is Jennie Buchanan, I am an early years educator in Tiernan's Creche, Rathmines. I have just completed the LINC Programme.
As a LINC student I was particularly inspired by the work of Dr. Nina Katz, who is an advocate for an emergent curriculum to make learning meaningful to children. This really clicked with me, I find I am often so preoccupied by what I think children 'should' be learning that I am missing opportunities to plan learning experiences that enable children to make sense of their immediate experiences and environment.
Moving towards a more child-led curriculum this year has been such a positive experience. I have worked in childcare for 17 years, but there is a world of difference between teaching for 17 years or teaching the same year for 17 years. Meeting children's needs through using a more emergent curriculum can stop us falling into that trap. By engaging the children's interest we can manage challenging behaviour and even reluctant learners will engage if the activity 'speaks to them.'
As part of a community helper's topic, we arranged for the Garda to visit the crèche. It was a fantastic experience for the children to meet their local community Guards. The children explored the Garda van, tested out the radios and asked lots of questions. The children loved the experience and learning was evident in the children's succeeding play; lots of new language, police role play and arrests!
This interest was my starting point. I wanted to plan an activity to extend the children's learning that was as relevant, meaningful and as interactive as possible so I staged a teddy robbery!
At circle time I told the children that a baddy called 'Mr X' had stolen my favourite teddy bear and I needed their help to get him back. Their reactions were fabulous. The children immediately jumped into action with lots of ideas and using their suggestions we formed the Tiernan's Special Detectives. The children made wanted posters to stick up around the crèche, the images of Mr X came from the information we shared at circle time and their imaginations; a completely process experience.
The children were so caught up in the drama of the case they immediately started looking for clues, which gave me a great idea! The next day when the children arrived in crèche Mr X had left clues for the children to follow.
The children were so excited to track down Mr X.  We had a team meeting and made a plan. The children were all working towards a shared goal and there was a real sense of team spirit. They successfully worked their way through the clues which led us all over the crèche. A colleague dressed up as Mr X and the children caught her and threw her into 'jail'. They were so thrilled to crack the case!
We still talk about how much fun it was and if anything goes missing in the room the children's faces light up, they immediately blame Mr X and think the fun is going to start all over again!
Planning an activity based on the children's current interests and planning with the children was such a wonderful experience. The dynamic in the group changed as we became co-collaborators. As a result we have since planned lots of further activities together. The children's ideas are amazing, often too incredible! They are much more confident sharing suggestions. There have certainly been a number of positive outcomes; some behaviour has improved and friendships have developed as a result of more common interests. Speech and language has improved in a number of children, which I hadn't expected.
As we begin the new school year I'm excited to see what ideas the children bring and what new activities we can plan.
Jennie will graduate from the LINC programme this October. The LINC programme would like to express its sincere thanks to Jennie for sharing her experience with us. Applications for the programme open in March 2019, for more see www.lincprogramme.ie.