In the latest LINC programme blog, LINC Tutor Claire Butterly outlines five steps to writing a Curriculum Statement for your service.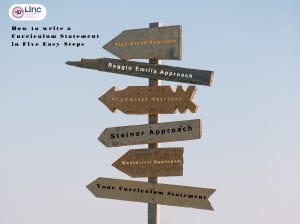 This blog will guide you through the process of developing a curriculum statement. While curriculum statements were originally mentioned in Síolta, the National Quality Framework for Early Childhood Education, the Aistear Síolta practice guide has given the topic more attention in recent years. The Practice Guide provides early childhood teachers and teams with the opportunity to explore their practice and develop a statement of how they support the learning and development for each child in their care. If you have, or had the opportunity to complete our Curriculum for Inclusion module, curriculum statements are explored in more detail.
Step 1: At your team meeting, introduce the concept of a curriculum statement. That being, a statement of how you work with children, families and the community within your early years service. As each of your team members brings a different story to your service, your curriculum statement will be very unique to your service. Show your team the video "What is a Curriculum Statement" on the Aistear Síolta Practice Guide. This video can be accessed here.
Step 2: Encourage each early childhood teacher to complete the Curriculum Foundations: Element 1, Activity A reflection questions 1 to 4c from the Aistear Síolta Practice Guide. Please click here to access the reflection toolkit. This should be done individually, and discussed at your next team meeting.
Step 3: At your team meeting, discuss what you wrote in your reflections. Be mindful to give each person the opportunity to discuss their ideas. Think further about what aspects of early education and pedagogy are of particular importance to you and how you work with children? Someone should take notes of these discussions to begin developing your curriculum statement.
Step 4: Allow time to create and construct your curriculum statement, it isn't going to be a quick process! You need to ensure that each team member's voice is heard and everyone is included. Even discussions around whether your curriculum statement should be portrait or landscape, using images of children from your service or using graphics are valuable discussions and should be negotiated and agreed upon.
Sample Curriculum Statements (click to enlarge)
Step 5: Type and design your curriculum statement, ensuring everyone is happy with the final product. You can print your curriculum statement as large as you want. Find a space within your early years service to have it on display. You, and your team, should be proud of your curriculum statement, you have created it together to explain the experience each child and family will have in your service. When visitors are in your service, including new potential parents and inspectors, draw their attention to this piece of work.
Remember that you should revise your curriculum statement, at least on an annual basis. As your team continues to grow and develop, so should the statement.