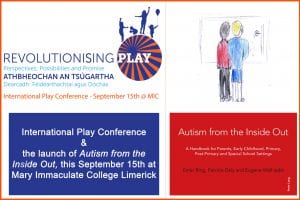 REVOLUTIONISING PLAY: PERSPECTIVES; POSSIBILITIES AND PROMISE
ATHBHEOCHAN AN TSÚGARTHA: DEARCADH; FÉIDEARTHACHTAÍ AGUS DÓCHAS
Research continues to highlight the significant contribution of play-based practice to children's learning and development.
However play opportunities across the education system continue to be under threat from perceived pressure to introduce
more formal and directive approaches. This conference is aimed at reclaiming play and situating play-based practice firmly
in education.
In his 1970 hit song, Cat Stevens asked 'Where do the Children Play?' The conference, which is supported by a wide range of
key stakeholders in education, provides an opportunity for everyone interested in play to return to this question. We ask a
wide range of international and national experts to tell us in 2018, where do the children play and most importantly how
we can ensure that all children in Ireland are afforded worthwhile and enriched opportunities to play from early childhood
through primary school and beyond.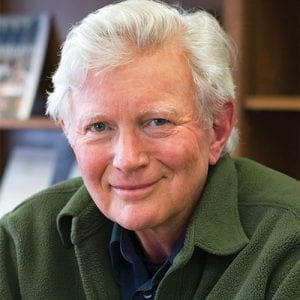 Confirmed Keynote Speakers include Professor Peter Gray, Boston College and Adam Harris, CEO AsIAm.ie.
Peter Gray, Ph.D. is research professor at Boston College. His recent research focuses on the role of play in
human evolution and how children educate themselves, through play and exploration, when they are free
to do so. He has expanded on these ideas in his book, Free to Learn. He authors a regular blog called Freedom
to Learn, for Psychology Today. Professor Gray's Keynote will ask 'What Exactly is Play and Why is it Such a
Powerful Vehicle for Learning?'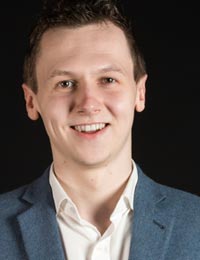 Adam Harris' Keynote Address is entitled 'Play: I did it My Way'. Adam will launch the long-awaited Peter
Lang publication 'Autism from the Inside Out' written by staff at MIC and edited by Emer Ring, Patricia Daly
and Eugene Wall.
The conference will hear from a range of experts, including authors of the recent publication of the Children's
Research Digest, which focused on the importance of play for children from early years and beyond.
Topics include: Outdoor Play; Children and Play in the Early Years; Diverse Perspectives on Play; Play and Children with Autism;
Cultivating Play in Primary School Contexts; Children's Perspectives on Play and Pastimes; Play in and Out of School Settings;
Play Promoting Wellbeing; Cultivating Play through Literature and the Arts; Locating the Intersection between Play and Sport;
Curriculum, Pedagogy and Play Developments in Irish and International Contexts and the Profound Power of Play.
Mary Immaculate College (MIC) and the Children's Research Network (CRN) supported by Early Childhood Ireland (ECI); the Irish
National Teachers' Organisation (INTO); the LINC Programme; the National Childhood Network (NCN); the National Council for
Curriculum and Assessment (NCCA) and AsIAm look forward to welcoming you to Mary Immaculate College on September 15th
next. Final Conference Programme will issue shortly.
bookings €70
Student €55
Book Now
A printable version of the conference programme can be found here.