Leading Early Childhood Experts Collaborate on New Online Programme to Build Strong and Effective Partnerships with Parents.
The Parental Engagement and Relationships (PEAR) Programme, designed and developed for Early Childhood Teachers, is a collaboration between members of the LINC Steering Committee and the Childhood Development Initiative (CDI) Tallaght West.
LINC Steering Committee members Prof. Emer Ring, Dean of Early Childhood and Teacher Education at Mary Immaculate College (MIC); Dr Lisha O'Sullivan, Head of Department of Reflective Pedagogy and Early Childhood Studies at MIC, and Shirley Heaney, National Programme Coordinator, Leadership for INClusion in the Early Years (LINC) Programme were delighted to collaborate with the Childhood Development Initiative (CDI) in developing the Parental Engagement And Relationships (PEAR) programme.
The CDI works to improve outcomes for children, families and communities in Tallaght and throughout Ireland by delivering early intervention programmes and professional development training. It is funded under the Government's Area Based Childhood (ABC) programme and based in Tallaght West, Dublin. LINC is an inclusive education programme delivered by a consortium, led by MIC, specifically targeted at the Early Learning and Care sector in Ireland.
In welcoming the launch of the PEAR programme, Prof. Emer Ring, remarked that "the focus of CDI on evidence-based practice and rigorous evaluation in improving outcomes for children, young people and families is further demonstrated in the PEAR programme. It was a privilege to work with CDI and my colleagues Dr Lisha O'Sullivan and Shirley Heaney in developing the PEAR programme, which we hope will achieve its aim of supporting early learning and care settings in developing and maintaining strong partnerships and effective working alliances with parents".
Prof. Ring continued: "The strengths-based approach to parenting explored in the programme focuses on promoting both parental and child wellbeing and acknowledges that the education and care children receive from their parents in the early years is pivotal to their overall development. The programme builds on our experience of innovative instructional design and is designed to engage, motivate and provoke learners through utilising a range of interactive, participative and reflective activities."  
Marian Quinn, CEO of CDI remarked that "CDI is delighted to have collaborated with the team at MIC and LINC. The expertise, insight and understanding of this team drew on and complemented our own experience in working with early years providers, and has helped us to produce what we believe is a highly relevant, evidence-informed and readily applied training programme".  
Also commenting on the initiative was Dr Lisha O'Sullivan, Head of Department of Reflective Pedagogy and Early Childhood Studies at MIC, who said: "I am delighted to see the PEAR programme being launched – it has been a wonderful opportunity to work with MIC colleagues and CDI, on its development. We hope that participants, in this continuing professional learning opportunity, will be inspired to continue to cultivate successful and sustainable parental involvement within their Early Learning and Care services".
A sentiment echoed by, Shirley Heaney, National Coordinator of the LINC Programme who added: "I am delighted to have collaborated with the CDI and my colleagues Prof. Emer Ring and Dr. Lisha O'Sullivan to develop the PEAR programme. Supporting parental and child relationships in the early years of life provides a strong foundation for life-long learning. We hope that the early learning and care settings that participate in the PEAR programme will both enjoy and benefit from their engagement with the programme". 
The PEAR programme comprises six modules and commences on October 6th from 7-9.30 pm for six weeks through the Zoom platform. Modules will include: Strengths-Based Approach to Parenting; Building Relationships; Inclusion and Partnership; Improving the Home Learning Environment; Supporting Transitions; and Supporting Childhood Difficulties and Referrals. All participants will also receive a copy of the PEAR Toolkit. Booking is open at on the CDI website and can be accessed here.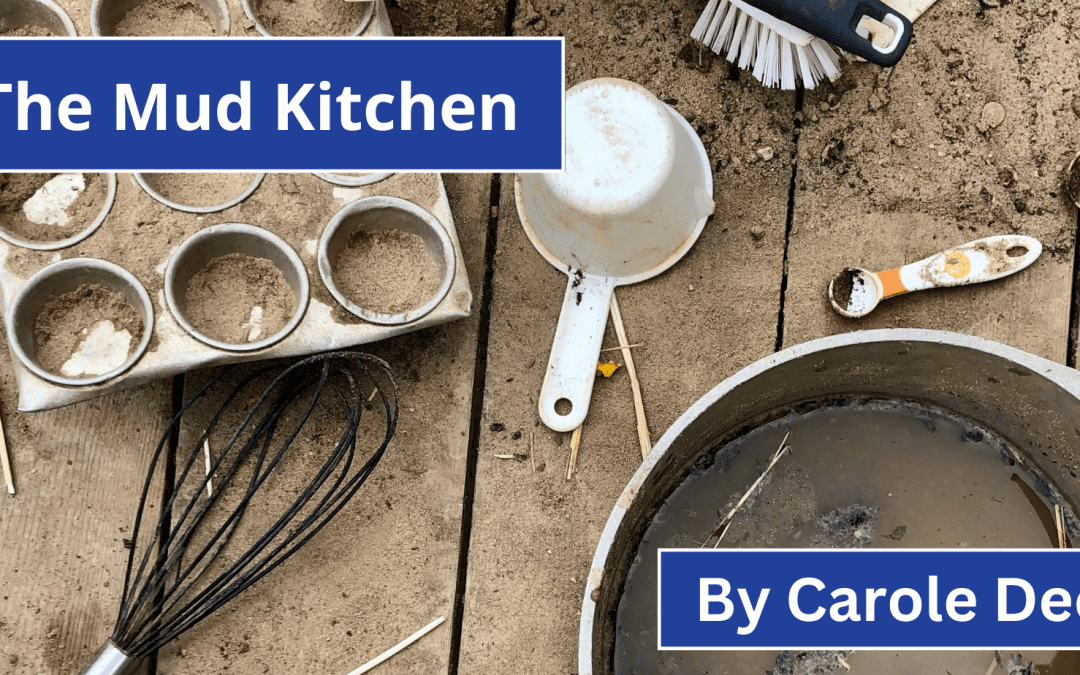 The Mud Kitchen In this edition of the LINC Blog, LINC Tutor Carole Dee describes how her Setting's Mud Kitchen encourages children's social and emotional development and provides endless opportunities for open ended, sensory play.The Mud Kitchen is without...
read more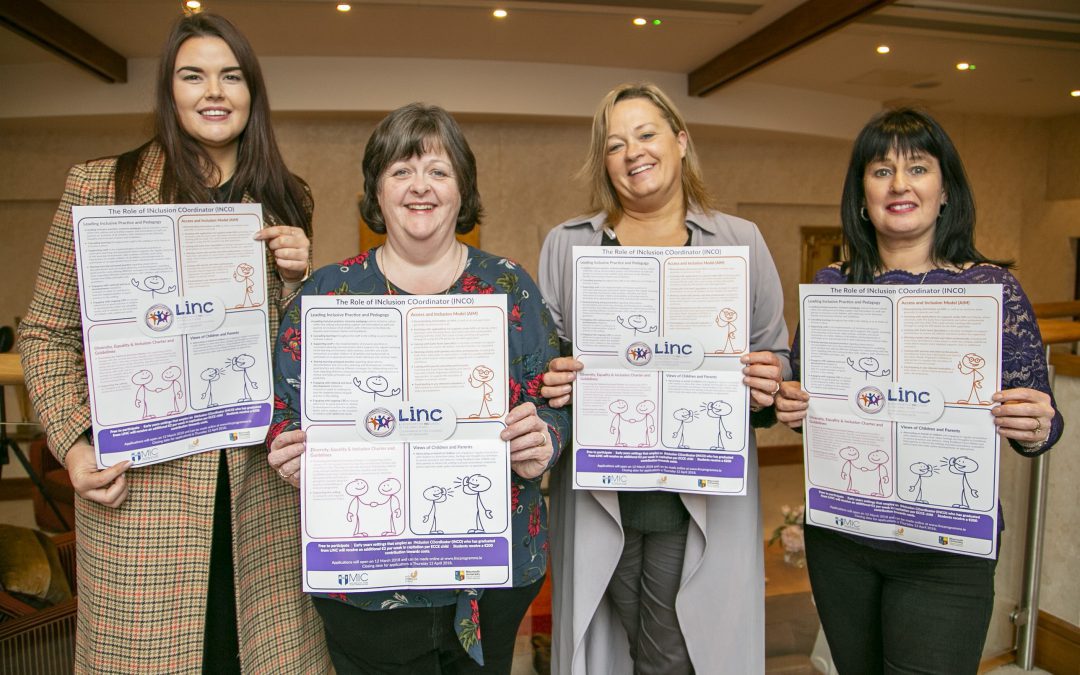 Minister O'Gorman commends the dedication of early years educators and encourages them to avail of the opportunity to apply for the award-winning LINC Programme.   630 places available nationwide as LINC Programme set to open for applications    The Leadership for...
read more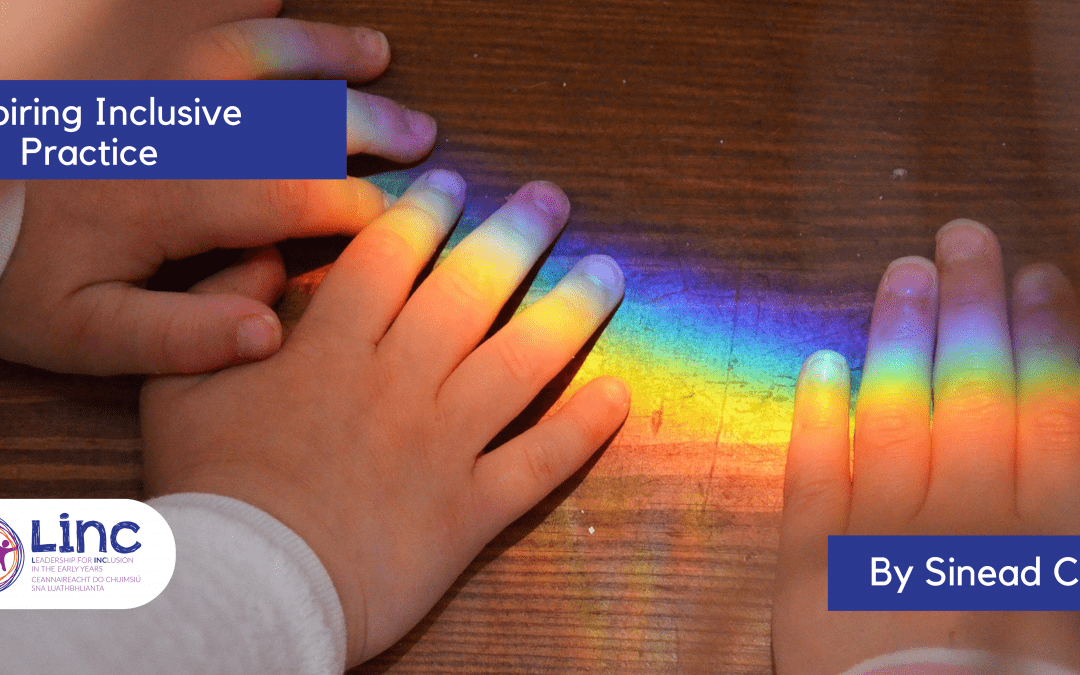 Inspiring Inclusive Practice In the edition of the LINC Blog, Inclusion Coordinator (INCO) Sinead Conran reflects on how her participation in the LINC+ CPD Programme and engagement in a Community of Practice with fellow INCO's has benefited her and her...
read more