by Sharon Skehill, LINC programme tutor.
As LINC tutor for the past two years, I have had the pleasure of visiting over 200 settings to date as part of my mentoring role on the programme. I have seen wonderful examples of positive practice and committed early years' professionals in preschools across the west of Ireland, and most recently, had the pleasure of visiting Patricia Kenny, owner and Room Leader of St Therese Montessori in rural Loughrea, in Galway.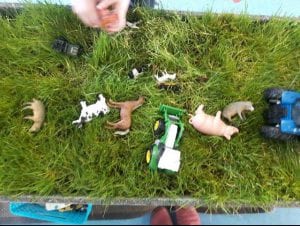 With no identifiable eircode, Patricia took the role of Google maps and guided me via phone, down a small country road to her private setting. My first impression on entering Patricia's service was this easy atmosphere, despite the fact that it was a busy time of morning with all the children coming in. The room was set up for the children's arrival, with a large basin for water play with different toys and resources, and a baby bath with dolls. Towels and aprons were available to the children, so they just settled into their work, with such an ease of transition. In the Construction corner, Patricia had this amazing sensory table where they had planted grass seeds, and now created a farming world for the children with tractors and animals, linking in with the local community and the children's interests. It was so wonderful to hear the conversations about cutting grass for fodder and the need to create fences for the cattle when they tidied up for lunch.
In the Cosy area, they had built an igloo to link in with their learning about the Artic, and the children insisted I come in and visit, demonstrating such confidence and such ownership of their space. It only took a few minutes to realise, that the true essence of this service is not just about this inviting environment, but rather the amazing practice of Patricia herself, who has worked in the sector of over 20 years. Within minutes of arriving at her preschool, it was evident to see the respect she has for the children in her care. Her gentle interactions and her conversations with the children prompted me to ask her if she had ever heard of the Hanen approach – and not surprisingly, she told me that she was trained in Hanen some years ago. What a testament to the approach that I could see her learning in her practice almost immediately! While we sat and chatted about her studies on the LINC programme, she was subtly observing everything that was going on around her. Patricia excused herself from our conversations several times as she went to support the children in the group: 'I can see by your face that you are sad at the moment, but when I looked over at you a few minutes ago, you were smiling – what happened since?' she said to a little one in the Home Corner. Patricia helped her to put language to her emotions, and to articulate the 'problem' and to find ways to resolve it. Another little boy ran across the room and was reminded by a staff member that running was for outdoors – so he stopped – and Patricia said – 'Now what am I going to say to you?' – and he replied – 'that you are proud of me for stopping running'. Such an easy and familiar situation for him; to know that he is respected and acknowledged.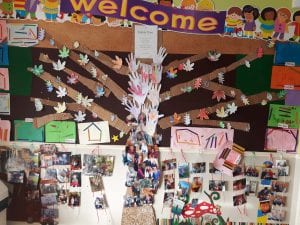 As I sat in the room, my attention was drawn to this wonderful Family Wall display, which took over the whole area. On the roots of the tree were photos of the children's grandparents; along the trunk and the branches were beautiful family photos of siblings and parents; and on the leaves were the photos and names of all the friends at preschool. Patricia explained that she has always created it thus – that these are the important people that make up the children's lives – what a fantastic portrayal of Bronfenbrenner's theory in practice! The only thing missing from that tree, is a photo of Patricia herself, who in her humble and dignified manner might not realise the huge impact she is having on the lives of these children, and all those who have passed through her doors over the years.