The LINC team had the pleasure of speaking with Louise Commane, the owner/manager of Harmony Montessori in Shannon, and LINC 2017 graduate, about her experience using play techniques to help alleviate children's anxiety in her setting.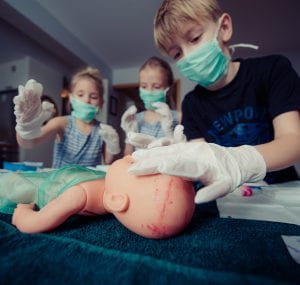 It is evident from our first contact with Louise that she is incredibly passionate about her work. Starting out in childcare in 1982, having come from a nursing background, Louise has a wealth of experience in the sector and before participating in the LINC programme she had already achieved a first class honours degree in Early Childhood Studies and Practice from NUIG Galway.
"My practice has always been incredibly inclusive and I have had children with all sorts of abilities over the years.  LINC certainly gave me new strategies and I really enjoyed a lot of the content. You are always learning, especially with children; anything that can give you a little bit of help along the way is always welcome, as no two children are the same."
As part of her portfolio assignment for LINC, Louise submitted some learning stories that she implemented in her service to help the children along with any issues they may have been experiencing; she also provides these learning stories to the parents of the children. One such story involved a trip to the Garda Station.
"I'll tell you something that really helped the children over the years, I had a child who had a break-in in his house, and the child had been incredibly distressed when he came into school the next Monday. He hated the Gardaí, because the dad was stressed, and had an argument with a Garda and the child had witnessed it. Well I went to the Garda Station in Shannon and I asked them would it be possible for them to just come down for a visit, just a little bit of fun and if they could just be light-hearted and let the children talk to them."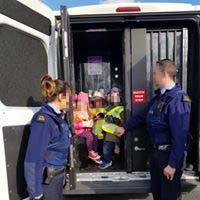 "So the Gardaí came down and played in the garden for the whole morning with the kids. The kids tried on the cuffs and the hats and everything. That little boy was so distressed about what had happened over the weekend in his house and by the end of the next week he wanted to be a Garda. It had an instant effect, and you know, we go to the Garda station every year now. The Gardaí come down and visit us and we also go and visit the station. The Gardaí throw a little party for the kids; it's so much fun, and is one of their favorite events."
Another invitation to play that Louise has used to reduce a child's anxiety around an issue is the 'hospital game'.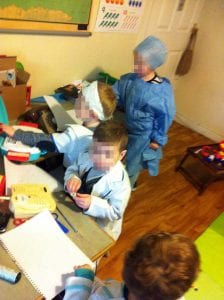 "I had a child in the class at the time who was very anxious about hospitals.  One had been in hospital and had a bad experience, and another child's mother was in hospital quite a lot.  It just was not a comfortable time for them.  I just happened to be in for a procedure myself and I asked the staff if they would give me a few things to bring home like scrubs and that kind of stuff.  We just played hospital, and it turned into one of the most enjoyable and settling times for the kids. It was wonderful and all year long that year it kept being brought back up again and it changed and it evolved and developed into different things. The children spent all morning playing, broke for lunch and then went back to play; they organised it themselves.  There was one person telling them when they could have an appointment; they were telling each other that they would have to wait on trolleys because they were listening to the news. It really eased their fears."
The last learning story that Louise shared with us was about visiting the dentist.
"Anoth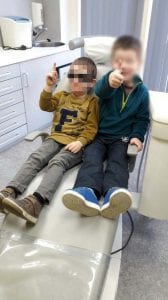 er thing we do is we visit the dentist.  We go on the bus to the dentist in Ennis and the children all get to sit in the dentist chair and they get a goody bag going home with a toothbrush and toothpaste and other bits and pieces.  That actually takes the fear of the dentist away from the children; I've had children come to pre-school and say to me 'oh can we go to the dentist again?'.  How many children would say that?  I do think that helps kids adjust to hard situations and it's so easy to do it. You have to think slightly outside the box."
We are really looking forward to hearing about more of their adventures!
The Leadership for Inclusion in the Early Years (LINC) programme would like to sincerely thank Louise for taking time out to share her experiences with us. We wish her all the best in her future endeavours as the Inclusion COordinator for the Harmony Montessori in Shannon, Co Clare.
Applications for the LINC programme will open in March 2019 for more see www.lincprogramme.ie.