Minister urges staff in Early Learning and Care settings to avail of free,
award-winning inclusion programme
Applications to open for 660 places available nationwide as LINC programme enters sixth year with over 3,000 graduates to date
The Leadership for Inclusion in the Early Years (LINC) programme—a free, higher education fully-online Level 6 programme designed to enhance and support the inclusion of children with additional needs in early learning and care (ELC) settings—opens for applications on Monday 19 April 2021 and welcoming this announcement was the Minister for Children, Equality, Disability, Integration and Youth, Roderic O'Gorman T.D.
"The LINC Programme has been a key contributor to the success of the Access and Inclusion Model (AIM) in supporting the inclusion of children with disabilities in the ECCE programme," he said, "I am hugely appreciative of the excellent work of the LINC team at MIC and of the commitment of early learning and care practitioners in fostering an inclusive culture in their services. The impact of the LINC programme since its inception has been extremely positive and I encourage practitioners to avail of this opportunity."
The programme, established in 2016, is offered by a consortium led by Mary Immaculate College and including Early Childhood Ireland and Maynooth University – Froebel Department of Primary and Early Childhood Education. It is part of a Government commitment to the provision of high quality education and training in the field of Early Childhood Care and Education and was introduced as part of the Access and Inclusion Model (AIM) in 2016.
The LINC Programme will be delivered wholly online for the 2021/2022 academic year with 660 places available nationwide. This will ensure that eligible staff who work in full-time employment will be able to engage with this important continuing professional development (CPD) programme.
Commenting on the opening of applications, Shirley Heaney, LINC National Coordinator said: "Over the last five years we have seen great enthusiasm from the Early Learning and Care sector for our programme, demonstrating their commitment to the inclusion of all children. We are extremely proud of the over 2,300 Inclusion Coordinators working across Ireland whose focus is on promoting equality, diversity and inclusion in their setting; and we look forward to welcoming our new students this September."
The programme has achieved significant success since its inception, twice winning the Best Online Learning Experience Award at the Education Awards in 2017 and 2020, and this year receiving a Highly Commended AONTAS STAR Award in the Social Inclusion Category.
Starting this September, eligible staff members in ELC settings will once again have the opportunity to participate in the programme which is fully-funded by the Department of Children, Equality, Disability, Integration and Youth.  Graduates of the programme can take up a leadership role of Inclusion Coordinator within their ELC setting.
The application deadline for the LINC Programme is the 14 May 2021 and further information on how to apply can be found on www.lincprogramme.ie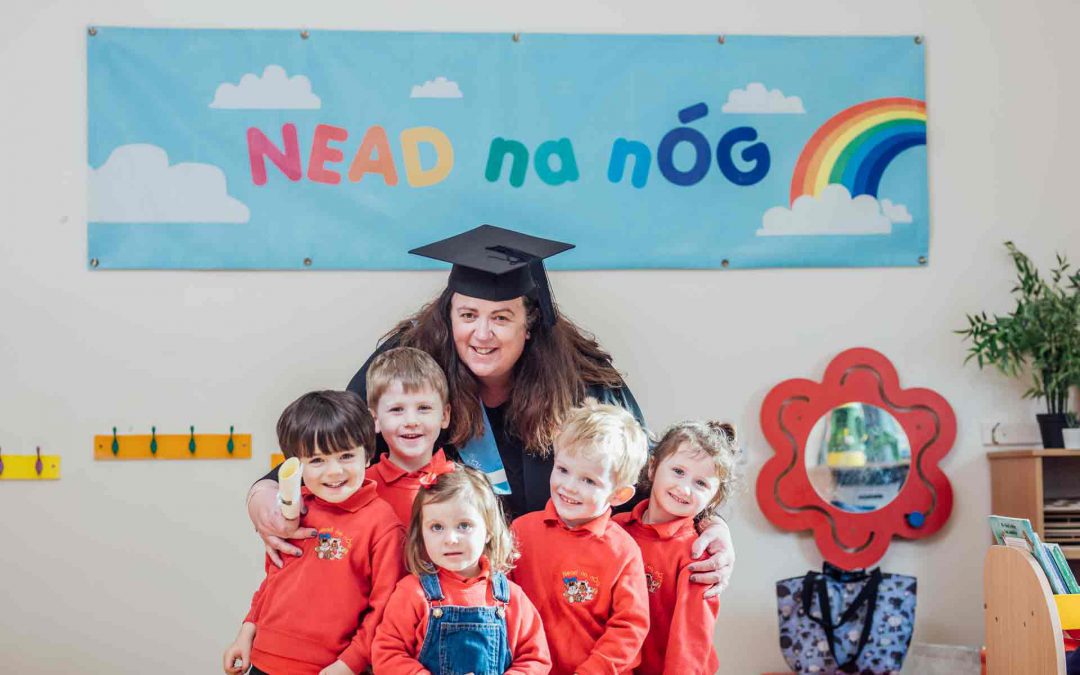 Minister hails "extremely positive impact" of LINC Programme as close to 600 graduate from inclusion programme     Graduates from across Ireland conferred at virtual graduation ceremony Speaking ahead of a Virtual Graduation Ceremony, which took place...
read more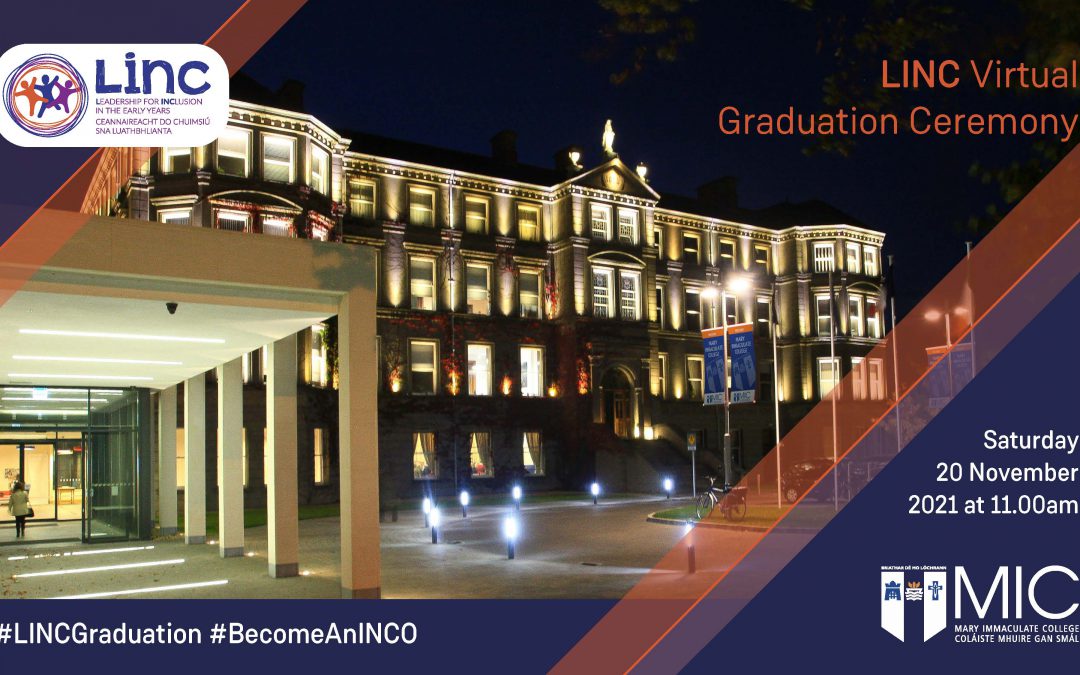 2021 LINC Graduation Ceremony to Take Place Virtually   The in-person Graduation Ceremony planned for Saturday, 20 November, has had to be cancelled due to the current Covid-19 situation. It was with deep regret that the difficult decision was...
read more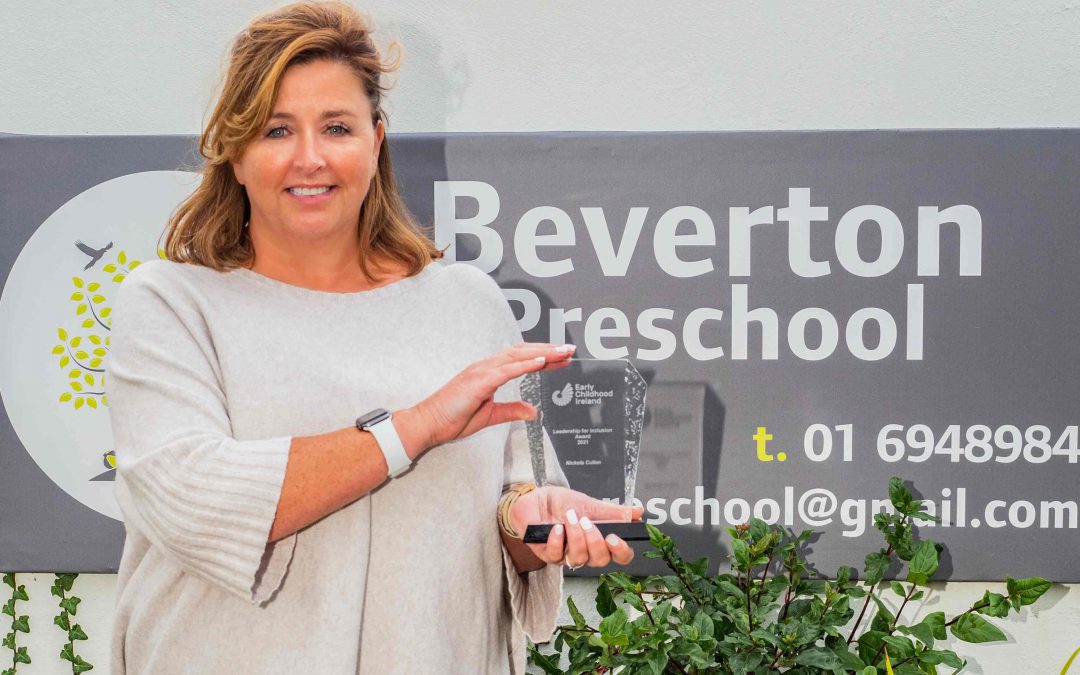 Leading Inclusion – Beverton Pre-School Wins LINC Award   The award was sponsored by the LINC Programme as part of the Early Childhood Ireland (ECI) National Awards, which took place virtually on the 8th of October 2021. The 8th of October was a...
read more