The Leadership for INClusion in the Early Years (LINC) Programme has been shortlisted for a Zero Project award for Innovative Practice in Education.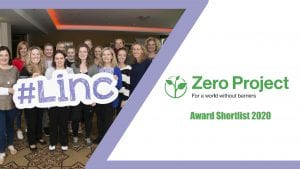 The Zero Project was initiated by the Essl Foundation in 2008 and focuses on the rights of persons with disabilities globally. It is a platform where the most innovative and effective solutions to problems that persons with disabilities face, are shared. Its mission is to support the implementation of the United Nations Convention on the Rights of Persons with Disabilities (UN CRPD) and to work for a world without barriers.
Each year, the Zero Project finds and shares Innovative Practices and Policies that help improve the lives of persons with disabilities, across a four year cycle of topics. This year's topic is education. From 469 nominations, 169 Practices and 24 Policies have made it through to this year's shortlist. The LINC Programme is one of four nominated projects from Ireland along with the Access and Inclusion Model (AIM), which LINC is a part of, shortlisted under the Innovative Policy section. A full list of this year's shortlisted Practices and Policies can be found here.
The LINC Programme is a one-year, Level 6 Special Purpose award delivered by a consortium led by Mary Immaculate College (MIC), which includes Early Childhood Ireland and Maynooth University-Froebel Department of Primary and Early Childhood Education. The course is designed to facilitate practising early childhood teachers to promote the inclusion of children with additional needs.
Commenting on the shortlisting Fintan Breen, National Programme Coordinator for the LINC Programme said: "It's fantastic to have LINC recognised internationally for the good work and impact the programme is having on inclusion in the early years in Ireland. By the end of this year, we expect to have more than 3,500 graduates, enough to take on the role of Inclusion Coordinator in over 80% of all pre-school settings.  This award is testament to the work and dedication of the full LINC Consortium and Team, who are dedicated to high quality early years education and the inclusion of all children."
Also offering congratulations on the shortlisting was Teresa Heeney, CEO of Early Childhood Ireland: "I am delighted to congratulate all of our LINC colleagues on their shortlisting for a Zero Project Award. This is wonderful news and a worthy testament to the vision, leadership, and dedication of all involved in this ground-breaking programme. We at Early Childhood Ireland are very proud to be part of this initiative. It is a privilege to see first-hand the inspirational work of the programme and its graduates in spearheading inclusion and accessibility for young children in Ireland. On behalf of all my colleagues, I would like to wish all at LINC the very best with this award!"
A sentiment echoed by Professor Marie Mc Loughlin, Head of the Froebel Department of Primary and Early Childhood Education, Maynooth University who added: "We are delighted that LINC's successes are once again recognised by being nominated for the Zero Project Awards for having developed a programme that is innovative in helping to improve the lives of people with disability.  This endorses the collective efforts of a highly energised team who has worked tirelessly to develop effective communication which in turn has successfully achieved tremendously high levels of engagement with educators in the early years sector. The team's efforts are deservedly acknowledged for the potential this programme brings to transformation within the early childhood sector."
The Zero Project Awards ceremony will take place during the Zero Project Conference, which will take place at the United Nations in Vienna, Austria in February 2020.
More Information on the Zero Project can be found here.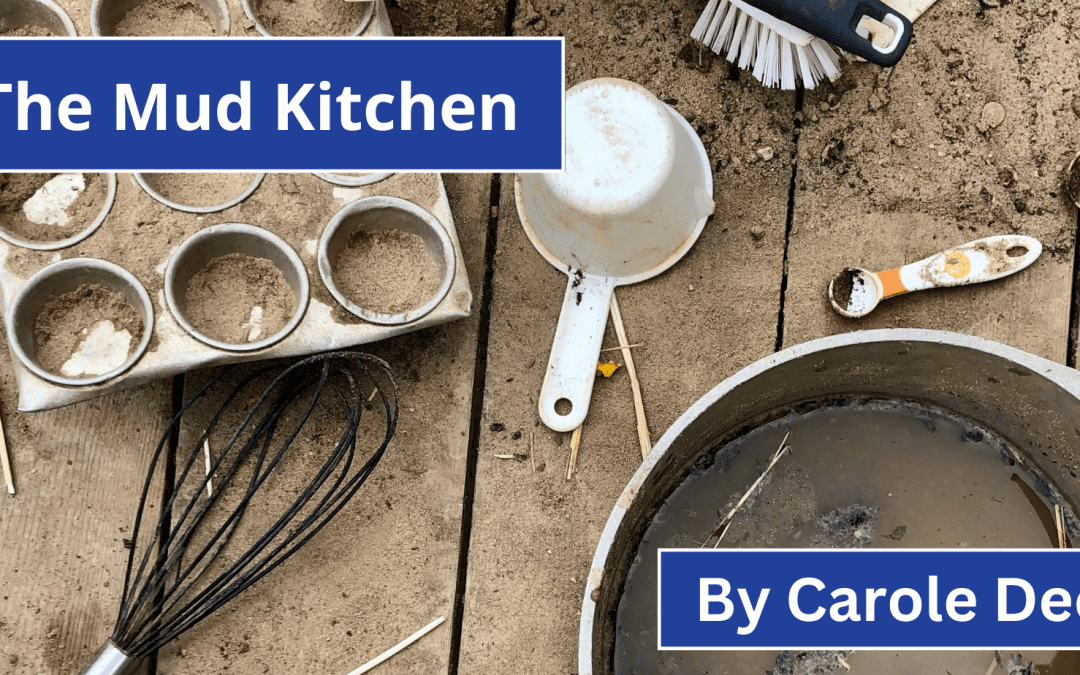 The Mud Kitchen In this edition of the LINC Blog, LINC Tutor Carole Dee describes how her Setting's Mud Kitchen encourages children's social and emotional development and provides endless opportunities for open ended, sensory play.The Mud Kitchen is without...
read more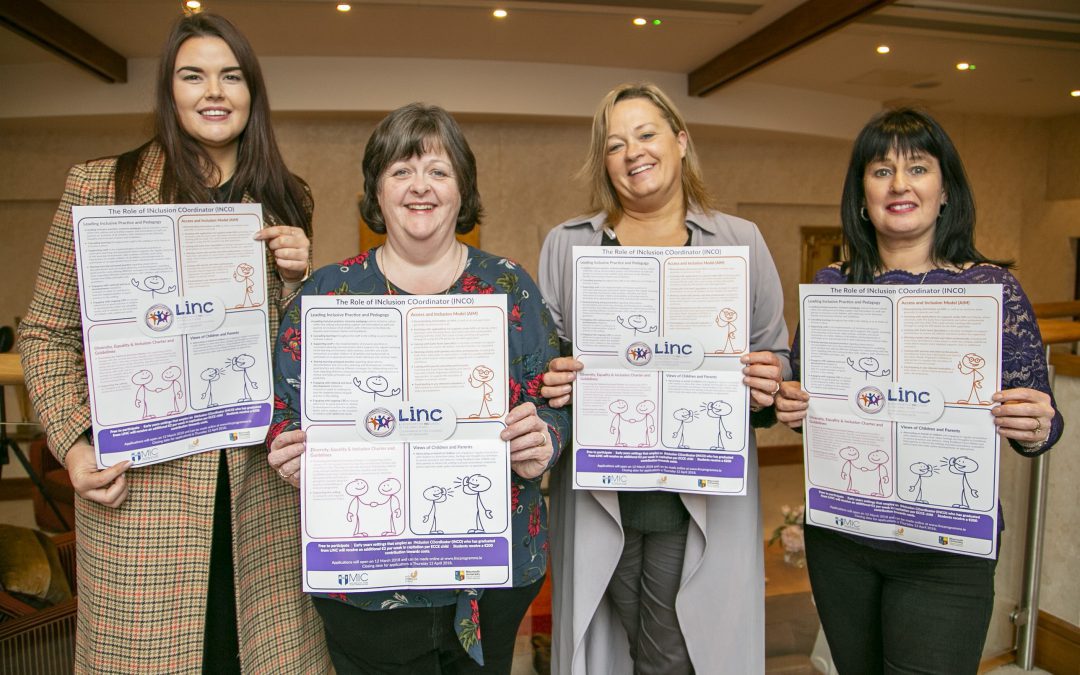 Minister O'Gorman commends the dedication of early years educators and encourages them to avail of the opportunity to apply for the award-winning LINC Programme.   630 places available nationwide as LINC Programme set to open for applications    The Leadership for...
read more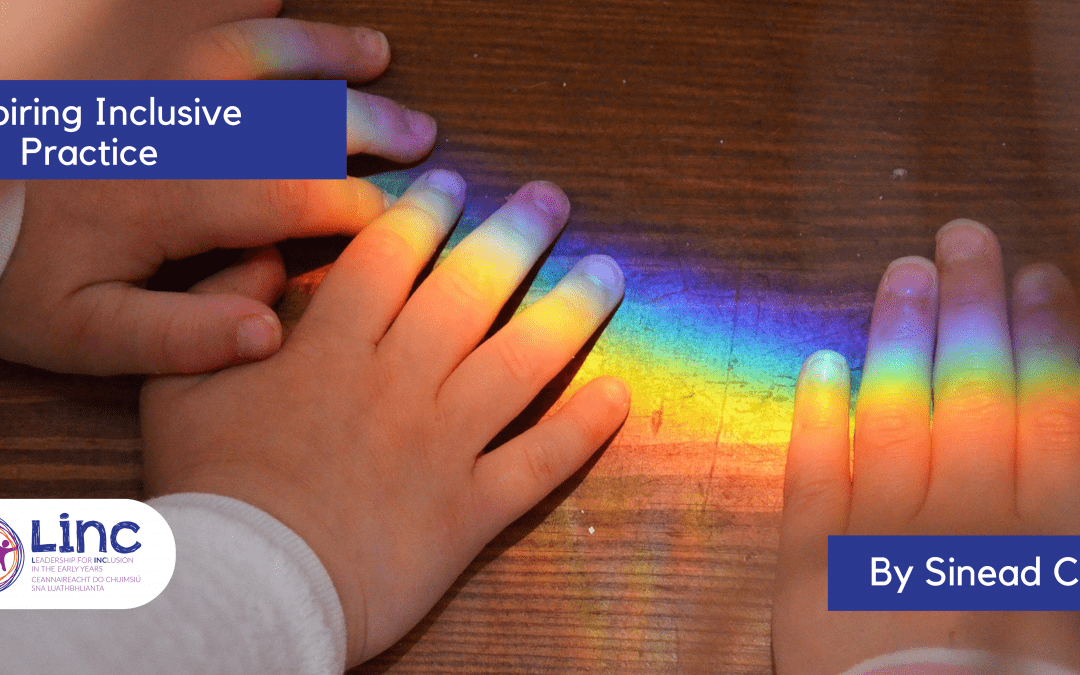 Inspiring Inclusive Practice In the edition of the LINC Blog, Inclusion Coordinator (INCO) Sinead Conran reflects on how her participation in the LINC+ CPD Programme and engagement in a Community of Practice with fellow INCO's has benefited her and her...
read more