In this LINC blog, former Programme Tutor Rachael Ryan examines how you can make the story-telling experience a more inclusive one in your early learning and care setting.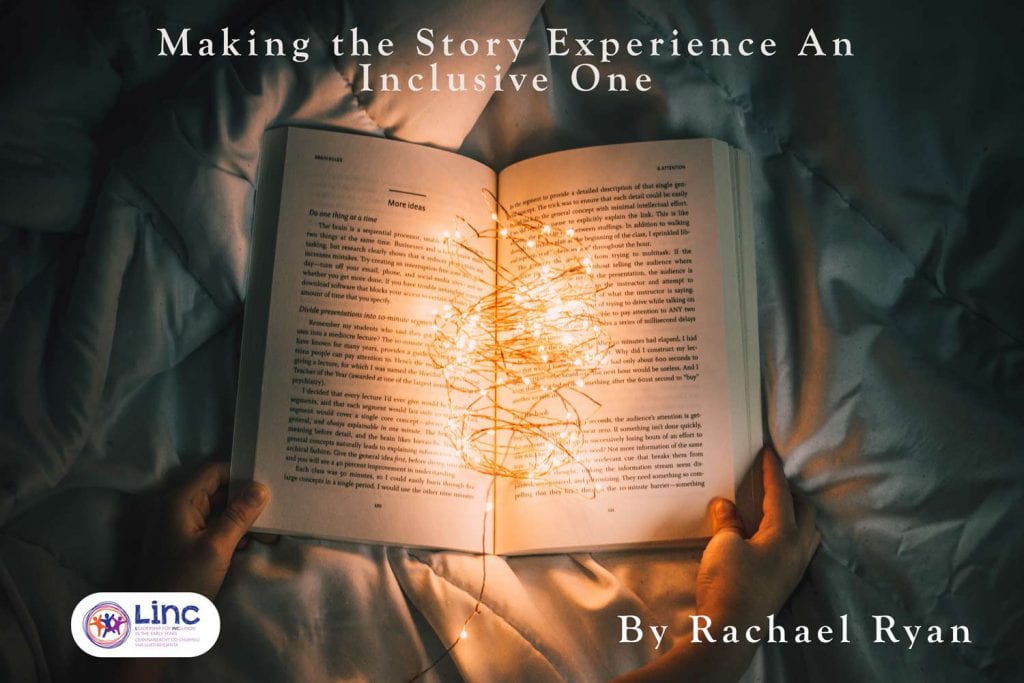 The benefits of storytelling include building caring relationships and supporting a child to develop their creativity and imagination. More on the benefits of storytelling can be found here. This blog will focus on supporting you to approach the story-telling experience in an inclusive way and will share some techniques to help you make stories a valuable experience for all.
Story time is an activity used regularly in an early years environment but often is presented and used as a supervision or organisational tool, for example story time might happen directly after lunch to allow another early childhood teacher to clean up and prepare for the next activity, or it be used as a wind down activity after the children return from the outdoors area and preparing for collection time. Although there is nothing wrong with using a story to help with transitions – I wonder if the real value and learning experience is lost when the 'story' itself becomes the inferior motive.
Also now consider the approach you take to these two situations mentioned above, in general do follow the same routine – one early childhood teacher at the top of the group and all the children sitting around in a semi- circle looking up towards the book. Think about how the experience is being offered to the children. This might work well if you have 22 children capable of sitting still, listening, being responsive at all the right times, and of course who are interested in the book you are offering.
Think about what might happen in this situation if you have:
A child who is really active and enjoys movement.
A child for whom English is not the first language.
A child who has a visual or auditory challenge. Advice is available from the visiting teacher service for children who are deaf/hard of hearing or blind/visually impaired. See https://ncse.ie/visiting-teachers
A child who is inquisitive and likes to know, why, how, when and how come?!
A child who engages best when concrete materials are available.
A child who struggles in large social situations.
A child who has a sensory need.
In the example above the story experience will never meet the needs, interests and strengths of all of these children, all of the time. To support you to consider implementing and delivering an inclusive story experience, here are some ideas on how you can adapt your story experience to allow for a more comprehensive and holistic practice.
1. The role of the adult is central as s/he will determine the technique used. Stories should not just be read, they should be told and given expression and meaning. We should encourage active participation i.e. using a story sack, puppetry, or simply role play the story. This will support an active child, a child who enjoys role play and a child child for whom English is a second language.
2. Group size is another important consideration. A good story opportunity can arise with just one child present, it can be effective with just a small group and at times a full group. Different group sizes offer different experiences for individual children. It should reflect the story experience you would like to offer. A large group might be best for a story sack, a smaller group when using puppets and individual or paired option as a relaxing and comforting approach allowing a caring relationship to develop, in this way supporting all children's needs.
3. Location is also important, consider telling a story in the outdoors on nice, Summer's day. Head off on a bear hunt, or use a bird book to help the children identify the birds in flight locally. This will support a child again who is active or a child who engages best when concrete materials are available.
4. Ensure the books available to the children, and that are read to the children represent them all, for example their cultural identities and diversity of beliefs and backgrounds. Please also include books that are reflective of events happening in the child's life i.e. new baby, moving house. If you find these hard to locate or costly to supply, consider making your own books with the children using images from the setting, maybe recycle the family wall and put it together in a book format allowing children to access and engage with the pictures in a different way. Asking parents to donate a book which represents their language. Recycling old calendars, newsletters, marketing leaflets of fundraisers from organisations representing children with additional needs and including these as picture books. These types of books can represent all children mentioned above with a little preparation.
5. To support a child's voice – consider making a book which the children compose. The book is started with an idea, each child is then given the opportunity to either tell, or make a page of the story until all children have contributed and the story is finished. It would begin for example about a trip to the zoo, then child 'A' could invent 2/3 lines about what happened next – child 'B' hear the story so far, and then s/he adds his 2/3' lines about what happens next, and continue this until the story has finished and the lion with blue hair who loves jelly for dinner lives with child 'T' after visiting the beach and painting his nails with sparkles! Once completed the story can be shared with all and kept in the library. Again supporting all children!
6. Consider using music to support the story experience – creating tension, excitement, and fun responding to the atmosphere present in the book. This will support a child experiencing visual challenges, a child who enjoys drama and a child who is musical.
7. Let's not forget using audio books with ear phones available for a child who likes some time alone to relax; large books with large text and print, or braille books can be used for children with visual challenges.
8. When reading a story with a child who has auditory challenges, ensure that the child is facing you, and speak clearly, consistently checking the child's understanding. The use of concrete materials such as story sacks or story boxes can help to support the child's engagement with the story.
These are only a handful of suggestions, which I hope will help you re-evaluate the story experience you offer and inspire you to be creative in your delivery. Hamilton and Weiss (2005, p.5) once said when the 'audience members are actively involved in the process, storytelling becomes a shared experience.' A shared experience for all children – what better way to promote a love for reading while being inclusive of all children?
References:
Hamilton, M. and Weiss, M. (2005, p. 5) Excerpt from Children Tell Stories: Teaching and Using Story-Telling in the Classroom, available: https://www.rcowen.com/PDFs/CTS%20Ch%201%20for%20website.pdf [accessed 14th June 2019].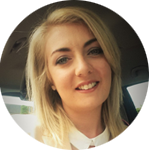 Rachael Ryan
Former LINC Tutor
Rachael has been involved in the Early Childhood Care and Education sector for almost 12 years, within a variety of disciplines. She began her career in Childcare, having qualified from Mary Immaculate College (MIC), Limerick with a BA in ECCE, graduating in 2009. She has almost 8 years' experience working in childcare in a supervisory role and predominantly within the pre-school age group. While working in Childcare Rachael was successful in completing a part-time Diploma in Child Psychology.
Rachael's career in teaching began in 2013, as she combined her passion for childcare and her love for teaching. Rachael started working in the PLC sector delivering on level 5 & 6 ECCE programmes, with a specific focus on practical teaching components where she could share her experience and knowledge with current students. Rachael's love for teaching a subject matter that she is passionate about motivated her to complete a Post Graduate Diploma in Teaching in Further Educations from Waterford Institute of Technology (WIT) in 2015. Continuing Professional Development (CPD) is an integral part of Rachael's career path and it has driven her to participate in a variety of additional workshops and training opportunities. The most significant was notably her participation on a study visit to Norway, funded by Early Childhood Ireland & Léargas in partnership with Queen Maud University, Trondheim, Norway.
Rachael has guest lectured with Limerick Institute of Technology (LIT), with specific focus on child development and theories of child development. Rachael worked as a Tutor on the Leadership for Inclusion in the Early Years Programme form 2016 – 2019, she is currently employed working as a Childminding Development Officer with Kilkenny County Childcare Committee.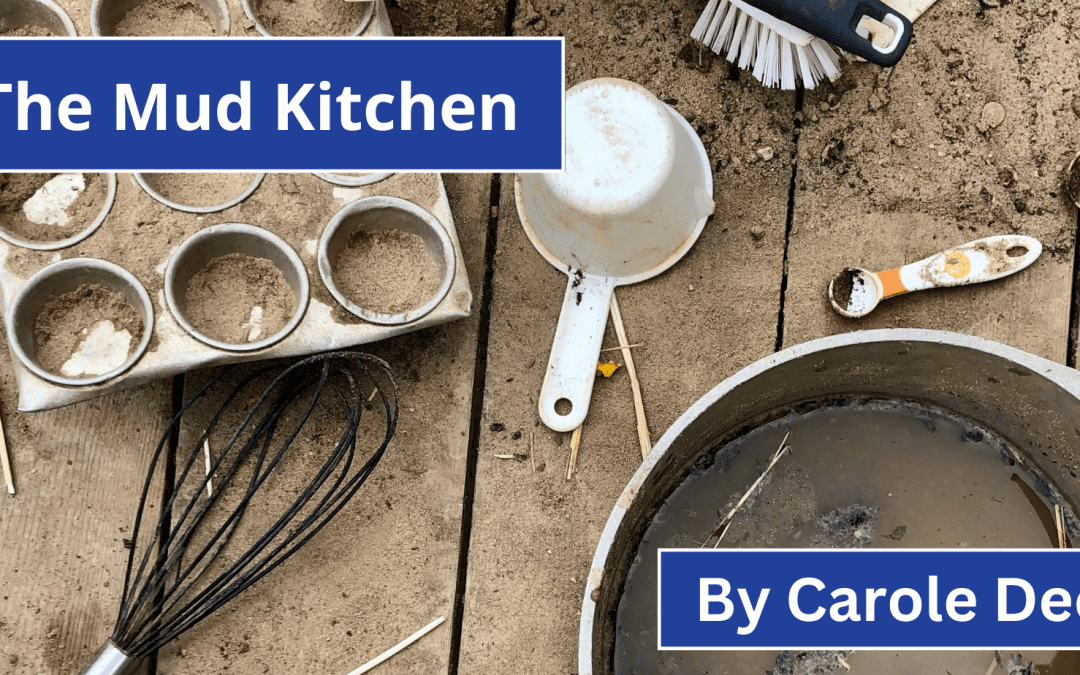 The Mud Kitchen In this edition of the LINC Blog, LINC Tutor Carole Dee describes how her Setting's Mud Kitchen encourages children's social and emotional development and provides endless opportunities for open ended, sensory play.The Mud Kitchen is without...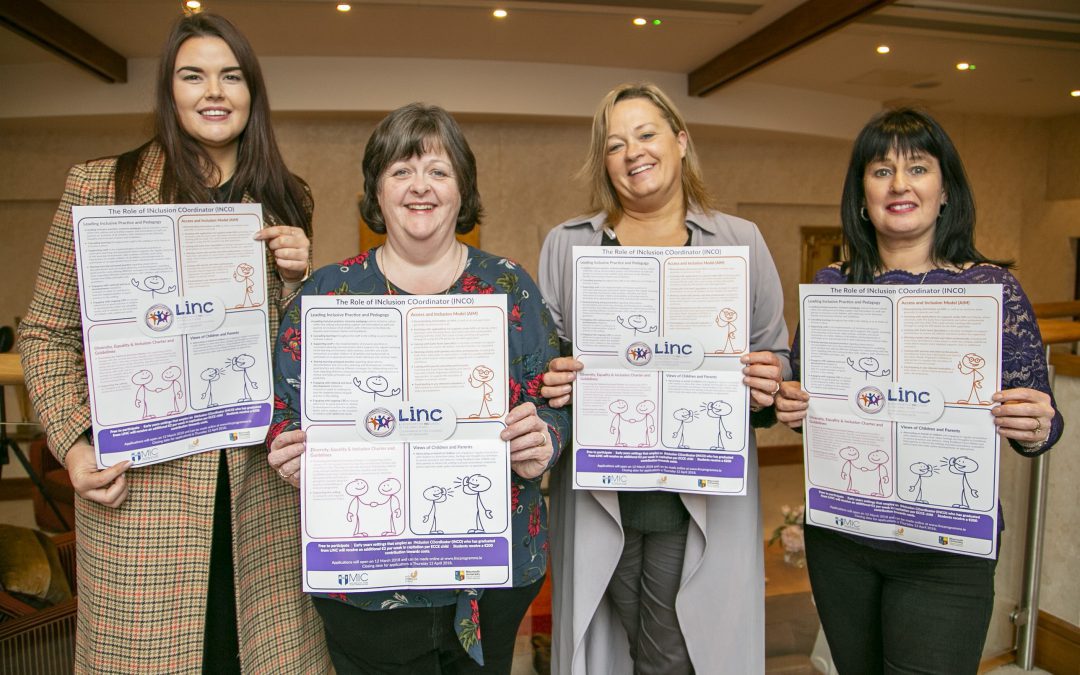 Minister O'Gorman commends the dedication of early years educators and encourages them to avail of the opportunity to apply for the award-winning LINC Programme.   630 places available nationwide as LINC Programme set to open for applications    The Leadership for...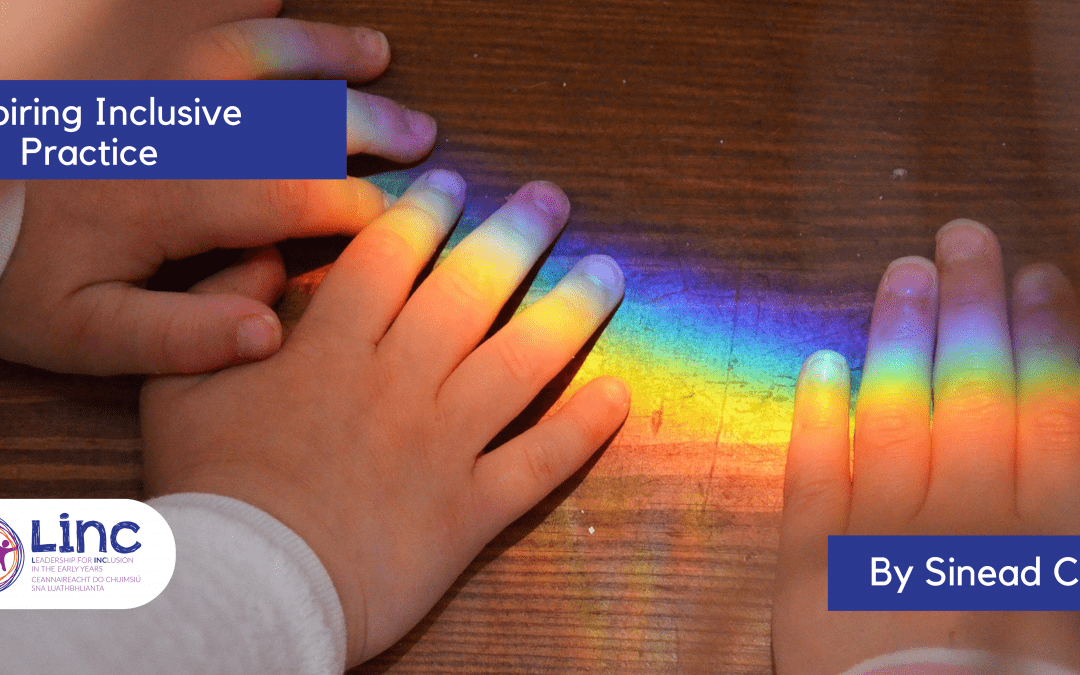 Inspiring Inclusive Practice In the edition of the LINC Blog, Inclusion Coordinator (INCO) Sinead Conran reflects on how her participation in the LINC+ CPD Programme and engagement in a Community of Practice with fellow INCO's has benefited her and her...