Minister praises over 800 LINC Programme graduates for commitment to inclusive culture which 'will have a wider impact in society as a whole'.
Remarkable Achievements of LINC Graduates Recognised at Virtual Ceremony
Speaking ahead of a Virtual Ceremony of Recognition, which took place at Mary Immaculate College (MIC) today (26 March) and celebrated the accomplishments of over 2,000 MIC graduates including a sizeable LINC cohort. The Minister for Children, Equality, Disability, Integration and Youth, Roderic O'Gorman TD, said that "the LINC Programme has been a key contributor to the success of the Access and Inclusion Model (AIM) in supporting the inclusion of children with disabilities in the ECCE programme".
"I congratulate each graduate, not only for achieving this great personal success as they adapted and persevered through Covid-19 restrictions but also for demonstrating their commitment to fostering an inclusive culture to help all children reap the benefits of high-quality early learning and care.
As LINC graduates, they will be fully qualified to play the role of Inclusion Coordinators within early learning and care settings. As Inclusion Coordinators, they will play a leadership role in changing how disability and inclusion are viewed in the settings within which they work and – through their leadership influence on colleagues, parents and children – they will have a wider impact in our society as a whole. I warmly welcome the graduates' commitment to professional development and I wish them well with their future endeavours," he added.
Due to COVID-19 restrictions, the annual three-day conferring ceremonies at MIC, which usually take place in the autumn, were cancelled and students conferred in absentia. Last October, 850 students from across Ireland were conferred with a Level 6 Special Purpose Award. LINC, established in 2016, is a higher education programme designed to enhance inclusion of all children in early learning and care settings through the development of the role of Inclusion Coordinator.
The programme, offered by a consortium led by Mary Immaculate College and including Early Childhood Ireland and Maynooth University – Froebel Department of Primary and Early Childhood Education, is part of a Government commitment to the provision of high quality education and training in the field of early childhood care and education and was introduced as part of the Access and Inclusion Model (AIM) in 2016.
Speaking at the virtual Ceremony of Recognition, Professor Eugene Wall, President of MIC, said: "While the social restrictions around COVID-19 may have prohibited us from celebrating in a proper and time-honoured way, it will not thwart our efforts to recognise your remarkable achievements, accomplishing what you have against the backdrop of a global pandemic. You met a litany of challenges during your course of study here at MIC, more so than any other preceding graduating class, but you successfully and bravely overcame them, displaying a determination and strength of character that will serve you well throughout your life…It is with great pride that, on behalf of the entire MIC community, I congratulate you, the Class of 2020, on reaching this tremendous milestone under such adverse conditions. We are so very proud of you all."
Paula Conlon from Dunboyne, Co. Meath, was awarded with a College Gold Medal for achieving first place on the programme. Also receiving an award was Jacinta O'Hara Ballyheigue, Co. Kerry who won the Early Childhood Ireland Best LINC Portfolio Award.
The following graduates received regional portfolio awards: Margaret Davis (Carlow), Kathryn Crossan (Cavan), Chiara Brigato (Dublin City), Fiona Bowe (Dublin North), Niamh Martin (Dublin West), Jacinta O'Hara (Cork), Saibh Hanahoe (Wicklow), Imelda McGrath (Roscommon) and Monika Culhane (Tipperary).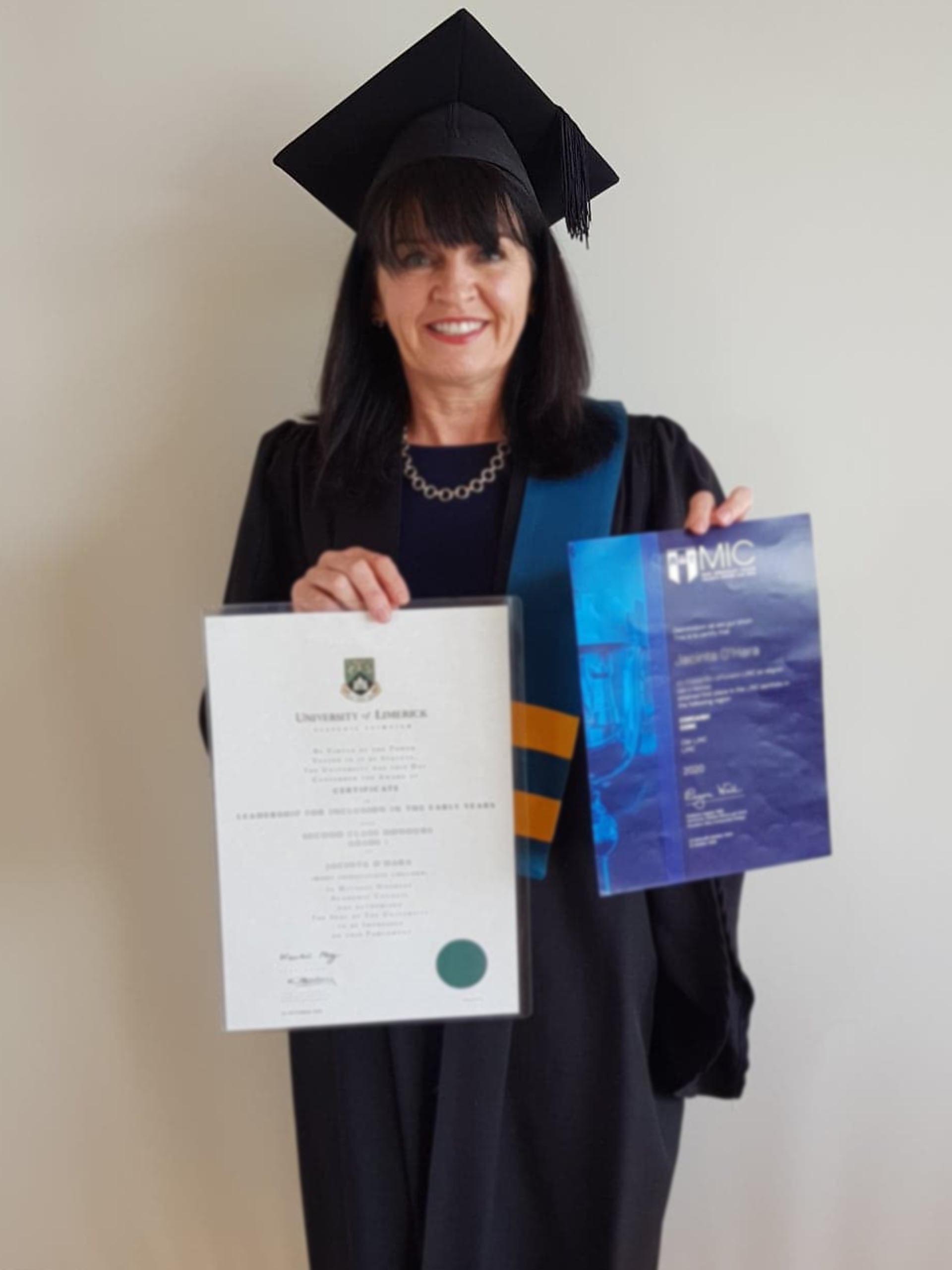 Jacinta O'Hara Ballyheigue, Co. Kerry who won the Early Childhood Ireland Best LINC Portfolio Award.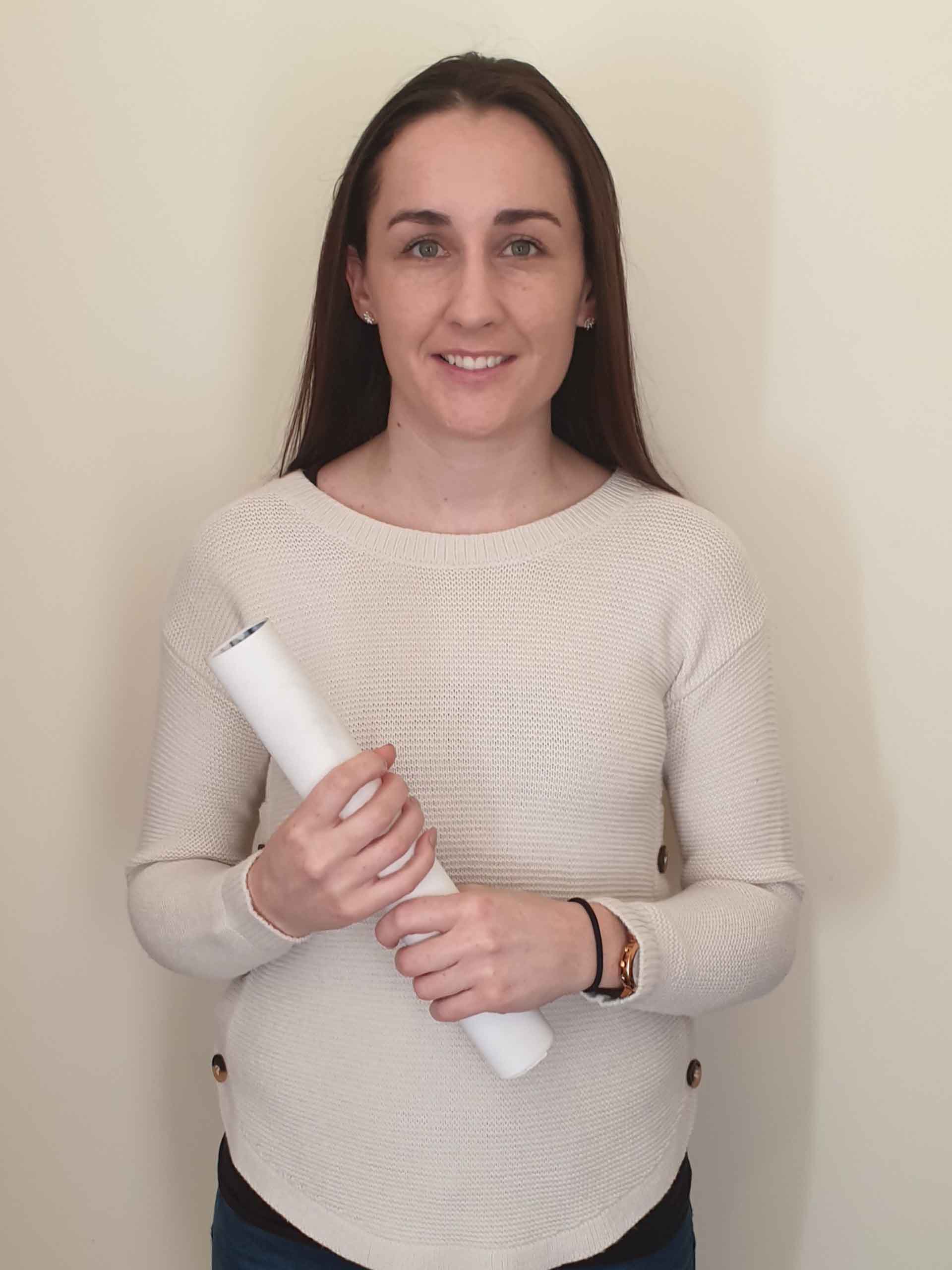 Paula Conlon from Dunboyne, Co. Meath, was awarded with a College Gold Medal for achieving first place on the programme.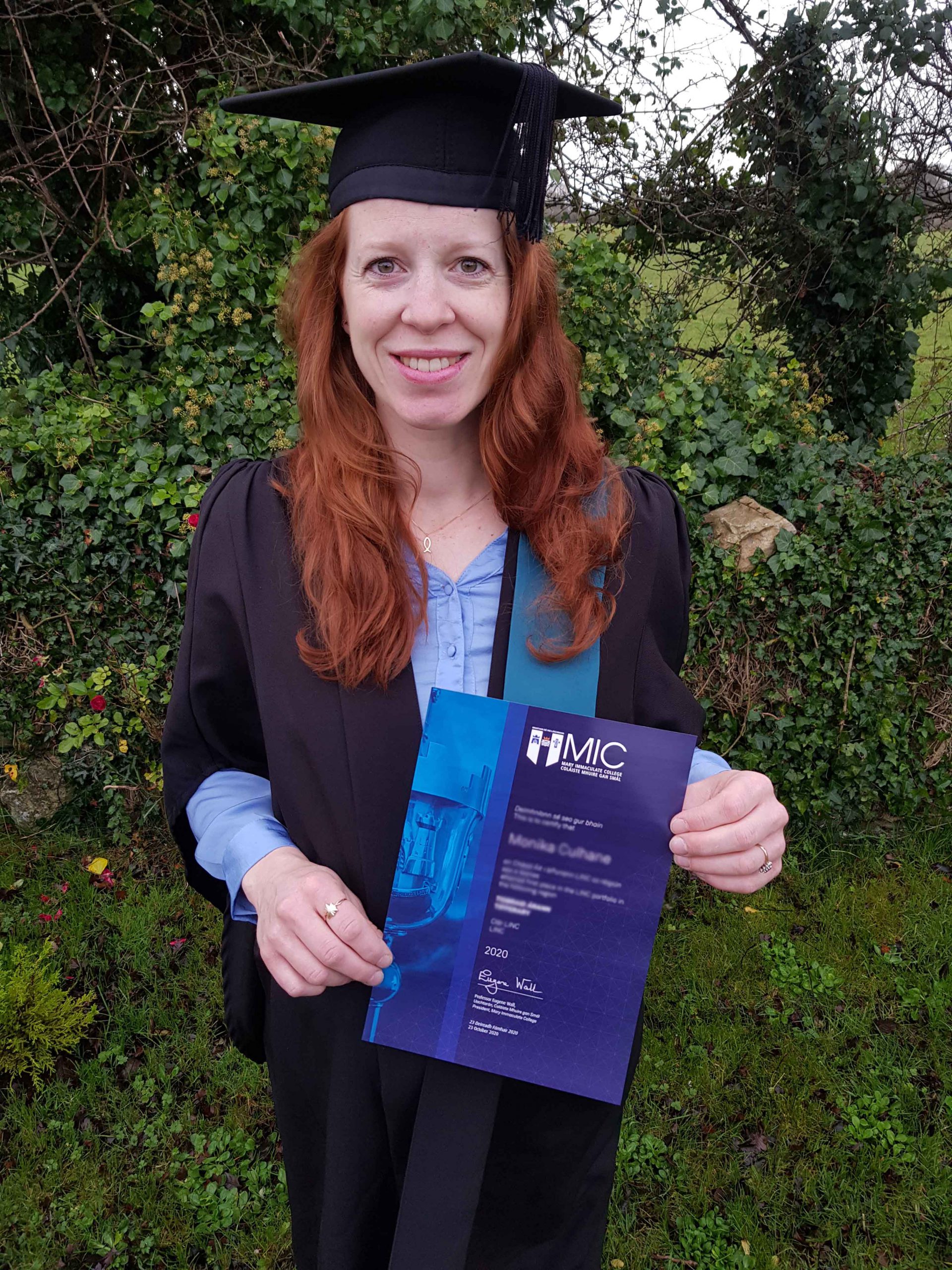 Monika Culhane, winner of the Tipperary Regional Portfolio Award.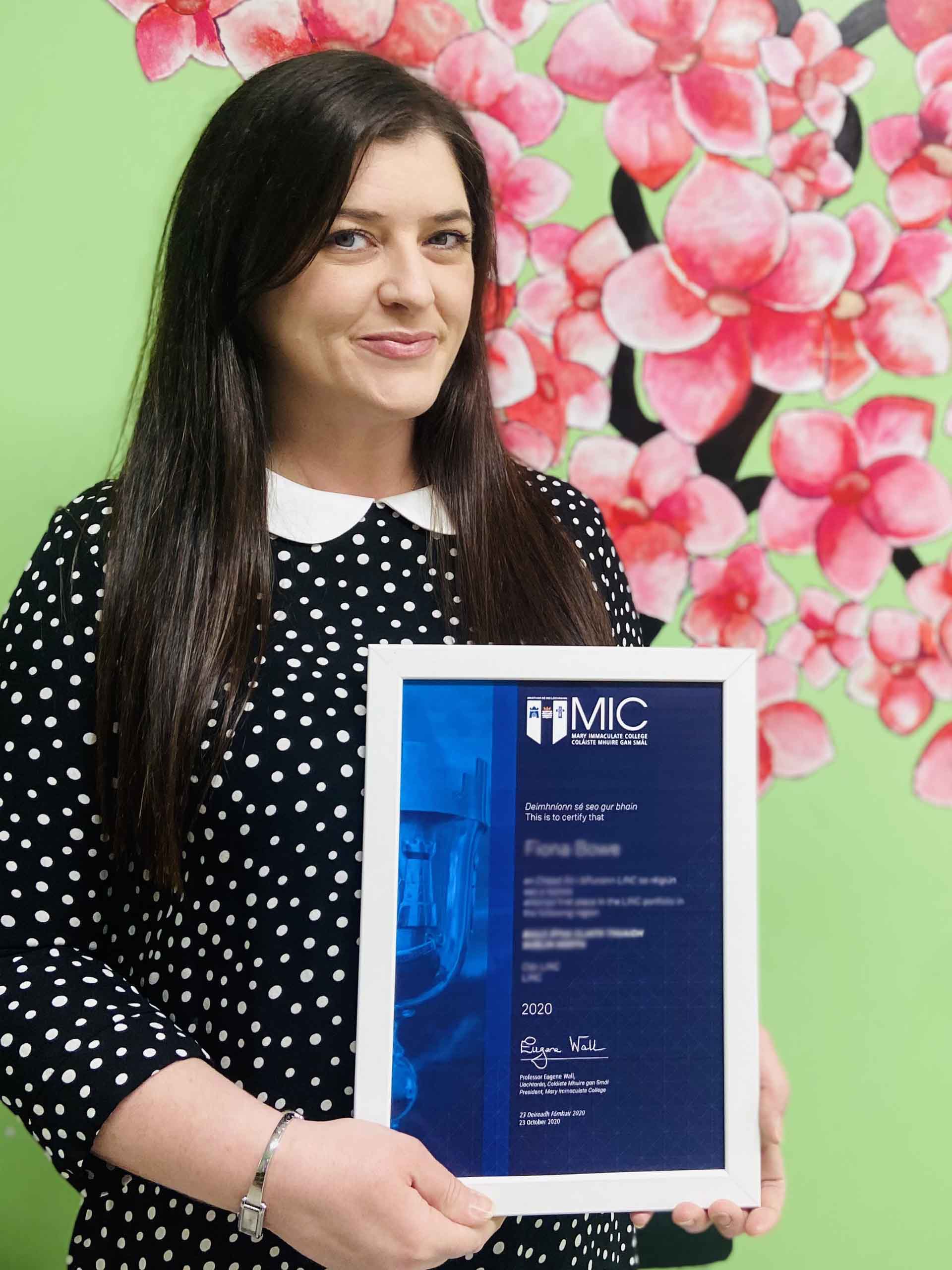 Fiona Bowe, winner of the North Dublin Regional Portfolio Award.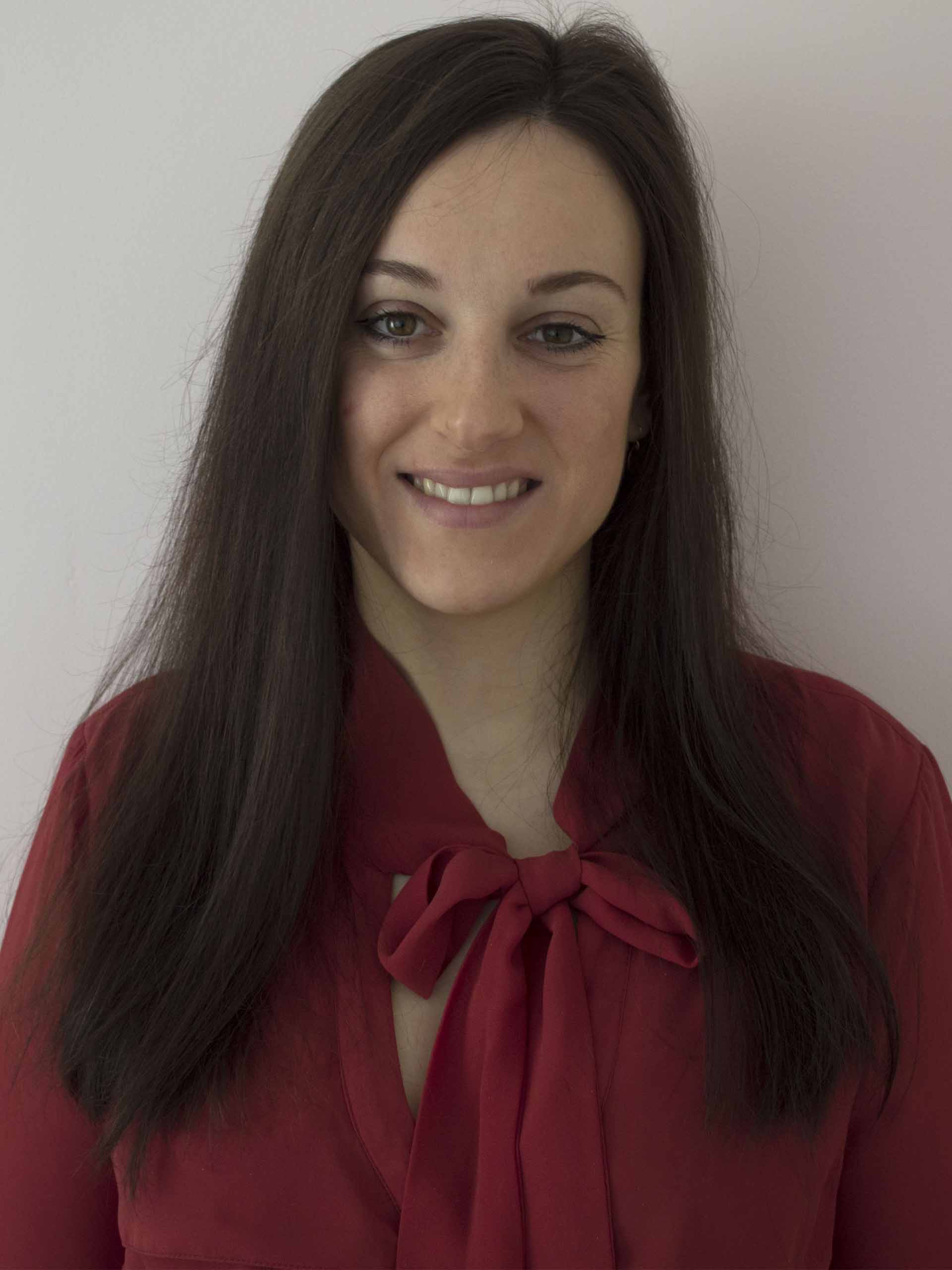 Chiara Brigato, winner of the Dublin City Regional Portfolio Award.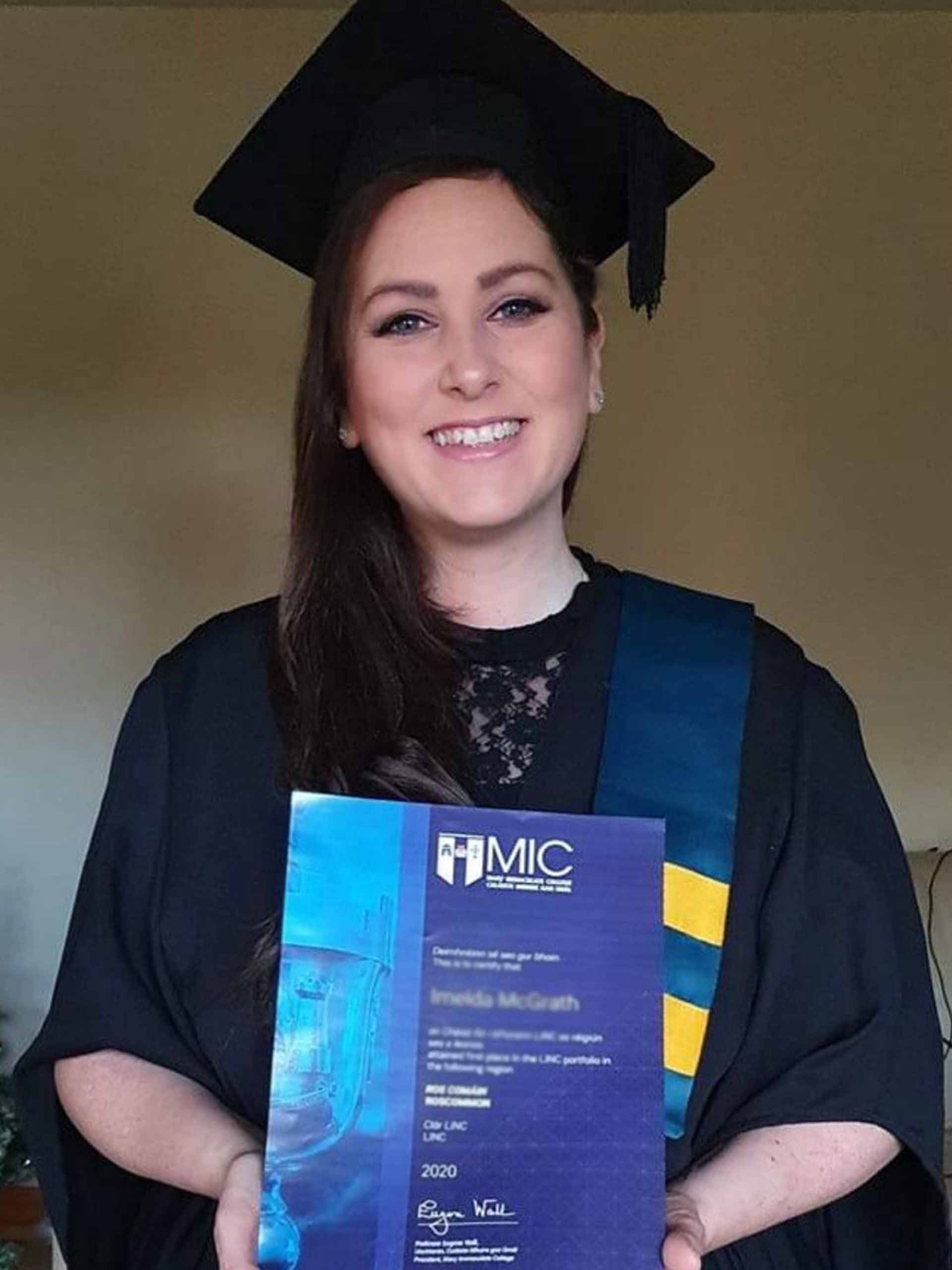 Imelda McGrath, winner of the Roscommon Regional Portfolio Award.
Also offering congratulations were members of the LINC Steering Committee and LINC Programme team who acknowledged the hard work and dedication of the 2020 cohort of students, and congratulated them on completing the programme in a year like no other. A video featuring these good wishes can be viewed below.
Earlier this year, the LINC programme received a Highly Commended Star Award. The STAR Awards are organised by the national adult learning organisation, AONTAS, as part of its annual Adult Learners' Festival. AONTAS recognise and celebrate the achievements of adult learning projects throughout Ireland. The programme has twice been the recipient of the Best Online Learning Experience Award at the Education Awards – these awards encourage and celebrate excellence in the third level education sector on the island of Ireland.
The LINC programme is free of charge to participants and employers, and is funded by the Department of Children Equality Disability Integration and Youth. Early learning and care settings with an ECCE contract can nominate an employee for LINC and the nominee must have a full Level 5 Award or higher in a relevant discipline.
Further information on the LINC Programme can be found at www.lincprogramme.ie
The Virtual Ceremony of Recognition may be viewed here.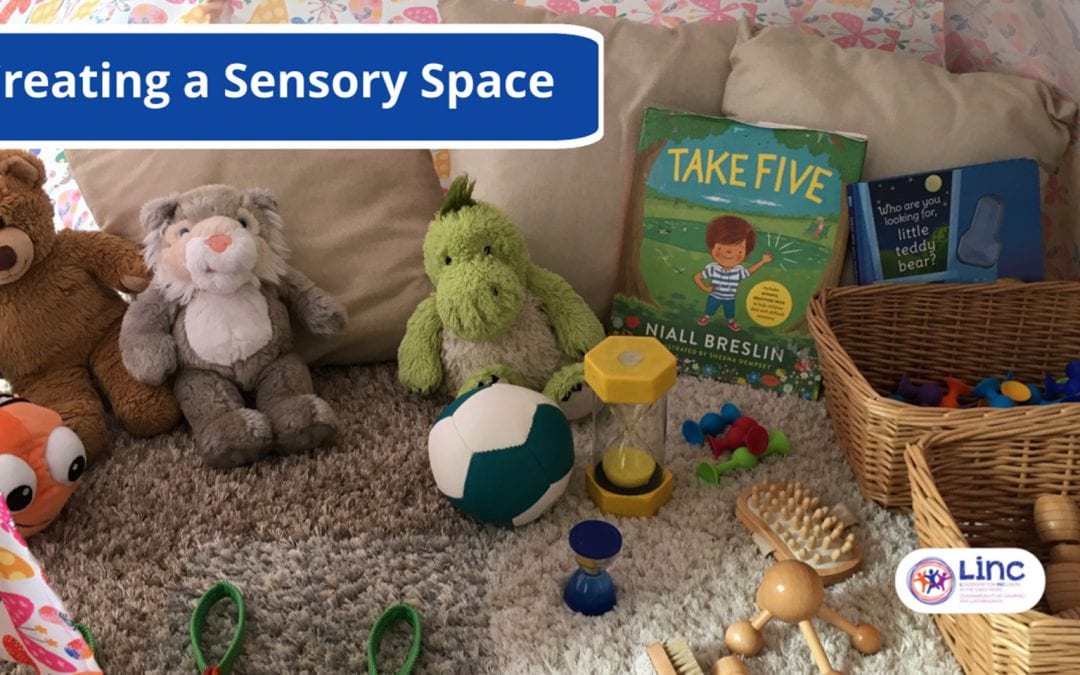 Creating a Sensory Space In this edition of the LINC blog, tutors Claire Butterly, Karina Abbott, Ann Donnellan, Carole Dee, Linda Madden, Margaret Joyce and Paula Harte highlight some considerations when planning a sensory space in your Early Learning and Care...
read more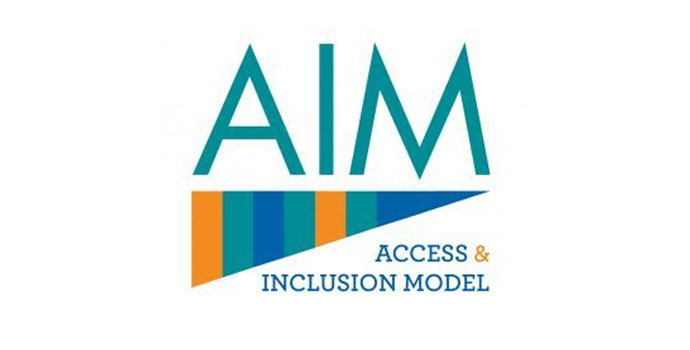 Exciting Professional Opportunity for Early Learning and Care (ELC) Practitioners (LINC graduates) A research consortium, led by the University of Derby, is recruiting approximately 16 Practitioner Researchers (PRs) to participate in the 'End of Year Three Evaluation...
read more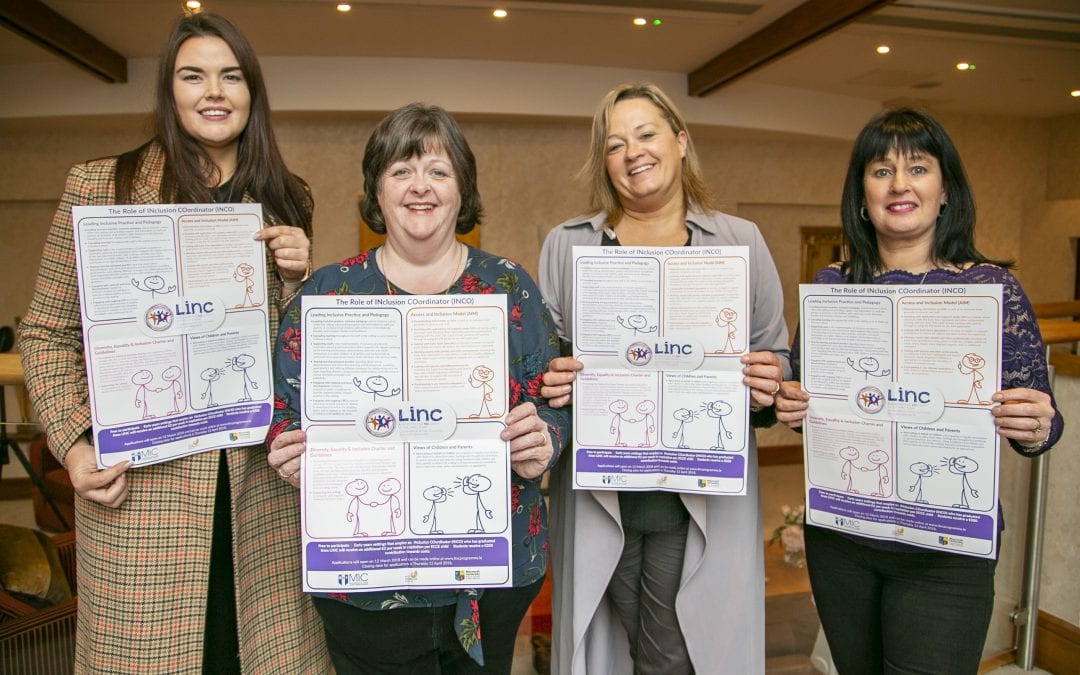 Minister urges staff in Early Learning and Care settings to avail of free, award-winning inclusion programme Applications to open for 660 places available nationwide as LINC programme enters sixth year with over 3,000 graduates to date The Leadership...
read more