Ann McDonagh Owner/Manager of Bright Beginnings in Oughterard, Co. Galway and LINC programme participant reflects on her journey through LINC as she submits her final assignment for the programme.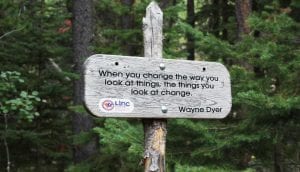 Working on my Portfolio in Module 6 of the LINC programme turned out to be quite a journey. I was required to gather evidence of inclusive practice, pedagogy and culture from within my early years' setting. Starting off, I thought, "here it goes-  I am going to have to go through each and every piece of material and photo to bring forward the best of my service".
As I was going through my files, observations and, especially, the pictures; I looked at all the wonderful experiences I have shared with the children and families in my service. Each and every moment recalled and I have to say I felt proud:  Proud that I could see how much value each child took from their time with me, and proud of my own ability to make them feel happy and content. I looked at how they shared many fun moments with their friends and how families were introduced to each other for the first time at my service and remain friends still. It was an emotional experience for me.
Recalling these moments brought me on another journey, one of self- discovery. I always knew that I wanted to work with children, from an early age, and as I started reflecting and writing up my Autobiography and Philosophy as part of the Portfolio, I discovered something about myself – I am a 'person first' type of person.  I actually see each person for who they are; I don't see ability or disability. It is only when I go through my journey with a person that I discover more about them.  However, studying through the LINC programme and learning more about child development and theoretical opinions throughout the course, I learnt that in order to bring a person forward I must look at their ability, and most important I must open my mind to the additional support that they may need in order to be fully inclusive.
When it came to my Autobiography I discovered how important it is to me to make a child feel welcome each day.  It is that "good morning" that reassures a child. My main focus of any day is the beginning. Each day is a day of transitioning for a child. Recalling my own start at 'big school', I have discovered why this is so important for me. My first day was daunting and I discovered, through this Portfolio journey, that this is why making a child feel welcome and comfortable each day is the most important part of childcare for me.
Studying the LINC programme has given me much more than a recognised professional standing. It has given me pride, accomplishment and confidence.  I am a better person having studied this programme. I am more aware and conscious of a child's learning abilities and I would like to think that I am a more supportive guide for families and for the people I work alongside.
From the very beginning of this journey with LINC I knew I was on the right programme.
Each module was broken down so well, and each part led into the next.  I think that is why I call it my journey. I have undertaken previous courses, and I have to say that from the very beginning of this course I had a belief that "Yes, the professionals that put this course together already know me, and my work, and most importantly they know how I, as a childcare practitioner, can relate this to my role and profession".
I particularly enjoyed the method of study.  I always thought I was a visual learner only. Working online with the module being audio as well as visual, was a very comfortable way for me to study.  It fitted well into my working schedule (although I am looking forward to some free time now that I have completed my studies!). I worried sometimes that I was not giving the correct language in my module work, or that I was not thinking about things correctly. I have this ability to go off course; I am a little quirky in thinking and ideas, and I go a little outside the box sometimes, but I believe in what I have written and reflected upon in my work, so I guess it's ok ( I will have to wait for the results on that!).
The face-to-face sessions were excellent, and alongside the class group participation, I got to meet and chat with so many wonderful, dedicated people in the sector.
I am proud that there is a professional third level program like LINC available to all childcare settings and I feel very privileged to be part of it now. I hope to follow the ethos and learning around Diversity, Equality and Inclusion, bringing it into my work with children and families and also to use the positive language base around it through my everyday life.
The LINC programme would like to express its sincere thanks to Ann for sharing her experience with us. Applications for the programme are closing on Friday November 6, at 4pm, for more see www.lincprogramme.ie.