In this week's blog, Melanie Flanagan Tierney from Early Days Montessori Playgroup in Kilmeague, Naas, Co. Kildare, and LINC programme graduate, describes how LINC gave her the confidence to continue her adult education journey after the programme had ended.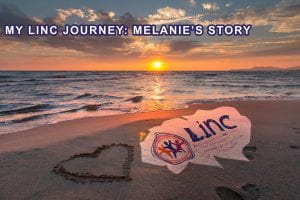 According to Síolta, when children are listened to, they feel valued, this helps build trust with the early childhood teacher. This idea motivated me throughout the LINC programme. I wanted to strive towards being an educator, and in doing so focus on the care and education of the child.
My colleagues, Sinéad, Lucy and Ali, supported me throughout the course and it was a wonderful introduction to the world of blended learning. As I had a special needs assisting course completed, I wanted to learn more about how best to support children with additional needs in a preschool setting. It was my first time taking part in an online course. The prospect of face-to-face lectures, weekly tutorials, online forums and assessments was daunting. A desire to learn gave me the courage to apply for LINC and kept me focused as I progressed through the programme.
The first face-to-face lecture in Maynooth University alleviated any fears I had about completing the programme. Claire and Andrea were very professional in their delivery of the course. As a tutor, Claire was so supportive and encouraging. Any difficulties or concerns I had she was at the other end of the computer and was so supportive in her role. The course was challenging as I wasn't proficient at using a computer, but the step by step guidance on Moodle (the online learning platform) was very user friendly in its delivery of the course content. Collaborative learning through face-to-face lectures, online forums and tutorials was very beneficial to me in my studies. Shared experiences helped develop my knowledge and learning, enabling me to bring ideas back and put them into practice. It had a positive effect on my colleagues and on the children within the setting.
All of the modules and the lesson content helped me to better understand the role of the Inclusion Coordinator and the Access and Inclusion Model (AIM). As a student, it strengthened my reflection skills and encouraged reflective practice. It helped me focus on enriching the experience of every child in the setting regardless of their 'ability'. I learned the importance of supporting the holistic development of each child, helping them to reach their potential. The one word I used on completion of the course was 'empowerment'. The experience of completing the LINC programme gave me confidence in my new role, helping me better understand that I was now responsible for supporting children, their families and working collaboratively with professional stakeholders. I now welcome the challenges of my position as Inclusion Coordinator and continue to follow best practice in the area by creating a diverse and inclusive environment for all children.
I am now in the first year of a part-time BA in Early Childhood Teaching and Learning in Maynooth University. I am the chief agent in my learning and I accredit this to the LINC course. It made me recognise the benefits of continuous professional development, made me want to bring out the best in the children and to support each child as a unique individual. I want the children in my care to reach their potential and have positive learning experiences. I want to fill their days with love, joy, laughter and knowledge. Together we will learn from one another in an inclusive, loving environment.
The LINC programme would like to express its sincere thanks to Melanie for sharing her experience with us. Applications for the programme open in March 2019, for more see www.lincprogramme.ie.