Philomena Weldon, an early years practitioner with over 35 years' experience and Owner/Manager of Phil's Montessori in Clonlyon, Kilcock, County Meath reflects on her journey through LINC and the impact it has had on her service.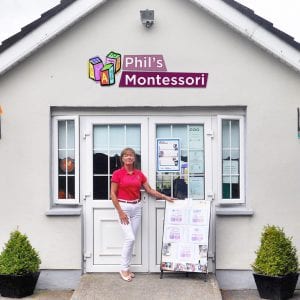 Each year we endeavour to undertake new challenges for our service. These challenges could be physical developments, courses, and environmental or educational award challenges. This year I felt the LINC course would be very beneficial in supporting the families and children in our care. I felt it would give me the skills to provide leadership within my early years setting in relation to diversity, equality and inclusion. I did have concerns about taking on a year-long course with the time commitment required; as I find the demands on my time outside school hours with journals, parents, Pobal, Tusla and observations is ever increasing. However, with the large online aspect I felt it would be manageable.
I found some modules were more challenging and time-consuming than others.  However, despite feeling pressurised at times, I realised that while I always felt I provided high-quality inclusive practice in a high-quality environment, I certainly did not have all the skills, knowledge and expertise to work collaboratively with all the various agencies and support structures available to early years educators. There were aspects of my service that I never considered could be exclusive. For example, simple things like 'reading glasses' for all children in order to ensure those children wearing glasses didn't feel different. I would also have felt that my policies and procedures were best practice but some needed reviewing and replacing. To do this, I got input from my team and parents to ensure everyone understood the concept of inclusive, equal and active participation for all children.
As I worked my way through the programme, I found myself becoming very passionate about my service provision. The more information I gained, the more I challenged myself to engage in further training to help support children with additional needs. I sought out courses and completed AsIAm and Hanen training, which really further enhanced my understanding of my role as Inclusion Coordinator. I shared this learning within the team, and as a result, my colleague also undertook Hanen and Inclusion and Diversity training.
Overall, I feel that participating in the programme has helped me to build on my existing strengths. I feel empowered to deliver an inclusive child-centred programme and to promote an inclusive culture within my community. I made new friends, and now have a network of early years educators I can call on for advice and support at any time.
In terms of my service, there has been an impact on many areas. The staff was very enthusiastic about the role of Inclusion Coordinator within the setting. They felt that the children and their families experienced high-quality leadership for all children, through the implementation of inclusive practices, promotion of an inclusive culture, and the provision of supports and guidance from external agencies as required. Through cascading my learning to the team, they felt I was investing in them by encouraging and arranging continuous professional development opportunities, which they were eager to avail of.
Participating in LINC was extremely beneficial, and I know the learning I have acquired will keep me inspired and passionate about ensuring inclusive pedagogy and the voice of the child is at the heart of my service.
The LINC programme would like to express its sincere thanks to Philomena for sharing her experience with us. Applications for the programme close on Friday, November 6, at 4pm, for more see www.lincprogramme.ie.