In this week's blog, Helen Comerford, Owner/Manager of Alanna Playschool, Tirmoghan, Donadea, Co. Kildare, and LINC graduate, describes how real life events in May 2018 inspired the children in her setting to hold their own children's referendum.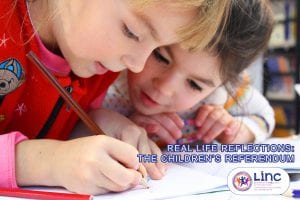 My name is Helen Comerford, Owner/Manager of Alanna Playschool, Tirmoghan, Donadea Co. Kildare. Our daily routine during circle time is to encourage discussions and conversations around what the children may have seen or things they may have participated in as a family. It was during this discussion one morning that the topic of  "YES cards" (posters) on telephone poles came about. One little boy was in the car when his parents were dropping his sister to school and had seen a lot of posters hanging outside. "What are they doing on a pole?" he had asked.  Another child heard him ask me this and added that he had seen them on a drive with his granny when she was going to Supervalu. Upon hearing this I got a piece of paper and wrote the words YES and NO and showed it to the children. I asked if they had seen these words. Lots of little heads started nodding up and down and some more children started saying that they had also seen those words up on poles. "Why are they up on the poles?" the children had asked. I explained that our country was going to hold a referendum and took out a map of Ireland to show the children, making sure to point out Kildare.  Each child had wanted to say that big word REF-ER-EN-DUM, and to their credit, it was pitch perfect from all of the children.
I explained to them that a referendum would bring about a change in our law (our rules) for Ireland. Mammies, daddies, carers and guardians would go to a school hall to decide YES or NO to change the law. The posters up on poles outside schools were so that mammies, daddies, carers and guardians could see them and decide whether they were for or against this change. We need our laws, I explained. When we are out for a drive with our parents and we are in the car, we have our seat belt on and if we see a red traffic light, we stop and wait for the light to turn green before we move off.  Those are examples of some of our laws.  The children asked if their mammy or daddy could vote. "Can I vote?" asked one child.
I told the children that you need a voting card to vote in a referendum and asked if they would like to make some and hold their own referendum. "YES", the children shouted and we all came together to decide on the law that we would put to a vote. After some deliberation it was decided that the children would vote to be allowed to bring in their own toys to play with for one day only.
"Can we bring in our own toys to play with for one day only?"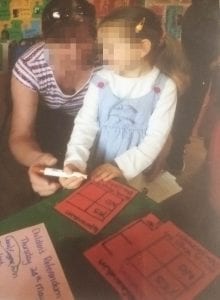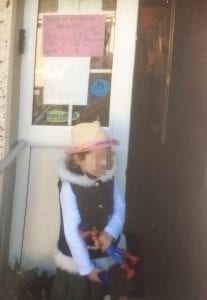 Vote YES to bring in your own toys to play with.
Vote NO to not be allowed bring in any toys to play with.
Once this was decided we asked the children what was needed for our referendum to take place. We would need those YES and NO cards, a table and some chairs, a list of names, and a box to put our cards into. With a little help the voting cards were ready. Some of the children moved furniture around and one child picked up our roll book, this could be used to decide who could vote.  Another child ran and got our post-box, which doubles as our post-box for the post-man, Santa and the Elf on the Shelf.
A note was sent out to parents explaining our emerging interest story and asking for their support on Thursday 24th May 2018 at 9.00am. It also informed them that a decision would be available at 12.00 noon. It was hoped that the YES side would win the referendum and that the children would be allowed to bring in their own toys on Friday 25th May, 2018.
The morning of our referendum had arrived. The parents were as excited and engaged as the children. That morning the parents had been seeking confirmation from their children as to what way they would vote. "YES, you have to put YES!" they had shouted. By 9.20am our ballot box was overflowing and ready to be counted. The children poured the votes onto the table. There was a silence in the room that was unheard of for that time of the morning. The children started to count 1,2,3,4,….
The results were in:
37 = YES,
2 = NO
1 spoilt vote.
The roof lifted with "HURRAY!!!". Shortly afterwards the children started discussing what toys they were going to bring in to play with the next day.
This activity engaged every child. It started with one child's observations, and began to blossom as another child who had been listening recalled their own experience. It is important as early years teachers to explore a child's emerging interest by providing and linking positive and real experiences using the Aistear Themes of Communicating, Exploring and Thinking.
The LINC programme would like to express its sincere thanks to Helen for sharing her experience with us. Applications for the 2021/12022 LINC Programme are currently open. for more visit this page on our website www.lincprogramme.ie/apply-now.