In this edition of our blog, LINC graduate Brenda Langton describes how putting one small change into practice can make a big difference in the life of a child.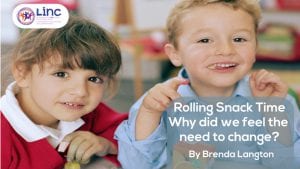 In September 2017 a gorgeous little boy started in our service. He was full of fun and devilment. As the year progressed we noticed he was really struggling with lunch time. The daily routine involved the leader of the day ringing a bell for tidy up time. Once the room was organised everyone sat down for lunch. There are ten children and they could sit wherever they liked. The leader's job was to hand everyone a plate and get everyone's lunch from the fridge.
We liked this routine because:
The children love to be included and involved with 'jobs'.
Getting together to sit down and eat is a great social time in the morning.
The 'leader' gets to know all the names of the children and who owns what lunch box etc.
The children in return get to know the daily 'leader' in a more informal way.
However our new little boy was finding this routine very frustrating and we realised he was becoming very anxious during this time. We noticed:
He could not make a decision on who to sit beside and ended up most of the time with no choice in the matter and having to sit on the last chair available.
He could not decide what colour plate he liked. He always felt someone else made a better choice than him. Even when given the colour plate he wanted, he still wanted someone else's plate which was the same colour as his own.
We observed that the child's energy levels were too high for sitting and eating. We used to try and strategically make sure he sat at the end of the table with only one child next to him as he would get very distracted sitting between two children.
It turned out this little boy was soon to be diagnosed with ADHD. With this in mind we wanted to try and make our classroom work better for him. We decided to try rolling snack time or as we call it 'optional lunch' time.
We have ten children in our little school so we decided that we would position a lunch table at one end of the room. The children come in at 9:15 am and at 10 am we have a fruit sharing plate which the leader of the day is responsible for preparing and sharing with everyone. Up until that point the lunch table is just another table in the room for the children to use. Once the fruit has been eaten we don't say anything but we place a little bunch of flowers on the lunch table. These flowers act as a visual prompt to let the children know that the lunch table is open.
On the door of the sink cabinet there are four circular tabs hanging with ribbons. This indicates that four children at a time can have their lunch. The children take a tag and hang it beside the lunch table. This has reserved their place at the table. Once they have reserved their place the new routine works out as follows:
The children go and put away whatever work they may have been working on.
Next they get their hand towel and wash their hands.
Now it is time to get their lunch from the fridge.
There is a shelf next to the lunch table and there are four different coloured plates on it. Each colour corresponds to the tag the child has chosen so that is the plate they use.
They sit at the table and have their lunch. It is up to them how long they spend having their lunch.
When they are finished they know to:
Put their lunchboxes and drinks back in their schoolbags.
Wash, dry and return their plate to the shelf for the next person.
Return their tag to the door by the sink cabinet.
This lunch option is available from about 10 am. until 11:30 am. We did not set this time but that is organically how it has evolved, everyone is usually finished by then. This is handy as it coincides with our only group transition of the morning where we tidy up and prepare for outdoors, music, and circle time or whatever is happening that day.
How did it work out?
It has been unbelievable how well this is working in our room. For our little boy in question it has completely resolved his anxiety around the lunch transition:
He can make all of his own choices.
As he is in complete control of his lunch break there are no problems.
He eats when he likes, he spends as much time as he likes.
He helps to instruct the others if they forget to put back their tag etc. but they appreciate his help.
He really loves the routine of it and the control he has over it.
For the class as a whole they all regulate each other during this time. There are surprisingly no issues around colours. The odd time a little girl might tend to wait until the purple tag is available but there is never a problem if we explain that time is running out etc.
When we first made this change everyone was racing for the tags. We used to verbally say 'the lunch table is open' but because of the mad dash we decided to make it a visual indicator, hence putting the flowers on the table. As with everything the novelty soon wore off (about two weeks) and now there is no race to get the four tags. The children know that if the tags are all missing from the door by the sink then the lunch table is full and they keep an eye out for when a tag is returned.
It is lovely because children can decide when to eat, how long to spend eating, who to eat with etc. They work together every day and there is never a problem.
For the younger children sometimes we remind them that they can have their lunch if they like and that might spur them on to go and get it but over the weeks they too are in the routine of it now.
We notified parents of the change and asked if any parent specifically wanted us to make sure that their child had a snack during the morning. That way for the children who generally don't want to eat much, if the parent is ok with them not eating at all we don't force them to sit for lunch. As the session is only 3.5 hours and depending on the eating habits of some children this has worked really well in this regard. It is interesting to note that one little boy never ate his lunch in the old system but now probably three out of the five days per week he will sit and eat because he wants to be included in the activity.
An extra bonus I hadn't originally thought about, is that for an hour and a half there are four children at any given time having their lunch which allows me more one-on-one time with the remaining six. I work by myself three days per week. I will never return to the old system because children will surprise you. As in an emergent curriculum if the interest and learning is coming from within the child, they will teach themselves and each other.
The LINC programme would like to express its sincere thanks to Brenda for sharing her experience with us, if you would like to contribute to our blog please drop us a line at linc@mic.ul.ie.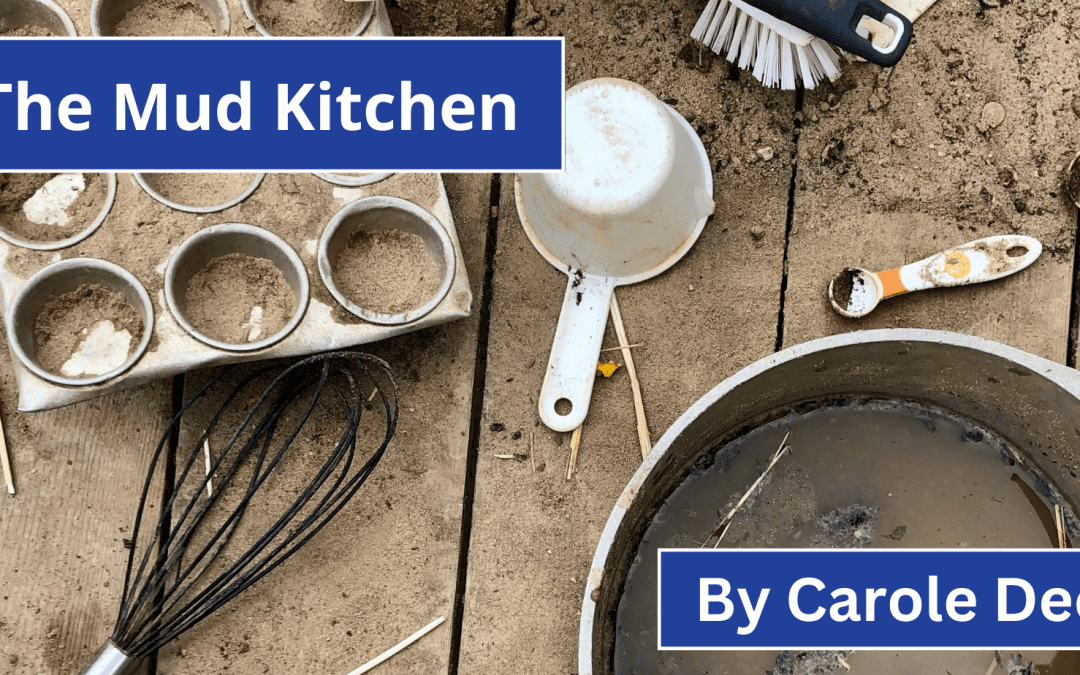 The Mud Kitchen In this edition of the LINC Blog, LINC Tutor Carole Dee describes how her Setting's Mud Kitchen encourages children's social and emotional development and provides endless opportunities for open ended, sensory play.The Mud Kitchen is without...
read more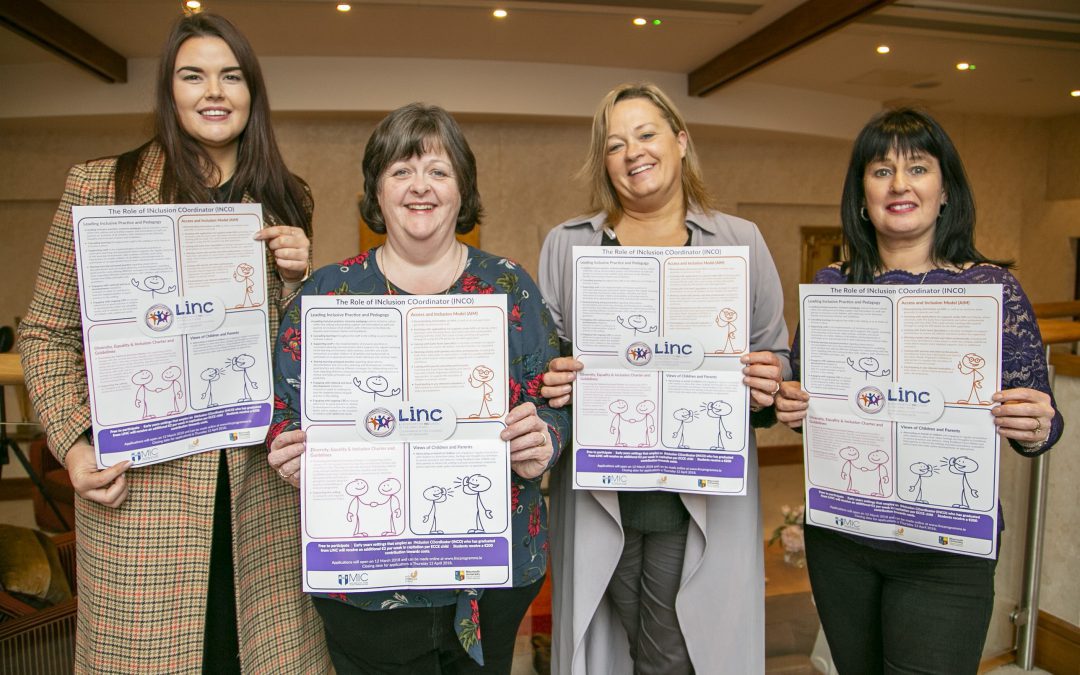 Minister O'Gorman commends the dedication of early years educators and encourages them to avail of the opportunity to apply for the award-winning LINC Programme.   630 places available nationwide as LINC Programme set to open for applications    The Leadership for...
read more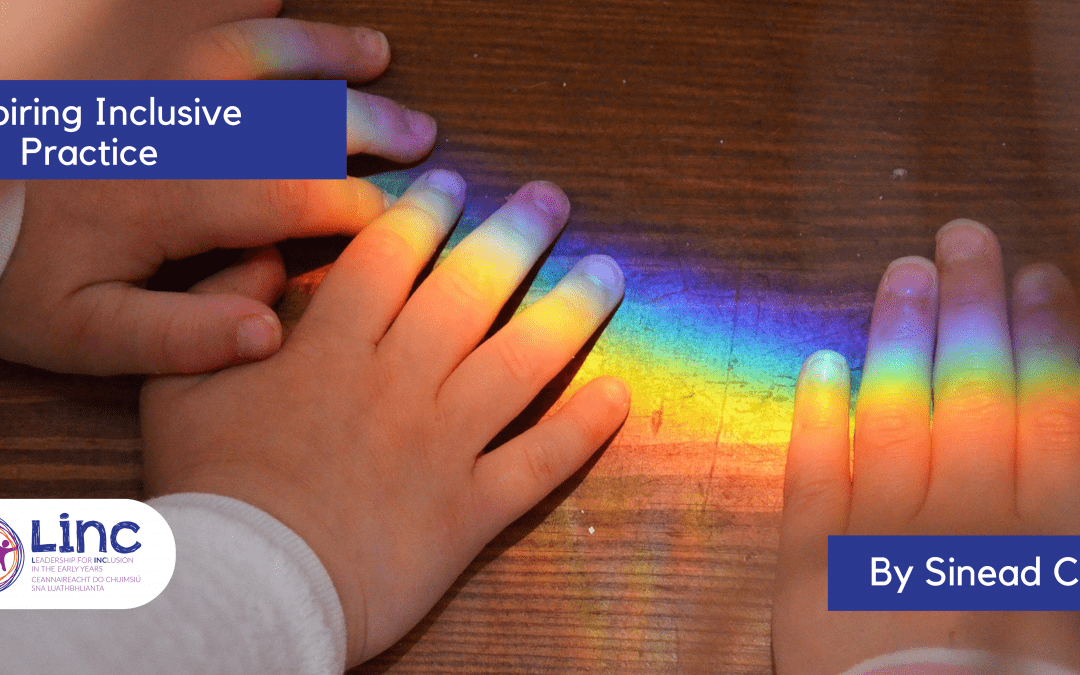 Inspiring Inclusive Practice In the edition of the LINC Blog, Inclusion Coordinator (INCO) Sinead Conran reflects on how her participation in the LINC+ CPD Programme and engagement in a Community of Practice with fellow INCO's has benefited her and her...
read more