In this edition of LINC blog, programme graduate Caroline Lohan describes how reflective practice techniques learned on the LINC programme have created a better learning environment for all children in her setting.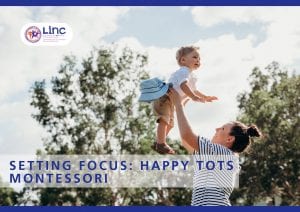 My name is Caroline Lohan and I am an early years' teacher at Happy Tots Montessori Barnaderg in Tuam. I have worked in the sector for over 12 years. I enjoy my work and the unpredictably of each day with the children. Having graduated this year from the LINC programme, I can honestly say it has been a very enjoyable and rewarding experience. Any nerves and apprehension I had diminished after our first meeting with our tutor Sharon Skehill. Sharon was supportive throughout the delivery of the programme. The face-to-face classes were invaluable as we discussed our concerns, learnt from each other and more importantly, we picked up some great strategies and ideas from each other, working to support inclusion in our settings. The mentor visit with Sharon was relaxed and very informative. Immediately, we implemented the action plan and made very positive changes in our setting. Staff were fully on board as they could see that the implemented changes were impacting in a positive way on the children and families using our service. Shortly after the mentoring visit I had my DES inspection. The changes that I had implemented in the action plan did not go unnoticed. I was delighted with the outcome of the inspection.
DES Inspection Report
 AREA 1 QUALITY OF CONTEXT TO SUPPORT CHILDREN'S LEARNING AND DEVELOPMENT
The quality of the context to support the children's learning and development is very good.
A welcoming, affirming atmosphere is evident as children arrive to the service. Children independently put their belongings away in their                personal cubby space and eagerly scan the room to decide where they would like to begin their day.
Regular trips are organised throughout the year where the children and practitioners from the service visit the local library, attend school cake sales, and go on walks to the local post office. The practitioners and children of the pre-school also participate in a shared sports day with the staff and children of the local primary school.
Children actively decide, organise and lead their choices for play. Children are frequently consulted about group activities such as when it is time to go outside or to access the gym area. Practitioners discuss with the children their play intentions and support the children to carry these out by organising play resources. Practitioners consistently support children in their play and investigations, as they become partners in play, asking questions and joining in with children during free play.
AREA 4 QUALITY OF MANAGEMENT AND LEADERSHIP FOR LEARNING 
The quality of management and leadership for learning is very good.
A strong partnership is in place between the service and the primary school they are located in. The service regularly joins in with school activities such as Pancake Tuesday and attend school shows and practices. A collaborative gardening project between the school and the service is currently in action where a local gardening organisation is supporting the school and service to plan an outdoor garden for all of the children to share and use together.
Children demonstrate enjoyment, interest and motivation in their learning experiences. Children are eager to share their thoughts, intentions and outcomes of their play with their peers and practitioners.
Children show pride and ownership of their individual learning portfolios as they regularly take these portfolios out and sit alone or with their peers to share their drawings and photographs: one child described the context of a photograph of a wedding they attended with their family. Children consistently make decisions to put their drawings in their portfolio.
Children demonstrate confidence and success in completing jobs when being the 'leader' at meal times. Younger children are supported by being given tasks, which they can master as they happily give out their friends' lunch bags.
Being a setting that promotes reflective practice has changed how we interact with the children, parents and the wider community. Daily reflection makes us more aware of our interactions with the children. It prompts us to think about how we can be more responsive to the needs of the child, family and learning environment, so that we are fully supportive of difference and inclusion. I believe we need to be reflective practitioners in order to evaluate our own settings in a critical and objective manner, ensuring that the child is at the heart of play. Inclusion in our service involves staff, parents, the wider community and children supporting each other as we plan our journey together.
Having completed the LINC programme I am now committed to upskilling and further professional development so that our service can continue to improve the learning of all children in our care.
 The LINC programme would like to express its sincere thanks to Caroline for sharing her experience with us. Applications for the programme open in March 2019, for more see www.lincprogramme.ie.