Mary Helen O'Brien, a childcare professional with over 20 years' experience and owner/manager of the Mega Kids Childcare facility in Murroe, Co Limerick, took some time out to tell us about her LINC Programme Experience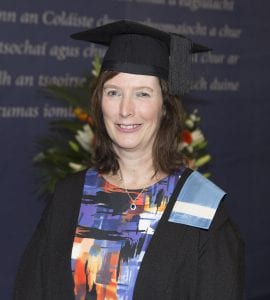 Mary started the business in 1998, working from home while her own children were small and this enabled her to make a living while also looking after her own children. Her home was on a farm and in 2010, Mary and her husband decided to build a purpose built service 'from the ground up' by converting some of the farm buildings which were no longer in use.
"We went very quickly from having 10 children to 68 children; it was amazing if you saw the old pictures of what was there—an old cottage with a big tree going through it and an old cow shed to what is there now."
 Mary and her husband are also foster parents and both had worked in disability services. Local people in the area knew this and that they had a good understanding of inclusion, particularity in the area of language difficulties and autism, as they had a personal experience working with autism. It wasn't long before parents of children with additional needs began to get in touch.
"We got a lot of queries from parents who couldn't find a service who would take their child; we understood these difficulties as we had experienced them for ourselves."
Having previously lectured with the VEC (ETB) in Tipperary and working as a trainer on the FETAC (QQI) Level 5 childcare programme, Mary was impressed with the different approach taken by LINC.
"It's great that we are now working with the children as part of the group. It's not one on one unless it's a medical need but it's in buddies and in groups. It's working to support the teachers in the classroom for the best care of all the kids in the room. It's definitely the way forward."
She also liked the way the course was delivered.
"It really suited as I had a full-time job and was married with kids; it suited me that it was all online, that I wasn't in college everyday. I could still earn my wages and have my pay because I couldn't give up my job to be a full-time student. It worked in around my life circumstances."
Mary liked many aspects of the course but particularly the module on inclusive concepts and strategies.
"There were some fabulous ideas on inclusive practice, working to suit those children's needs and about everybody lying on the floor to do colouring if a child could not sit up or come to the table or having buddy circles, having other children within the group offer support to those who need it and help bring them along. There were lots of little things like that."
The LINC programme is part of the Access and Inclusion Model (AIM) and Mary found that the training really helped her understanding in this area and helped her to make changes in her setting.
"We explain that we are linked with the AIM programme, so parents actually get the information and come back and say 'well I was going to book and I wasn't going to say anything but I saw your little leaflet about the AIM programme and my child has additional needs, can you tell me more.' It makes it easier; we made a lot of changes because we have a lot of professionals in and out. We make time to disseminate the information that the OT and speech therapists would give us about the children. Often, they would come in and they wouldn't have time to meet the parents and they would be given a quick report at home time. But now we give the parent an opportunity. We get them to come in and have a cup of tea in a quiet area and we go through what was said, what the suggestions were and feedback the information. If we feel that the parent really wants to meet the person the next time, we try and ask them can they come a bit later so the mom can have a quick word at home time. That's hugely rewarding for the parents, that they know their children are important, and are part of the service, and that they are part of the service."
The LINC programme is now open for applications until 19 April. The LINC programme team would like to thank Mary sincerely for taking the time to talk about her experience.