In this edition of the LINC blog, we examine how to support a child with a visual impairment using sensory play experiences and emphasise the importance of touch in sensory play for children who may have this impairment.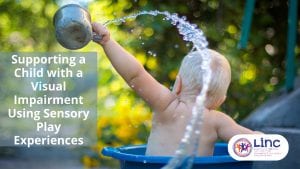 Children with sight loss have differing levels of vision. The National Council for Special Education (NCSE) (2014) suggests that these levels of vision can be considered as:
Partial Vision
Low Vision
Blindness (NCSE 2014)
In Ireland, very few children are completely blind, for some children their central vision or peripheral vision may be affected, while other children may see things as being blurred or have difficulty with seeing things in the distance or close up.
As we know sensory play has significant benefits for all children and this is even more important for a child with a visual impairment. Think about the children in your early learning and care (ELC) setting, they are receiving a lot of sensory visual information as they explore their environment. They are attracted by colours, light, patterns and visuals and it is through this that they develop many of their interests and the curiosity to explore. A child with a visual impairment may not get that information so easily from their environment so we need to provide that extra support for them.
We can support a child with a visual impairment by introducing a wide range of sensory play experiences that will encourage new connections in the child's brain, helping them develop new interests and a curiosity for learning. These opportunities also support children's communication skills as they interact with other children and engage in shared thinking during sensory play. For a child with a visual impairment, this can be even more significant as they may have delayed or uneven expressive language development.
We can support a child with a visual impairment by offering opportunities to listen, build shared attention and turn-taking through sensory play
Think about providing auditory labels for the child to support their sensory play, this involves describing, questioning, suggesting and scaffolding (Goodman and Wittenstein, 2003; MacNaughton, 2003).
Visual Impairment: The Importance of Touch
For a child with a visual impairment developing a sense of touch is important:
A refined sense of touch is needed in preparation for reading braille.
A well-developed sense of touch supports thinking and learning.
A child with a visual impairment relies on their sense of touch as a way to form images in their head, to make sense of what they have experienced through touch. This is enhanced further by combining what they have touched or felt with the other senses involved such as what they heard, smelt or tasted. For example, if a child feels the water pouring out of a bucket during water play while they hear the sound it makes, then they will build a mental picture of this and relate back to that the next time they hear that sound. This supports their understanding of the world they live in.
Consider providing sensory play experiences that involve the feet, mouth and other body parts as a way to explore touch. Some children with a visual impairment may prefer these activities instead of doing tabletop activities with their hands.
References:
National Council for Special Education (2014), Information for Parents/Guardians of Children and Young People who are Blind/Visually Impaired, Available: <https://ncse.ie/wp-content/uploads/2014/10/Pamphlet-5-Vis-Imp-01_09_14.pdf> [Accessed 08 August 2019]
Goodman,SA., and Wittenstein,S,H.(2003) Collaborative Assessment: Working with Students Who are Blind or Visually Impaired, Including those with Additional Disabilities. New York: AFB Press.
Mac Naughton, G. (2003) Shaping Early Childhood: Learners, Curriculum and Contexts. Maidenhead: Open University Pres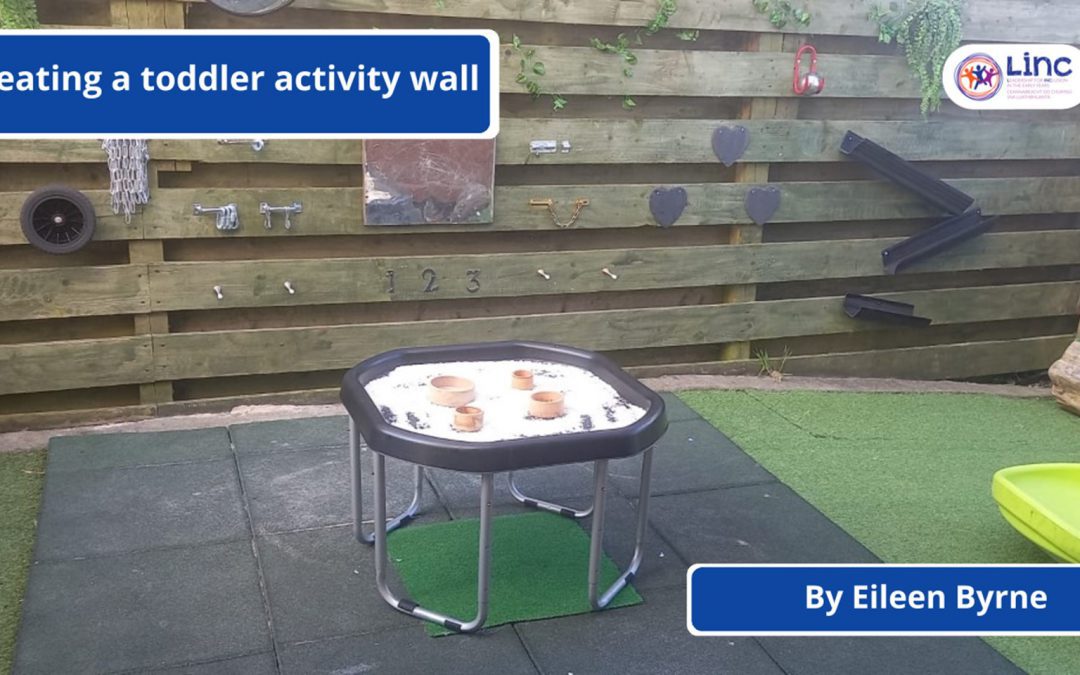 Creating a toddler activity wall In this edition of the LINC Blog, LINC+ participant and Inclusion Coordinator Puddle Lane Crèche Eileen Byrne, describes how an unused area of the garden was transformed using some day-to-day items into a space for playful...
read more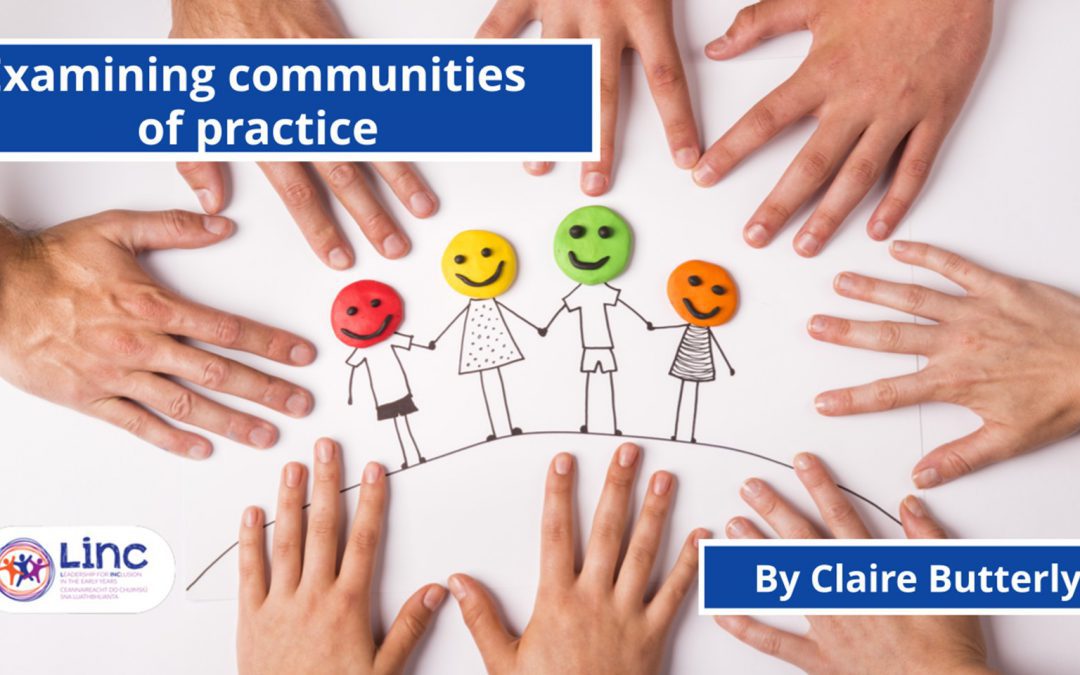 Examining Communities of Practice In this edition of the LINC Blog, LINC+ Tutor Claire Butterly examines the reasons for, and benefits of communities of practice as the first package of the LINC+ Programme Communities of Practice in Early Learning and Care is...
read more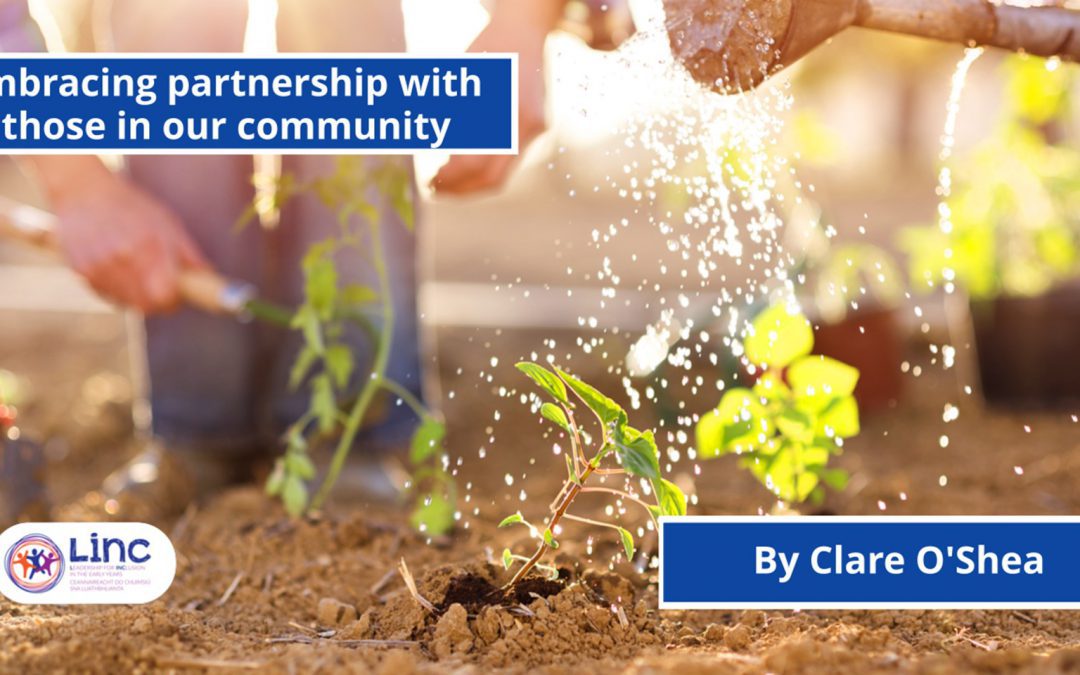 Embracing partnership with those in our community In this edition of the LINC Blog, LINC Tutor Clare O'Shea describes how embracing partnership and friendships in the community can be a wonderful way to give children a wide variety of experiences. ...
read more