In this edition of our blog, LINC Tutor Sharon Skehill, outlines some of the ways she will be helping to support the children of her setting to transition back to early learning and care after the COVID-19 closure.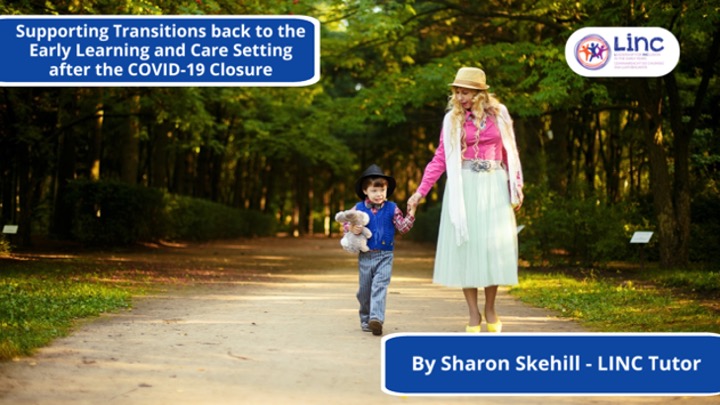 Many Early Learning and Care (ELC) settings are busy preparing for re-opening their services to children on June 29th, taking the tentative steps in getting back to some sense of 'normality'. There is much debate going on in the media regarding funding models, professional recognition of the role of the early childhood teacher and the expectations of the sector in leading the country's return to group care and education. First 5 (https://first5.gov.ie/ ) has provided very detailed and practical guidance for parents and ELC settings in how to adhere to public health guidance and to minimise risk to all on the return to service at the end of the month. Funding has been made available to support this process in relation to retaining staff members, purchasing cleaning and personal protective equipment (PPE), as well as grants to develop outdoor play spaces. This blog is about practical strategies to support children, parents and early childhood teachers in the coming weeks.
Create a simple video of your service to share with parents via Whats' App or another social media platform. You may want to consider having two versions of your video, with the first one for parents, where you can communicate the health and safety protocols in place and demonstrate how the daily routines are managed. The second video might be specifically addressed to the children, where the key worker can talk about the plans for children's return, and showcase the provocations for play that will be available to them.
Provocations for Play in the Home Corner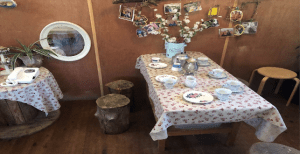 Social stories of your setting would be very beneficial in preparing the child for returning to preschool. There may be versions online but consider making one that is personalised to your setting. Photos of key workers, the indoor environment, the outdoor play space, as well as reminding children of the activities and resources they enjoy playing with, will enhance the effectiveness of this strategy. This social story can be emailed or shared via social media to all parents.
Meeting with parents may be a viable option for many settings if one can adhere to the public health guidance regarding social distancing. However, in keeping with the overall recommendations for safe interactions, the outdoor space in your service might be an ideal place to meet with parents and their child. Having an on-site visit will give that opportunity to talk with parents about your procedures and give the children a chance to familiarise themselves with the environment. Many of you are already back in your services preparing for re-opening, and this meeting would be time well spent to minimise concerns and upset for children and their parents.
Transition in the outdoor space: Consider if there are options for the parent to drop off their child in the outdoors. Would this be an option whereby your outdoor space might be a place where parents can take their time in settling their child and the handover is a gradual and sociable process? Activities and provocations for play in the outdoors might be a valuable distraction and help the child to say goodbye a little easier. Reflect on the possibilities in this regard and what would be required to put this in place. It might be changing the entry point for parents in the morning, having play activities set up in the garden, or having parents send a text when they arrive.
Transition strategies: Having a name stone or a photo of the child in a basket at the entrance might be a useful idea to support the child's physical transition into the setting. The child might be invited (and the process demonstrated on your video) to find their photo or their name stone, and to transfer it into the classroom to hang on the Friendship tree or a basket indoors. The INCO in your setting might also have a number of ideas regarding this process of supporting transitions from the learning on the LINC programme.
       Name Stones to Support Transitions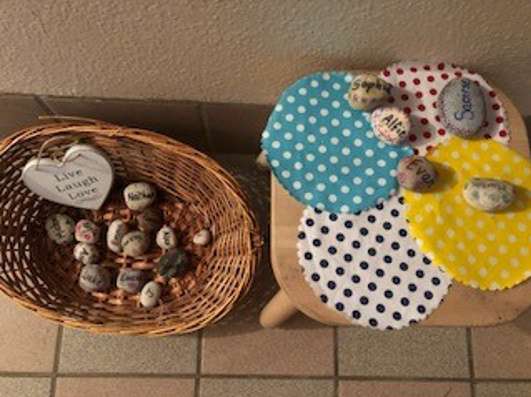 Share your ideas! As a sector, we are leading this journey into the return to education and care. We have the opportunity to model and implement effective practice, showcasing the wealth of professional knowledge within our settings. Share your ideas with each other in the comments below this article. Think of the influence you might have and recognise the value of your role in supporting children and their families in these unprecedented times.
Advice on how to reopen from the Department of Children and Youth Affairs can be accessed HERE.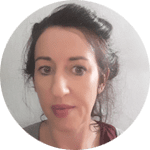 Sharon Skehill
LINC Tutor
Sharon Skehill has worked as a tutor and content developer on the LINC programme since 2016. She is a lecturer in Early Childhood Education in Mary Immaculate College and is currently completing her PhD in education. Sharon also works as an early childhood teacher in the Willows Outdoor Preschool (Newtown Kids' Club Ltd.) in Galway.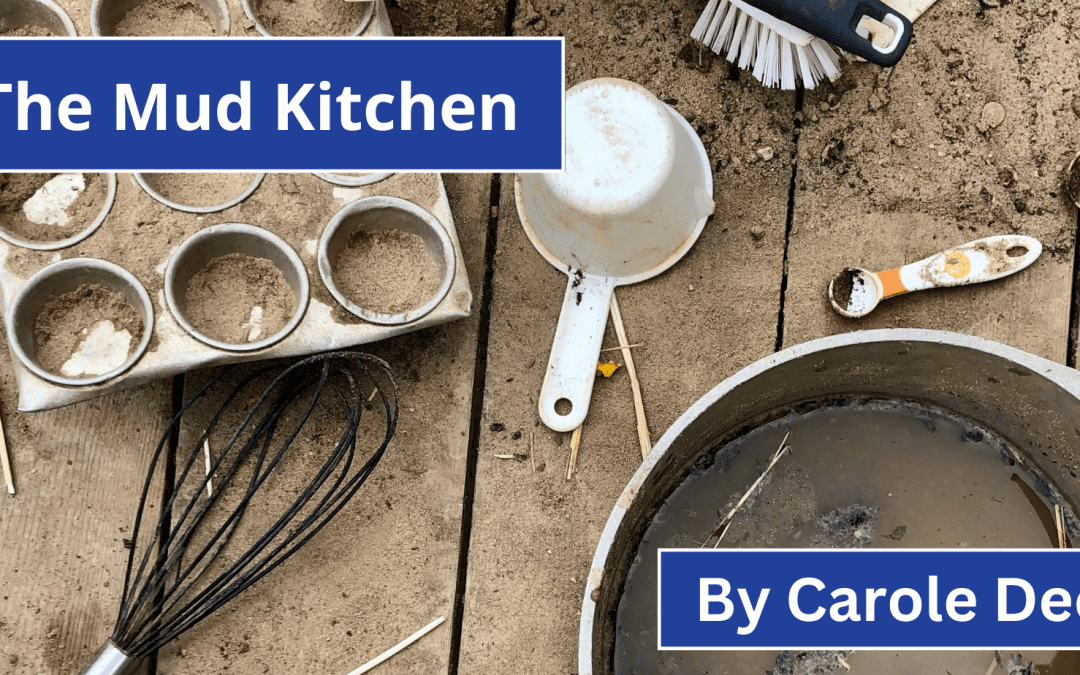 The Mud Kitchen In this edition of the LINC Blog, LINC Tutor Carole Dee describes how her Setting's Mud Kitchen encourages children's social and emotional development and provides endless opportunities for open ended, sensory play.The Mud Kitchen is without...
read more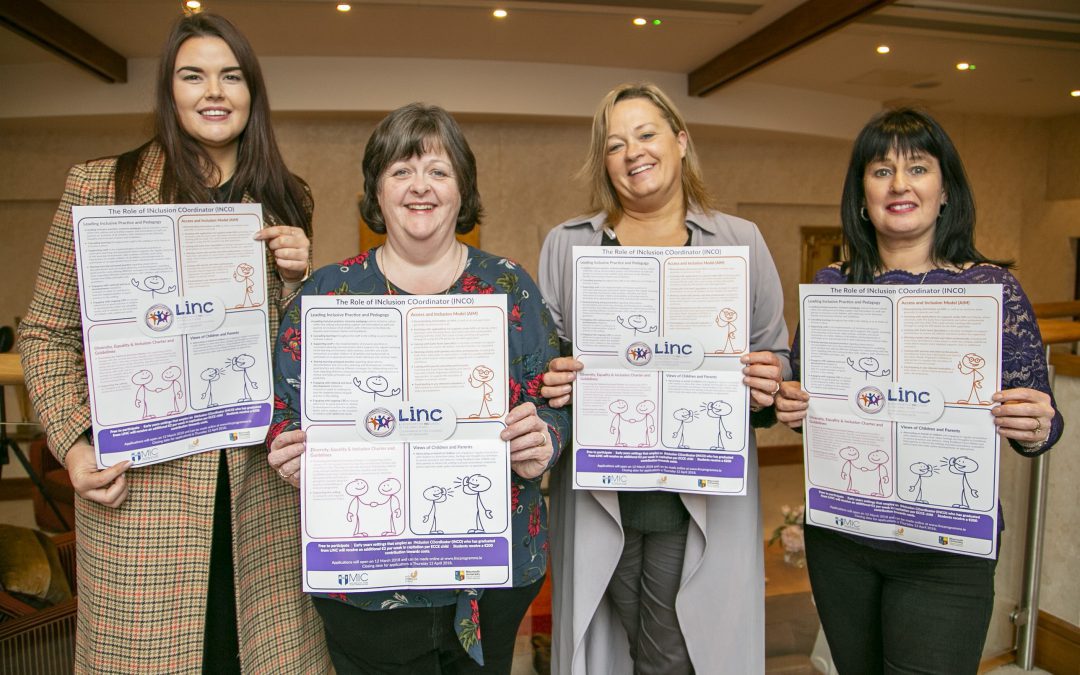 Minister O'Gorman commends the dedication of early years educators and encourages them to avail of the opportunity to apply for the award-winning LINC Programme.   630 places available nationwide as LINC Programme set to open for applications    The Leadership for...
read more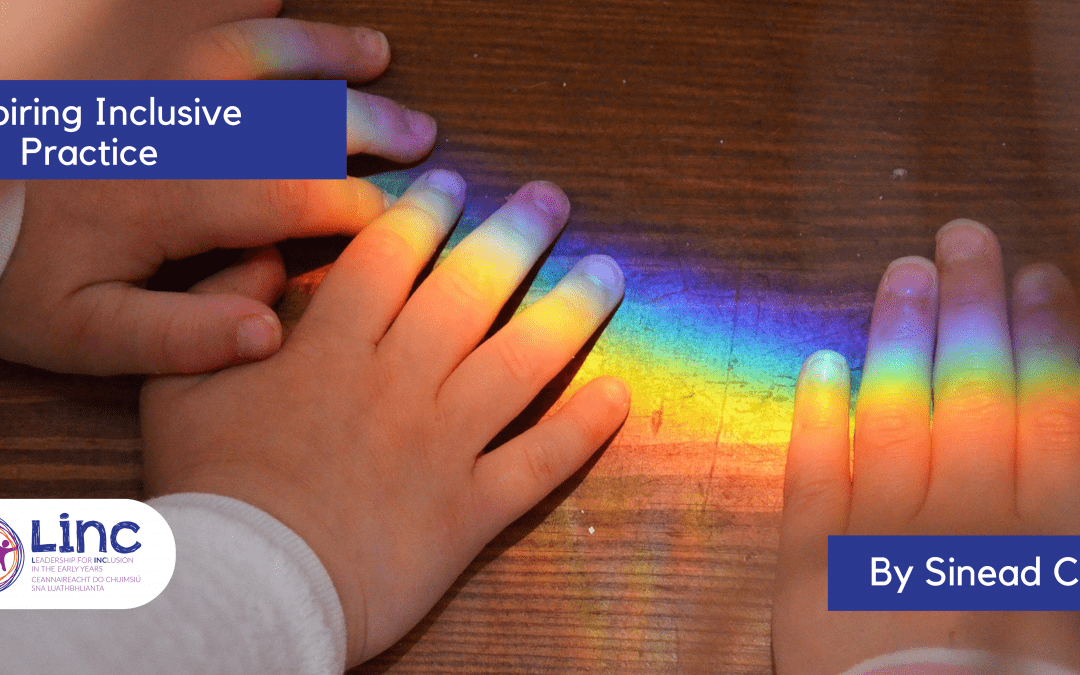 Inspiring Inclusive Practice In the edition of the LINC Blog, Inclusion Coordinator (INCO) Sinead Conran reflects on how her participation in the LINC+ CPD Programme and engagement in a Community of Practice with fellow INCO's has benefited her and her...
read more