In this edition of the LINC Programme blog we examine how early childhood teachers can ensure a smooth transition for children as they embark on their education journey.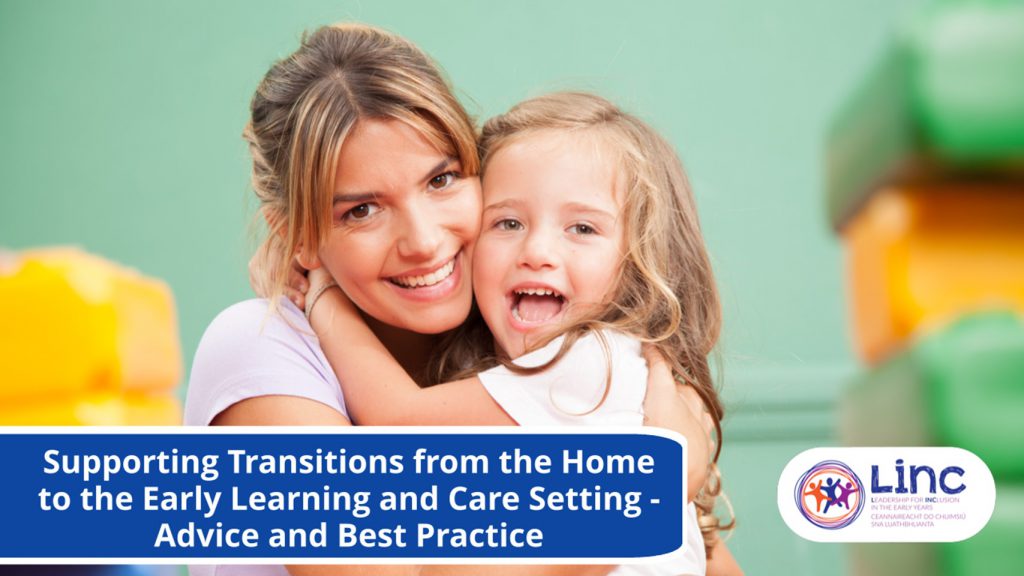 As we welcome children and families back to our Early Learning and Care (ELC) Settings this week, some who will be returning to us after the summer break, and for some it may be their first time away from the familiarity of their home environment. We know that positive relationships are key in ensuring that transitions happen as smoothly as possible and that transition is a process that happens overtime as opposed to a single point in time such as the day or week children start preschool1.
Both Aistear and Síolta highlight the importance of supportive and smooth transitions in early childhood. The Aistear-Síolta Practice Guide defines a transition as the process of moving from one situation to another and taking time to adjust. The Guide highlights that it is important to consider that transitions are a significant milestone in a child's life and to consider that transitions are a significant milestone for children's parents/carers also. Mary O'Kane 1, who has researched transitions in the Irish context, highlights that transitions are a shared responsibility and that successful transitions for children must be considered in the context of relationships between various stakeholders in the child's life. Therefore a significant part of planning for smooth transitions is ensuring that we do this through collaboration with parents, children and other relevant people in a child's life.
The Government's First Five Strategy acknowledges the impact that a positive transition has for young children's learning and development and emphasises the importance of supporting the child as they navigate through the education continuum. The document states that "to support positive transitions we need to understand that the transition from one environment to another is an important milestone for all children" 2. For children who may need additional supports, it is important to work in partnership with the parents, the child and the relevant professionals to develop a plan to ensure that the supports required to meet the child's individual needs are available and implemented so that the transition process can be as smooth as possible.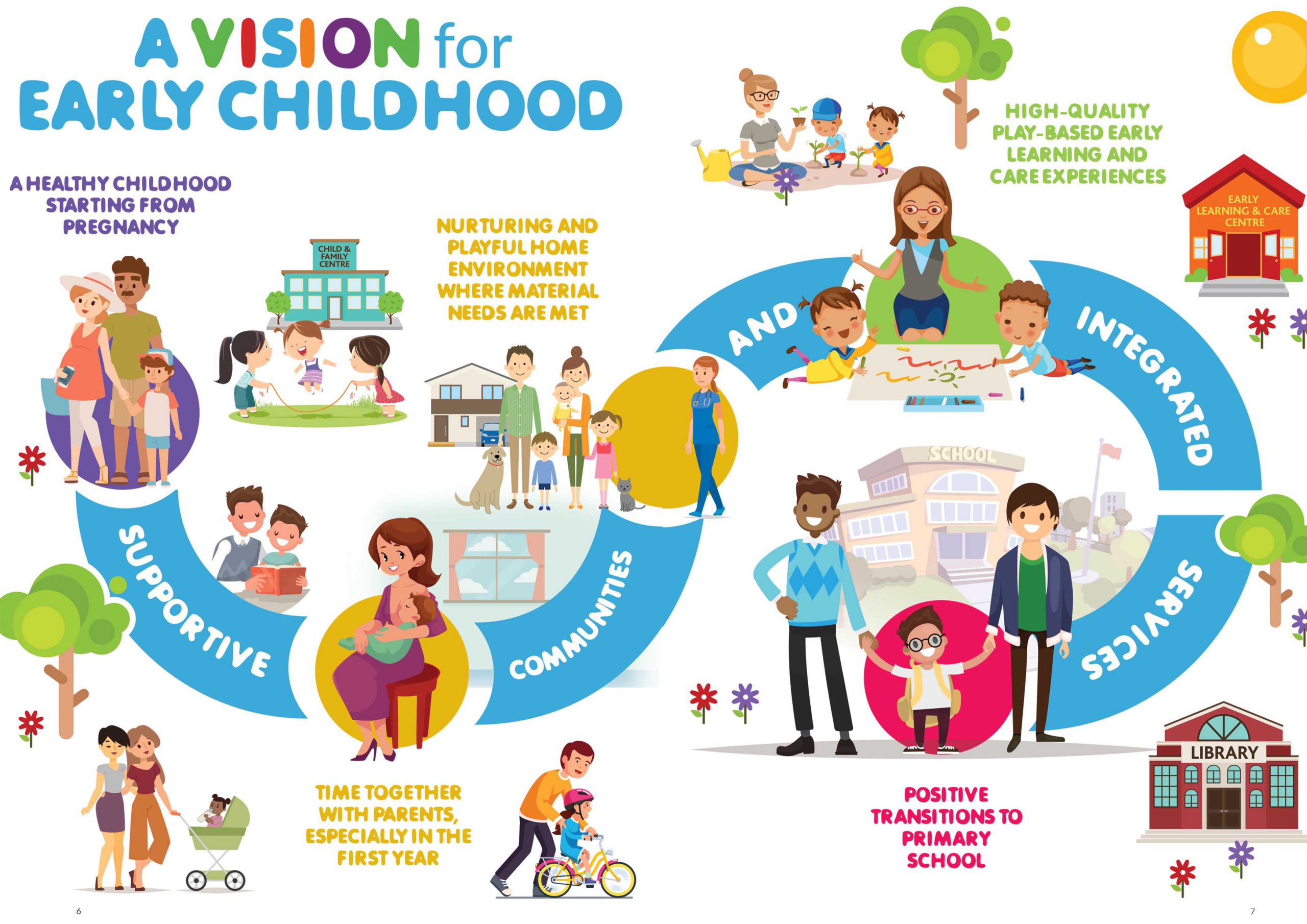 A Whole-of-Government Strategy for Babies, Young Children and their Families 2019-2028 p.6 & 7
Three key areas have been identified 3, 4 as best practice when supporting children's transition from their home environment to the early learning and care setting, these are:
Working in partnership with parents
Parents play a key role in supporting their child to feel comfortable with the transition process. It is important that parents feel that we acknowledge and value the wealth of knowledge they have about their child. Parents feel valued when their involvement in their child's transition experience is actively promoted. Building this relationship with parents at this initial transition stage can lead to parents feeling comfortable discussing and planning for their child's learning and development. Such an approach develops a trusting relationship between a parent and the staff, which is important for all children, but is especially important if we need to discuss with parents that their child may need additional support in an area or areas of development. Building a trusting relationship with parents right from the initial transition stage is beneficial for early childhood teachers and parents. This is especially important when a conversation is being initiated around accessing the supports available under the AIM model, for example, or documenting the strategies that are successful for supporting a child in the 'My Inclusion Plan 5.
Getting to know the child
An important aspect of a child transitioning into an early learning and care setting is to ensure that the environment reflects the strengths, needs and interests of all children. This can be supported by encouraging parents to share information with you about their child and what may have special significance for the child. It is important to share information in relation to the child's strengths, interests, likes and dislikes; routine; eating patterns and perhaps special comfort objects or toys that the child may have. Explain to the parent how you will use this information and that this information will support the child settling into their new environment. This information can be easily collected by inviting the parents to complete a "getting to know you" booklet with their child or using a child profile form. You can also engage in observations and interactions once the child has started in your setting and this will support you further in getting to know the child. It is also important to remember the returning parents to your setting. Continue building on the relationships that the early childhood teachers have in your setting and consider asking parents to update information on the child's strengths, interests and any area of need.
Clear Information
Parents and carers need to have clear information about what their role in the transition process will be, and what the child will be doing while attending your early learning and care setting. You should give clear information to parents about your setting's curricular approach, policies and procedures. In particular, you can discuss your partnership with parents' policy and inclusion policy with parents. This should outline for example how your setting conducts observations and how you will share the information you record on their child's learning and development with them. You can discuss with parents the Access and Inclusion Model (AIM) and the role of the INclusion COordinator (INCO). This information will be beneficial to share with parents at the initial transition phase. You can then, if necessary revisit this process in the event that an access and inclusion profile might be completed for the child in order to avail of supports under AIM while they are attending your setting.
Some of your parents may have been unable to visit your Early Learning and Care setting due to Covid restrictions. Perhaps you could consider making a short video of the setting and/or the child's new environment to support and facilitate any discussions the child and parents will have about their day. If you are unable to make a video of your setting, perhaps photographs of the setting could be more accessible. You could also include the name of the early childhood teachers within the room, this will help to develop the relationship between you, the early childhood teacher, the parents, and most importantly, the child.
When transitions are facilitated well, they help children to develop confidence and acquire skills to manage future changes in their life.
Another useful publication that can support you in managing transitions effectively is 'Ambitions for Transitions: A Guide to Support Every Child's Progression from Early Years Services to Primary School' available at https://dspace.mic.ul.ie/handle/10395/2391
References:
(1) O'Kane, M. (2016) Transition from Preschool to Primary School. National Council for Curriculum and Assessment: Dublin.
(2) Government of Ireland (2018) First Five: A Whole-of-Government Strategy for Babies, Young Children and their Families. Stationery Office: Dublin Interdepartmental Working Group (2015) Supporting Access to the Early Childhood Care and Education Programme for Children with a Disability, Available at: https://assets.gov.ie/31184/62acc54f4bdf4405b74e53a4afb8e71b.pdf [accessed August 31 2021].
(3) National Council for Curriculum and Assessment (NCCA), (2015) Aistear/Síolta Practice Guide, Dublin: NCCA. Available at: http://aistrearsiolta.ie/en/> [accessed August 31 2021]
(4) ABC Start Right Limerick (2018) Ambitions for Transitions, Limerick: ABC Start Right. http://www.limerickchildcare.ie/wp-content/uploads/2015/06/Ambitions-for-Transitions-A-Guide-to-Support-Every-Childs-Progression-from-Early-Years-Services-to-Primary-School.pdf [accessed August 31 2021]
(5) Better Start Ireland (2021) 'My Inclusion Plan', a resource for Early Learning and Care practitioners. Available at: https://www.betterstart.ie/2021/08/03/exciting-news-we-have-updated-the-access-and-inclusion-plan-my-inclusion-plan-is-now-available-here/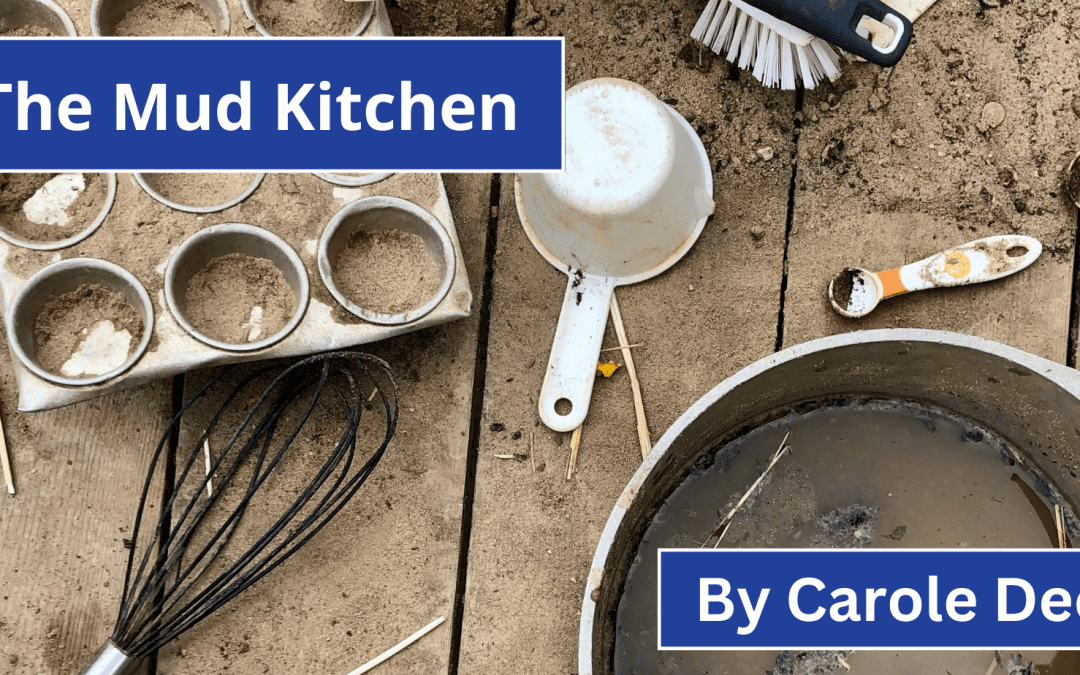 The Mud Kitchen In this edition of the LINC Blog, LINC Tutor Carole Dee describes how her Setting's Mud Kitchen encourages children's social and emotional development and provides endless opportunities for open ended, sensory play.The Mud Kitchen is without...
read more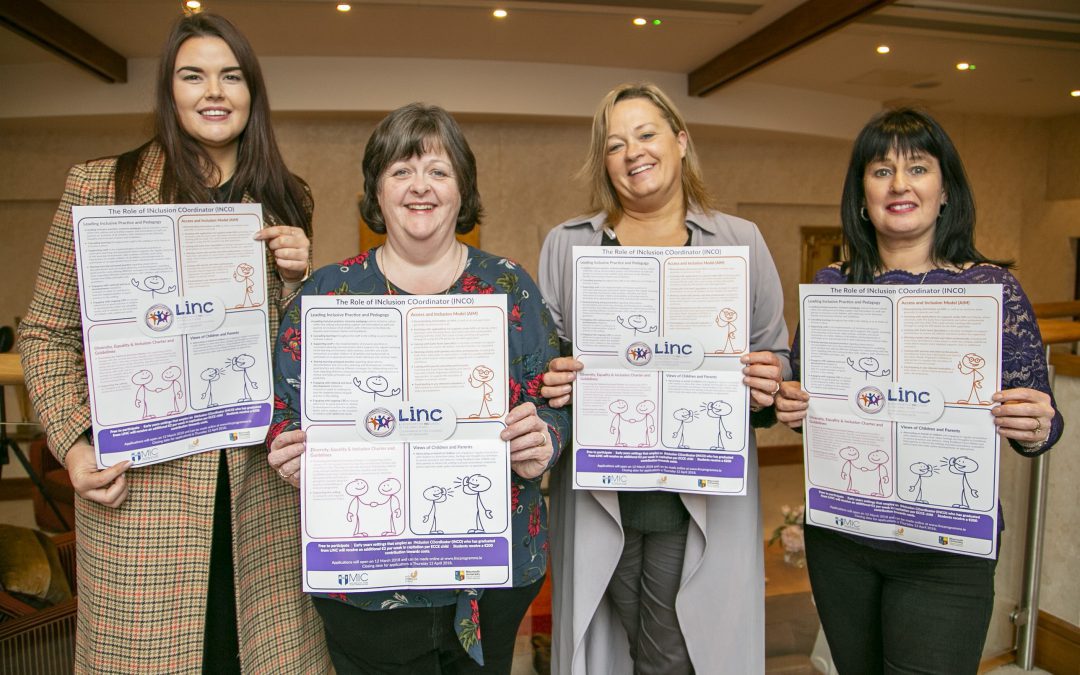 Minister O'Gorman commends the dedication of early years educators and encourages them to avail of the opportunity to apply for the award-winning LINC Programme.   630 places available nationwide as LINC Programme set to open for applications    The Leadership for...
read more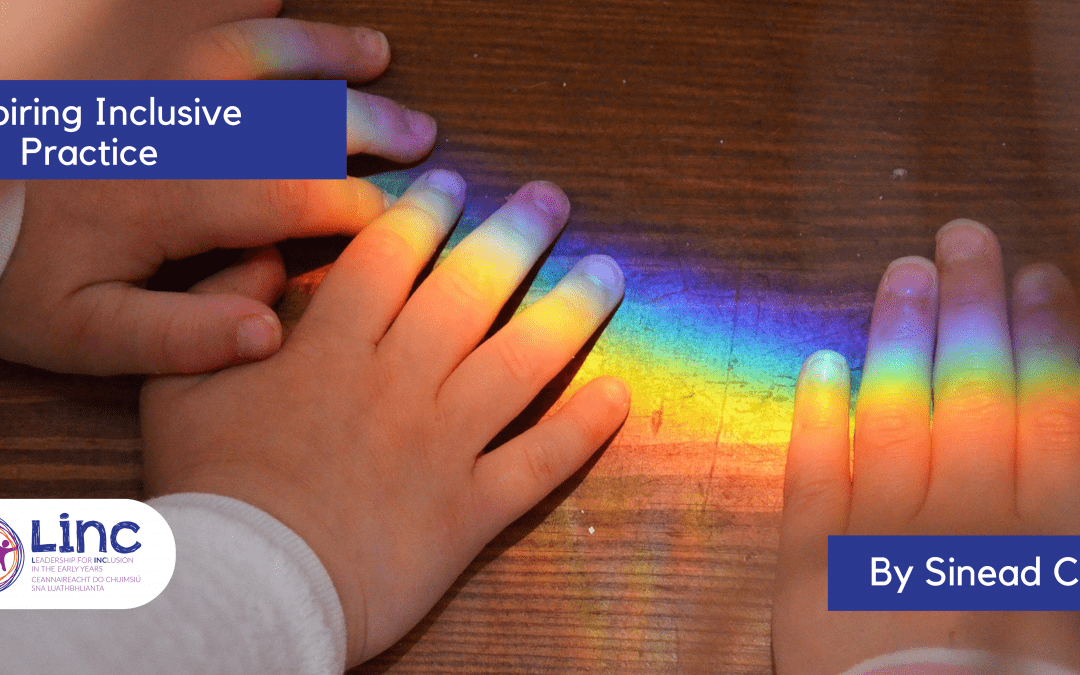 Inspiring Inclusive Practice In the edition of the LINC Blog, Inclusion Coordinator (INCO) Sinead Conran reflects on how her participation in the LINC+ CPD Programme and engagement in a Community of Practice with fellow INCO's has benefited her and her...
read more