In this edition of the LINC blog, current student and Owner/Manager of the Corrig Kids Playschool, Edel Graham, examines the benefits of outside play and how this environment can harbor rich learning experiences for children.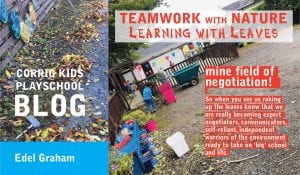 'Children who play outside are less likely to get sick, to be stressed or become aggressive and are more adaptable to life's unpredictable turns'. (Louv, 2005).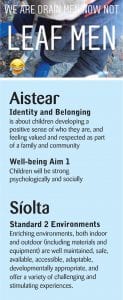 I am always eager to explain the many benefits of play outside. A simple task like collecting leaves can be described in many ways, sometimes I'm told 'you have a great work force', but there is much more to this simple task. We are improving our problem solving abilities, conflict resolution skills, team work, social interactions, self-expression, numeracy and literacy competences; even stimulating our curiosity and cultivating our life skills. What may seem to be a small task outdoors can involve a minefield of negotiation! Who gets what tools? Who makes the pile of leaves? Who picks up the leaves? And, who wheels the wheel barrow? There are many benefits to outdoor play; physical, mental, sensory and social. According to the NCCA (2009), positive environments grow children's confidence to make and explore new ideas, to enhance and practise skills, make new findings, and endure uncertainty and keep going.
Communication skills are vital and sometimes groups can consist of verbal or non-verbal children. All children are equipped with skills to negotiate within these dynamics. We as practitioners are there to help and guide when called upon but as time goes on we genuinely become facilitators to their skills as negotiators. We give them basic guides like always ask and never grab and if someone cannot talk, try swapping this tool for another. If they indicate they do not want to swap, then move on and get something else and always offer help to each other. Positive reinforcement and a strengths-based approach are paramount in encouraging young children reach their potential. Piaget's words 'A child's work is PLAY' underpins our ethos as a play-based school which is about engaging children in tasks like leaf collecting; to educate children in biodiversity, ethics and philosophy through active participation rather than passive lecturing. Offering a natural outdoor environment has been discovered to expand children's attention, (Taylor, Kuo, 2009) and we have certainly seen proof of this many times over in our outdoor area at Corrig Kids. Through play we tackle high level, conceptual questions surrounding life and death! Is God a man or a woman? Where is heaven? What do trees do when all their leaves fall off? All conversational points borne from a simple play activity. Engaging in discussion with children, based on our connections with them can support and extend their learning. This can be best described as sustained, shared thinking; working together in a way to solve a problem or clarify a belief. (Sylva, Melhuish, Sammons, Siraj-Blatchford & Taggart, 2004). We exploit every opportunity to explore these philosophical dialogues; teasing curiosity and strengthening oracy, developing logic, stimulating imagination and growing learning by challenging preconceptions with open ended questions. Conversation between Martin and myself:
Edel: Can I go to heaven?
Martin: No Edel!
Edel: Why not?
Martin: You just can't.
Edel: But it sounds lovely,
why can't I go?
Martin: Because you can't.
Edel: But Martin. Tell me why?
Martin: Edel you ask too many questions!
After a short while Martin came back
with an answer, "You don't need to
worry about it now Edel when you
grow old and die you'll go to heaven
and that's just it!
Now let's play."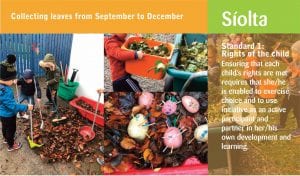 Children seem to experience greater freedom to express themselves when outdoors. According to Frost, children use more complicated language outdoors than they do indoors (2004). By providing more opportunities outdoors simply allows more opportunities for their imagination to grow. So when you see us raking up the leaves know that we are really becoming expert negotiators, communicators, self-reliant, independent warriors of the environment ready to take on 'big' school and life.
The LINC programme would like to express its sincere thanks to Edel for sharing her experience with us. The programme is currently open for applications until April 4 2019, for more see www.lincprogramme.ie.
References:
AZ Quotes (2018) Jean Piaget Quotes, Available: https://www.azquotes.com/author/11635-Jean_Piaget [accessed 12.12.18]
Frost, J.L. (2004). How adults enhance or mess up children's play. Archives of Pediatric and Adolescent Medicine, January 2004 [online], available: https://www.gsa.gov/cdnstatic/Messin_up_play.pdf [accessed 12.12.20018]
Howard-Jones, P., Taylor, J., Sutton, L., (2008) The Effect of Play on the Creativity of Young Children During Subsequent Activity, Early Child Development and Care, 172:4, 323-328, DOI: 10.1080/03004430212722
Louv, Richard. (2005). Last child in the woods: saving our children from nature-deficit disorder." SCHOLE: A Journal of Leisure Studies and Recreation Education, 21(1), pp. 136–137
NCCA 2009 (National Council for Curriculum and Assessment) Aistear: The Early Childhood Curriculum Framework. Dublin: NCCA
Sylva, K., Melhuish, E., Sammons, P., Siraj-Blatchford, I., & Taggart, B. (2004). The Effective Provision of Pre-School Education (EPPE) Project: Findings from Pre-school to end of Key Stage1. http://eppe.ioe.ac.uk/eppe/eppefindings. Html [accessed 12.12.20018]
Taylor, AF., Kuo, FE. (2009). Children with attention deficits concentrate better after a walk in the park. Journal of Attention Disorders, 12(5).