In the latest edition of the LINC blog, programme tutor Claire Butterly outlines the purpose, procedure and practicalities around the upcoming mentoring visits for students and their services.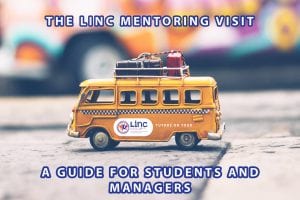 The mentoring visits play a key role in the LINC programme. This is the third year that I have had the privilege of carrying out mentoring visits, and there are similarities in queries and possible anxieties that other LINC tutors and I find the students have.  It is envisaged that this blog will offer guidance to current students, managers of early childhood services and prospective LINC students.
Mentoring visits give us, as tutors, the opportunity to get to know each student and their early years' service on an individual basis. The term mentor originates back to Greek Literature, when Odysseus entrusted Mentor to care for and teach his son, Telemachus. This concept is at the heart of the mentoring visits; with LINC tutors offering support and guidance to students.
Mentoring is first mentioned with students at orientation, when LINC students are introduced to our Competency Framework. The Competency Framework explores 3 areas; an inclusive culture, an inclusive practice and inclusive pedagogy. There are 25 questions divided amongst these 3 areas, and students are asked to reflect upon these statements as honestly as possible; that being; whether they agree, disagree or are unsure about how the statements apply in their setting. This is known as the Reflection on Inclusion document and offers a guide for the discussion at the mentoring visit. Mentoring visits are not graded.
Before your mentoring visit takes place, your tutor will contact you to decide on an agreed time and date. If something happens on the morning of your visit, for example, if you are sick, you have an inspection, or so on, there is no problem, just ring your tutor to reschedule. The mentoring visit is not meant to put students or the service under additional strain or pressure. When your tutor arrives; she will introduce herself and you can introduce her to other early years teachers or management within your service. Some students give tutors a quick look around their service, others prefer to head to the office space to begin the discussion. Some students find offering tutors a cup of tea or coffee a way of helping to calm them and ease into the mentoring visit. The tutor will follow your lead.
Tutors make contact with students to schedule the mentoring visit, who in turn communicates this to their manager. Students then revert back to tutors to confirm the details of the visit. A query that often comes up is whether a student needs to be on ratio and if managers or owners need to be present. Ideally, the mentoring visit should take place one-on-one. However, the LINC tutors are flexible. It is preferable that our visit does not cause an off-ratio situation to arise, and it's absolutely fine for mentoring visits to take place within the room. Managers do not need to be present. The tutor offers guidance to students individually, to support them within their leadership role and to share the discussion with their early years' team. Each mentoring visit varies depending on how the conversation flows. It is also important to note that the tutors are not there to observe practice but rather to use the Reflection on Inclusion document to facilitate conversation with the student.
During the mentoring visit, the student will complete an action plan. This action plan sets out a number of actions for the student to complete. Some of these actions may be achievable in the short-term, whereas others may be more long term actions. Each student receives one mentoring visit, your tutor will not be back to see if you have achieved your actions. The number of actions that a student will have varies from student to student, generally depending on the flow of the conversation and the range of areas discussed. The action plan is reflected upon in the Portfolio, which tutors will discuss in more detail during a face-to-face class. However, it is important to note that the Portfolio is not something to cause additional stress or anxiety, it is an achievement of the student's work and growth throughout the LINC programme.
Finally, in the words of John Crosby "Mentoring is a brain to pick, an ear to listen, and a push in the right direction."