In this edition of the LINC Programme blog we examine six reasons why encouraging partnership with parents has a positive outcome for children, parents and the early years setting.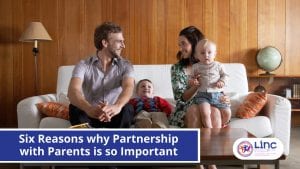 It is important for every early childhood teacher to acknowledge that parents play a critical role in children's education and that like teachers, parents have certain rights and responsibilities when it comes to the education of their child. Irish education policy and legislation, and early childhood policy all acknowledge the rights and responsibilities of the parent. Because of this, working with, or partnering with parents is central to the role of  early childhood teachers. There are six key reasons why working in partnership is so important:
1.) Legal/Legislative Reasons
In both national and international legally binding contexs, the rights and responsibilities of the parent to be involved in the child's education are recognised. Article 42.1 of the Irish Constitution identifies parents as the primary educators of the child when it states that : "The State acknowledges that the primary and natural educator of the child is the family and guarantees to respect the inalienable right and duty of parents to provide, according to their means, for the religious and moral, intellectual, physical and social education of their children." (2018, p.167) The United Nations Convention on the Rights of the Child also acknowledges that "parties shall respect the responsibilities, rights and duties of the parents…" (1989, p.3)
2.) Organisational Reasons
It is important for the early learning and care setting to adhere to guidelines outlined in Aistear and Síolta. Síolta states that "…encouraging partnership with parents and families should be seen as an integral component of quality provision…" (Centre for Early Childhood Development and Education (CECDE) 2006,p.33). In Aistear in the section on building relationships, it clearly states "increasingly, the early care and education of babies, toddlers and young children is shared among parents, families and practitioners. A partnership approach between these people is very important, especially at times of change in children's lives." (National Council for Curriculum and Assessment (NCCA) 2009, p.7)
3.) Professional Reasons
Every early childhood teacher is a professional and is committed to being be effective in their practice. Research has demonstrated that partnership with parents is one of the ways in which early childhood teachers can be more effective, as it enhances their knowledge of the child. Think about all the information that parents have in relation to their child, particularly when meeting a child for the first time or if the child has an additional need. Building positive relationships with parents is important in order to get a full picture of the child. Successful early childhood services such as Start Right and Starting Strong have identified high levels of parental involvement as a key reason why their practice is effective.
4.) Sociological Reasons
From a sociological perspective, parents are considered primary agents of socialisation. This means that because parents are the first human contact that a child has, they play the most important role in teaching their children in the first instance. Helping to develop a child's intellectual and emotional skills. A parent's role as an educator does not stop once the child is enrolled in an early learning and care setting. Working with parents is critical in developing consistency between the setting and home life. Patrikakou (2008) suggests that healthy partnerships mean better outcomes for children in the areas of higher cognitive and language skills and preparedness for school.
5.) Government Policy Reasons
The National Children's Strategy is one of the most important policy documents outlining our approach to early childhood care and education in Ireland. Partnership or collaboration is a theme that is consistent right throughout the document. It states that "measures should be taken in partnership, within and between relevant players be it State, the voluntary/ community sector and families; services for children should be delivered in a coordinated, coherent and effective manner…" (NCS 2000 p.10). Collaboration is also encouraged in the Diversity, Equality and Inclusion Charter where it states that "an inclusive culture involves: working in partnership and openly communicating with the child's family." (2016, p.4)
6.) The Needs of the Child
A partnership with parents is important because it meets the needs of the child. It provides a level of consistency between the home and learning environment. It respects the child's home environment, acknowledges the central role that parents play in children's lives and aligns with in the concept of the whole-child approach. Parental involvement with children from an early age has been found to equate to better outcomes for the child. A partnership helps early childhood teachers to tailor their service around the specific needs of the child in their care. Parents are experts on their children and through positive communication with the parent, the teacher can gather all sorts of information that would otherwise not have been available to them.
References:
Centre for Early Childhood Development and Education. (2006a). Síolta: The National Quality Framework for Early Childhood Education. Dublin: Centre for Early Childhood Development and Education, available: http://siolta.ie/media/pdfs/final_handbook.pdf, accessed 20 October 2019
Department of Children and Youth Affairs. (2016). Diversity, Equality and Inclusion Charter and Guidelines for Early Childhood Care and Education, Dublin: Department of Children and Youth Affairs, available: http://www.preschoolaccess.ie/wp content/uploads/2016/06/Diversity-Equality-and-Inclusion-Charter-and-Guidelines-for-Early-Childhood-Care-Education.pdf
Ireland. (2018) (1937). Bunreacht na hÉireann. Constitution of Ireland, Dublin: Government Publications Office, available: https://www.gov.ie/en/publication/d5bd8c-constitution-of-ireland/
National Council for Curriculum and Assessment (2009a). Aistear: The Early Childhood Curriculum Framework. Dublin: National Council for Curriculum and Assessment, available: https://www.ncca.ie/en/early-childhood/aistear,
Patrikakou, E.N. (2008). The Power of Parent Involvement: Evidence, Ideas, and Tools for Student Success, Chicago, IL: Centre on Innovation and Improvement at DePaul University.
United Nations. (1989). Convention on the Rights of the Child. New York, NY: United Nations, available: http://www.ohchr.org/EN/ProfessionalInterest/Pages/CRC.aspx, accessed 29 October 2019.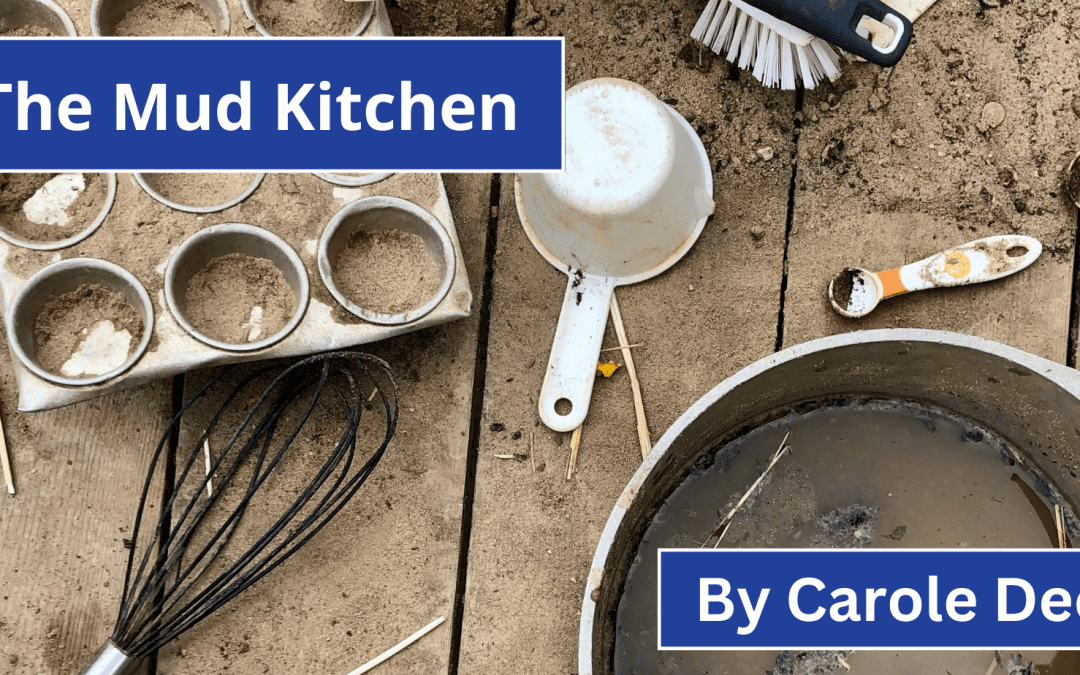 The Mud Kitchen In this edition of the LINC Blog, LINC Tutor Carole Dee describes how her Setting's Mud Kitchen encourages children's social and emotional development and provides endless opportunities for open ended, sensory play.The Mud Kitchen is without...
read more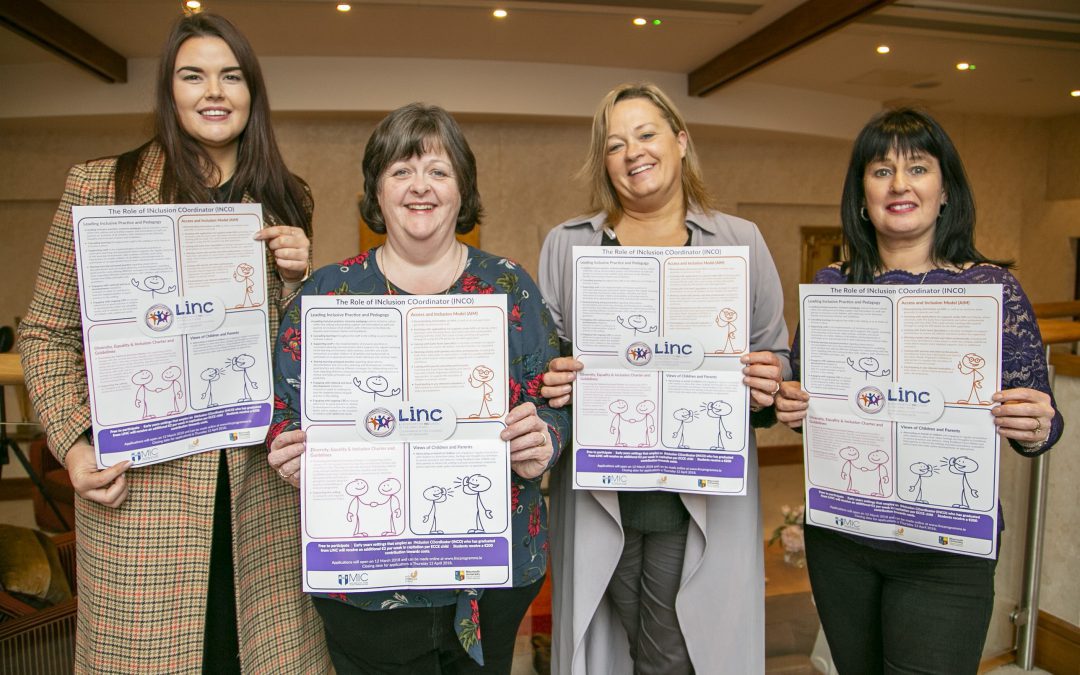 Minister O'Gorman commends the dedication of early years educators and encourages them to avail of the opportunity to apply for the award-winning LINC Programme.   630 places available nationwide as LINC Programme set to open for applications    The Leadership for...
read more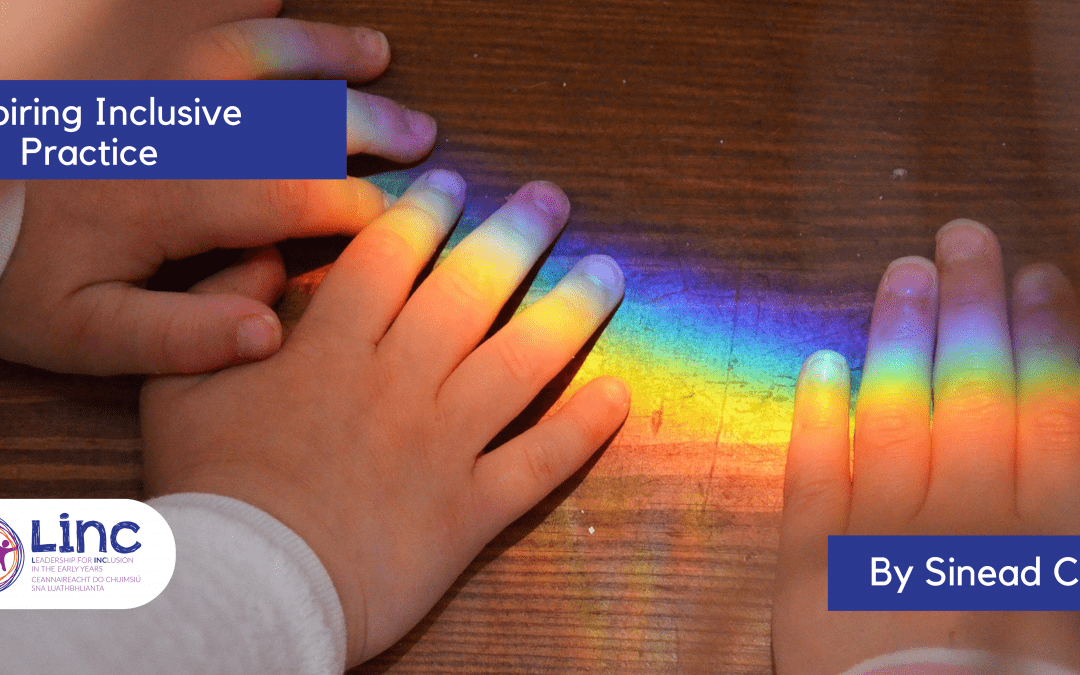 Inspiring Inclusive Practice In the edition of the LINC Blog, Inclusion Coordinator (INCO) Sinead Conran reflects on how her participation in the LINC+ CPD Programme and engagement in a Community of Practice with fellow INCO's has benefited her and her...
read more