In this week's LINC blog we examine the differences between process-focused art experiences and product-focused art experiences for children, and hear how one practitioner's personal experience has given her a greater appreciation of this approach to learning.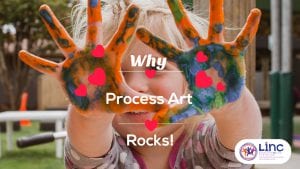 Process art is focusing on the process rather than the end product or outcome. It supports the unique expression of each child. They are able to take risks and to discover the materials freely, without a feeling of being right, wrong or being judged. It encourages the child to discuss their artwork, and by doing so is supporting the development of the communication and expression skills of the child.
Characteristics of process-focused art experiences
There are step-by-step instructions
There is no sample for children to follow
There is no right or wrong way for children to explore and create
The art is focused on the experience and exploration of techniques, tools, and materials
The art is unique and original
The experience is relaxing and calming
The art is entirely the children's own
The art experience is the child's choice
Ideas are not readily available online
What children might say
"Look what I have made!" "I'm going to do another!" " Can I have more time?"
One practitioner's personal experience with process versus product-led art.
I have always had the thought hanging over me that I am not good at art. I remember an early incident in school when I was about six or seven. We were arranging shapes in a certain way. My teacher loomed over me and I knew I didn't do my art the way she wanted me to. As I got older this continued. In my school, we had to put our paintings out in the hall to dry. I hated putting my name on mine – as that would mean people would know that mine was the really bad one. We participated in an activity where we each had to draw something small on a page. We passed this page around the table and added something onto each person's page. I felt I ruined everybody's page. Once we had to paint an alien. This was one of the few times I was happy with my art. No one could tell me my alien was wrong. After all who could claim to have seen an alien?
Having worked in childcare for years, I was beginning to see the benefit of process art. That the journey was way more important than the destination. This year, we have really taken on board guidelines from Aistear. We provide a variety and plentiful supply of mark-making materials and other art materials. The children are encouraged to explore these materials and use them in any way they want to. This has meant their imagination has thrived. I am amazed everyday by their creativity. This type of art would have suited me far better. There is no such thing as a bad piece of art. Everybody's art is unique.
No matter what capacity I work with children in the future, I will always ensure that they have the opportunity to engage in process art.
Characteristics of product-focused art experiences
Children have instructions to follow
The teacher creates a sample for children to copy
There's a right and a wrong way to proceed
There's a finished product in mind
The children's finished art all looks the same
The children experience frustration
 The teacher might "fix mistakes"
The whole class takes part in an art project at the same time
patterns and examples are readily available online
What children might say
"Can I be done now?" "Is this right?" "I can't do it." "Mine doesn't look like yours."
Bongiorno, L. (ND)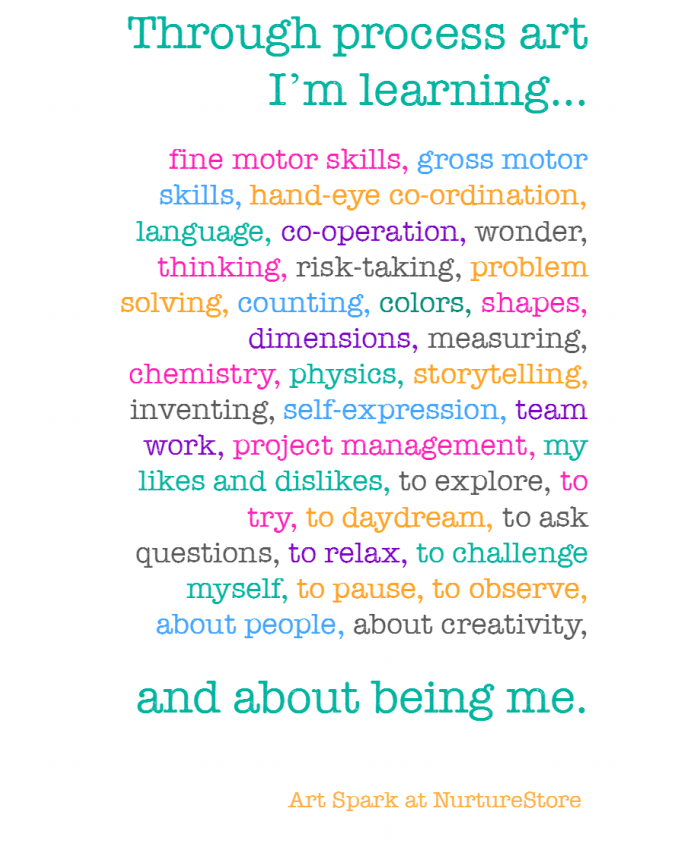 Note: The above letter was sent to the LINC by a graduate and setting manager who added that her employee had embraced some of the changes implemented in the setting since the completion of the programme.
'Her letter is a direct result of my implementation of process art which I was introduced to during the LINC module. It has completely changed this teacher's perception of, and involvement in, art in a early years learning environment. Before our engagement with process art this particular teacher refused to engage in art activities, always finding other things to do, now she is the main driving force in our "creation station." Thank you LINC!'
The LINC programme would like to express its sincere thanks to these early years teachers for sharing their experience with us. Applications for the programme open in March 2019, for more see www.lincprogramme.ie.
References
Process V's Product Led Art: Bongiorno, L. (ND) How Process Led Art Experiences Support Pre-schoolers. Available at:
https://www.uvu.edu/cac/docs/resoucenightnov2017.pdf. Accessed on 05.03.2018. [Accessed on14/03/2018].
Benefits of process art poster: https://nurturestore.co.uk/wp-content/uploads/2015/11/benefits-of-process-art.pdf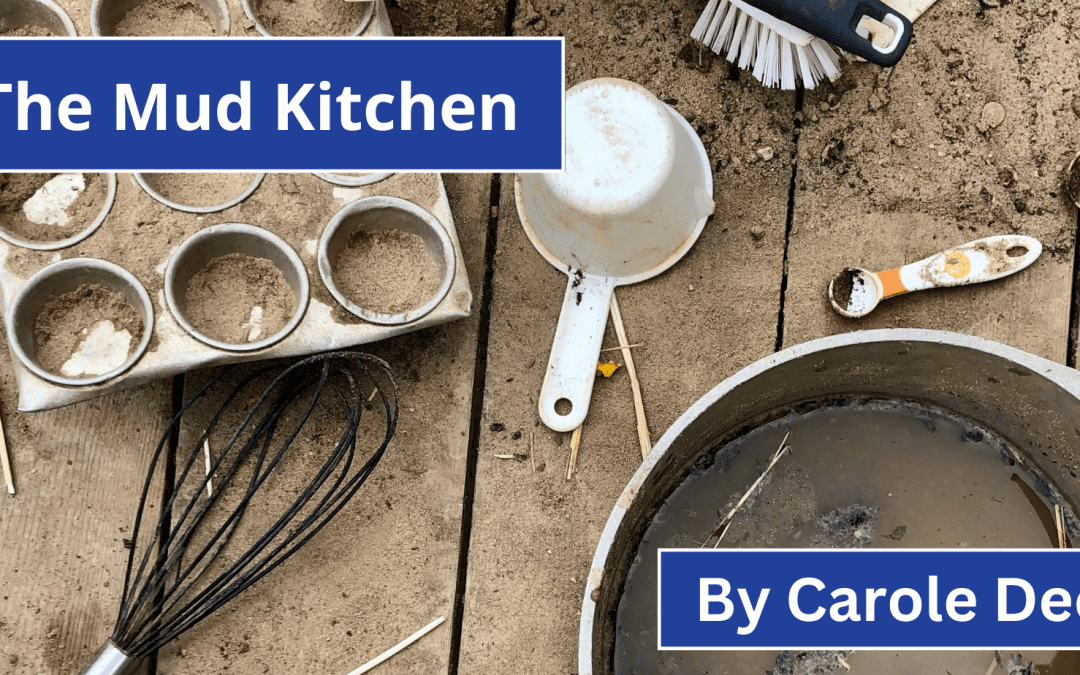 The Mud Kitchen In this edition of the LINC Blog, LINC Tutor Carole Dee describes how her Setting's Mud Kitchen encourages children's social and emotional development and provides endless opportunities for open ended, sensory play.The Mud Kitchen is without...
read more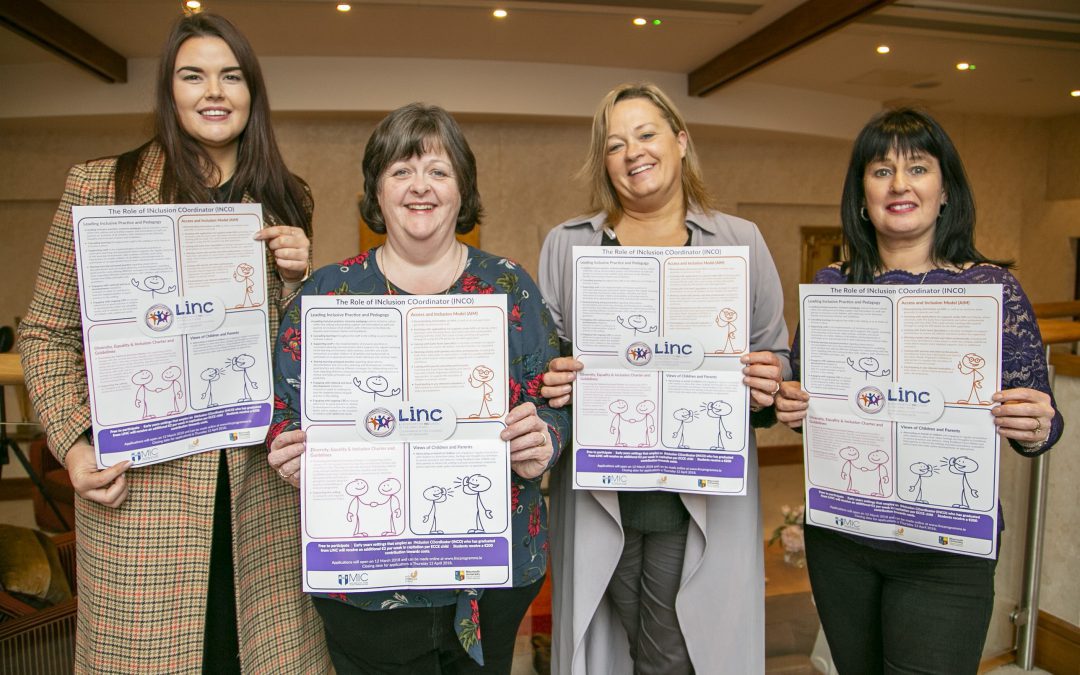 Minister O'Gorman commends the dedication of early years educators and encourages them to avail of the opportunity to apply for the award-winning LINC Programme.   630 places available nationwide as LINC Programme set to open for applications    The Leadership for...
read more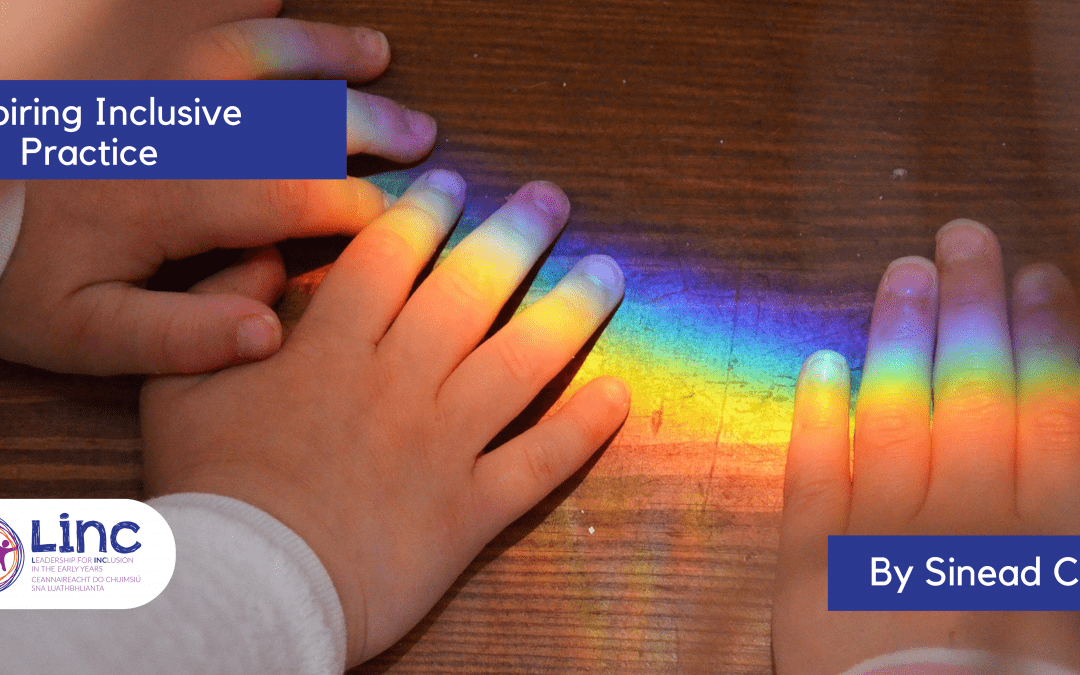 Inspiring Inclusive Practice In the edition of the LINC Blog, Inclusion Coordinator (INCO) Sinead Conran reflects on how her participation in the LINC+ CPD Programme and engagement in a Community of Practice with fellow INCO's has benefited her and her...
read more