Extra capitation for settings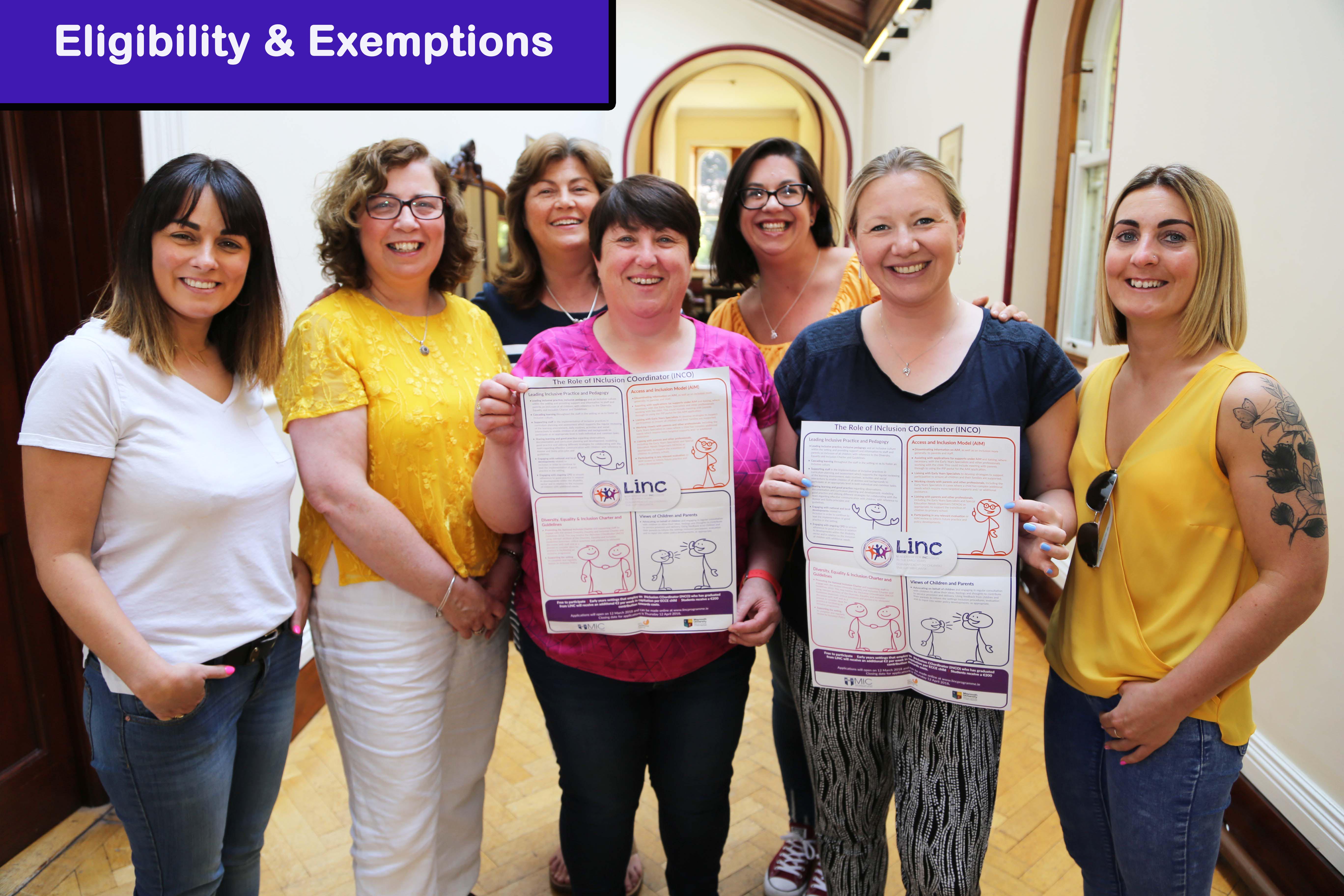 Only Applies to Special Purpose Award
Who can apply?
Any early learning and care setting with a pre-school room that is contracted for any DCEDIY Early Years Programme (ECCE/CCSP/TEC) can nominate an employee for LINC. The setting manager can nominate themselves or any member of the setting's staff.
To be eligible for the programme, candidates at a minimum must hold a major Level 5 Award in Childcare or a related qualification in accordance with the DCEDIY's Early Years Recognised Qualification Listing.
For LINC 2022/2023 settings that already have a LINC graduate working in their setting can nominate another employee from their settings to complete LINC this year, based on the criteria outlined below. Only one application allowed per eligible setting.
Random selection of eligible applicants will apply. Priority will be given to eligible applications in the following order:

1. Settings that do not currently employ a LINC graduate /INCO/Current LINC Student.

2. Settings that already employ a LINC graduate and have over 22 ECCE-aged children attending*.

3. All other settings.
*As registered with Pobal in September 2021.
Nominated a candidate last year?
Your setting may now apply again for a place on the LINC Programme. See 'who can apply' to the left.
If your setting had a LINC graduate, but that graduate is no longer employed by you, it is important that you let us know in writing immediately to linc@mic.ul.ie so that we can update your eligibility information. You will need to include the name of the graduate and when the INCO/Graduate left the setting.
If you applied for, but were not successful in gaining a place last year, you are eligible to apply again this year.
Exemptions
 Applicants with qualifications at an equivalent or higher level to the programme (Level 6 or above) may seek exemptions for two of the six modules: Child Development and Curriculum for Inclusion. These are the only two modules in the programme which are eligible for an exemption. When applying for exemptions from these modules, applicants must demonstrate that they have successfully met the learning outcomes for these two modules, and decisions will be made on a case by case basis.
Candidates can only apply for exemptions after they have been granted a place on the programme – further information will be made available to successful candidates.
If you have further questions around eligibility and exemptions please refer to the frequently asked questions section of this website.

You will need the following information in order to complete an application on behalf of your setting:
Setting details (Pobal reference number and contact information).
Candidate details (name; contact details, including personal email address and postal address; PPS number; date of birth, UL/Mary Immaculate College ID number if they attended either UL or MIC previously; highest qualification; and the last educational institute attended).
Full details of your candidate's relevant qualification at Level 5 or above (name of educational institute; year started and completed; qualification level; award title).
A copy (scan/photo) of your candidate's certificate.
Applications for the programme can only be made online through this website. In order to submit an application you will need to go to the apply now section. Once you click on "make an application" you will be asked to enter your username and create a password. Your username is your Pobal or DCEDIY reference number, your password can be anything you wish.
Subscribe to our newsletter to be notified about the opening of applications.
By signing up to this newsletter you will receive information about: Updates on progression routes and CPD courses.
Useful tips on best practices within early years' settings. News about conference and events that LINC maybe involved with. Stories about LINC graduates working within the field.
Early Years Sector news and policy updates.
You can change your mind at any time by clicking the unsubscribe link in the footer of any email you receive from us, or by contacting us at linc@mic.ul.ie. We will treat your information with respect. For more information about our privacy practices see our Privacy and Cookies Statement.
By clicking on the "Subscribe" button opposite you are giving your consent to the LINC Programme to send you its newsletter.