I was lucky enough to teach 4-5 year olds for over ten years. Among my favourite moments each week was teaching a nursery rhyme.  During initial teacher education, one of my heroes was Friedrich Froebel (1782-1852), often referred to as the 'Father of Kindergarten' and I remember being particularly struck by his beautifully illustrated 'Mother's Songs, Games and Stories', published in 1888 and available now at https://archive.org/details/motherssongsgame00fruoft/page/n3/mode/2up You will see many of the rhymes that even today we are familiar with,  and the music accompanying these rhymes can be listened to at  http://www.froebelfoundation.org/musicff.html
Research in early childhood education has since confirmed that Friedrich Froebel was indeed on the right track when he suggested that playing with sounds in language has significant benefits for children's learning and development, and nursery rhymes are one of the best and most fun ways we can do this. Among the benefits of nursery rhymes for young children are:
·    Nursery rhymes are 'mini' stories and are a great way to begin to foster children's engagement with storytelling.
·    Nursery rhymes support children's receptive and expressive language development.
·    Through nursery rhymes, children become familiar with the sounds and rhythmic patterns in spoken language, referred to as phonological awareness, which is an       essential precursor for later formal reading.
·    Nursery rhymes can reinforce mathematical concepts such number, shape and space in fun and enjoyable contexts.
·    Children's imagination and creativity are nurtured as they engage with the myriad of characters and scenarios in nursery rhymes.
·    Nursery rhymes, through suggesting actions, physical movement and dance, promote children's fine and gross motor development.
·    Nursery rhymes create an opportunity for children to participate in enjoyable interactive and social contexts with adults and with each other.
·    Creative expression through Art and Drama is nurtured as children often spontaneously draw/paint/sculpt images suggested by the rhyme and/or naturally                   become the characters in the rhyme.
Most importantly, we know that children enjoy singing, reciting and playing with, and through nursery rhymes, and we know that learning and development flourishes when we are happy and having fun!
Think about your favourite nursery rhyme, how you can still recite it with all those accompanying actions and how much fun it still is!
Mine is 'Twinkle, Twinkle Little Star'!
Now have a listen to children reciting their favourite nursery rhymes for all of us!
Narrated by Chloe age 4
Produced by Dermot Comerford
Music by The Green Orbs
Narrated by Tom age 5
Produced by Dermot Comerford
Music by The Green Orbs
Narrated by Lauren age 8
Produced by Dermot Comerford
Music by The Green Orbs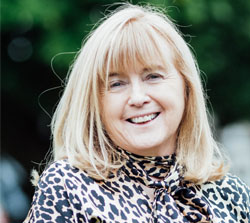 Emer Ring
Dean of Early Childhood and Teacher Education at Mary Immaculate College
Prof. Emer Ring , B.Ed., LLB., M.Ed. (Special Education). M.Ed. (Autism); Ph.D.is the Dean of Early Childhood and Teacher Education at MIC Limerick, she is also the former Head of the Department of Reflective Pedagogy and Early Childhood Studies at the college. Emer previously worked as a mainstream class teacher, a learning support teacher, a resource teacher at primary school level and a senior inspector with the Department of Education and Skills. In particular Emer's teaching experience was in the area of early years and special education. Emer is Course Leader for the Bachelor of Arts in Early Childhood Care and Education programme (BAECCE) at Mary Immaculate College (MIC), Limerick. Emer lectures on the BAECCE and the Bachelor of Education (B.Ed.) programmes and also supervises students' research at undergraduate, Master's and Ph.D. levels. Emer is consultant placement supervisor for students during practicum experiences. The BAECCE and B.Ed. programmes at MIC are strongly influenced by progressive movements in early years education internationally and continue to develop student-exchange programmes with a range of institutions including, Queen Maud University, Trondheim, Norway, Citta di Castello in Italy and Gannon University, Pennsylvania, United States. Emer has recently been joint principal investigator in two national research projects: An Evaluation of Concepts of School Readiness among Parents and Early Years Educators in Ireland, commissioned by the Department of Children and Youth Affairs and An Evaluation of Educational Provision for Students with Autistic Spectrum Disorder in the Republic of Ireland, commissioned by the National Council for Special Education.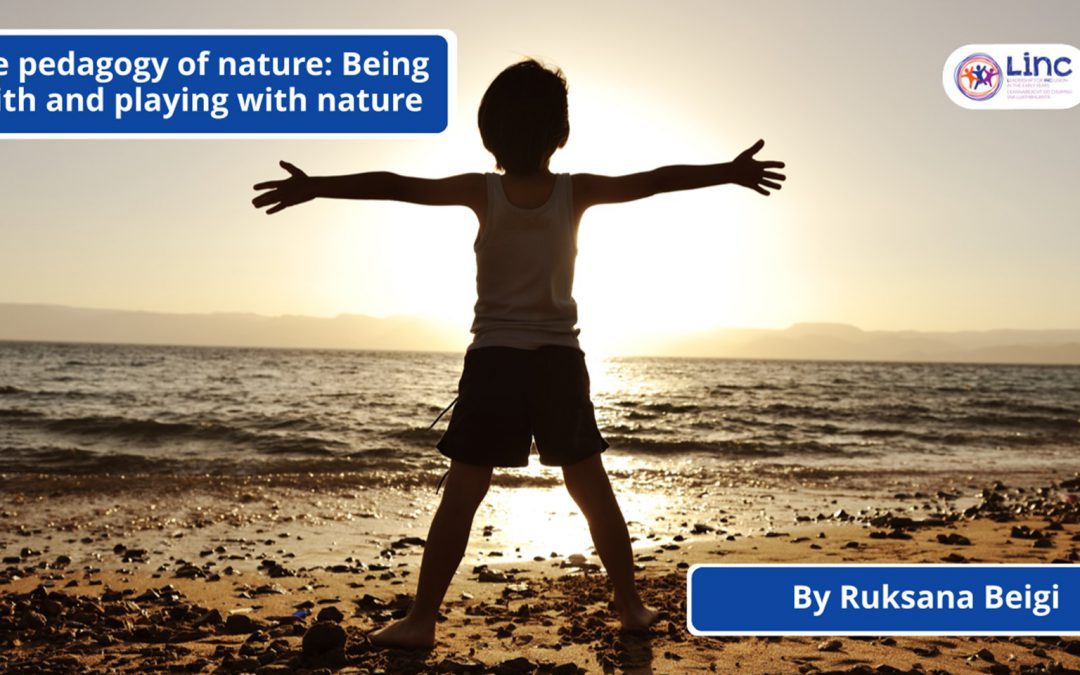 The pedagogy of nature: Being with and playing with nature In this edition of the LINC Blog, Ruksana Beigi, Senior Lecturer in the University of East london, highlights the difference between using the term "outdoors" and adopting a pedagogy of nature and how...
read more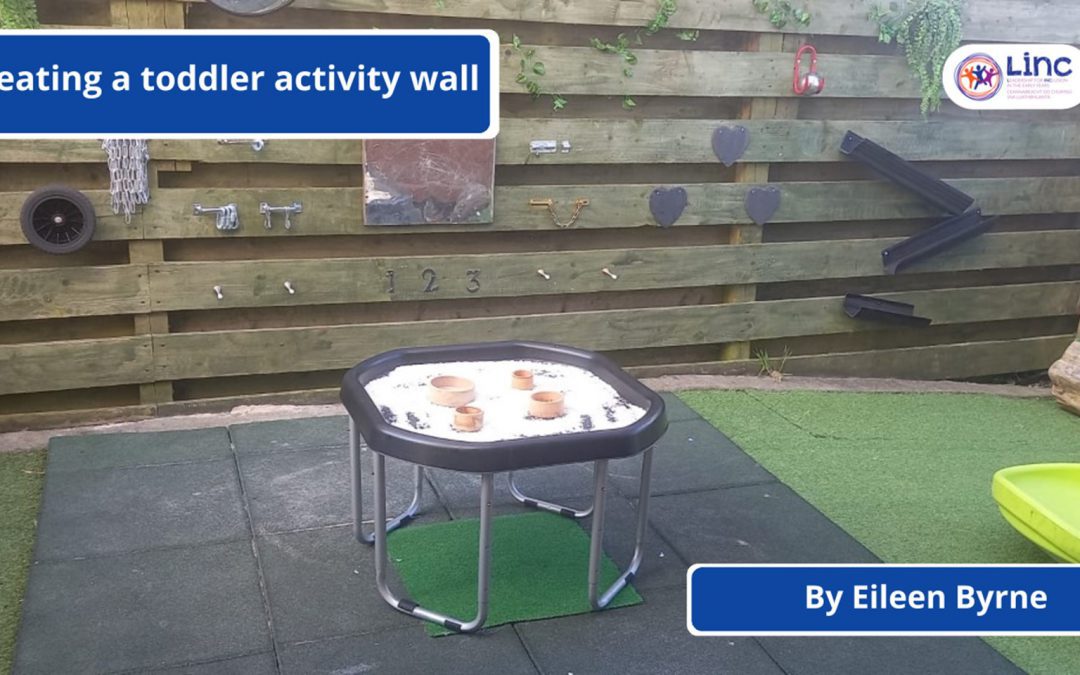 Creating a toddler activity wall In this edition of the LINC Blog, LINC+ participant and Inclusion Coordinator Puddle Lane Crèche Eileen Byrne, describes how an unused area of the garden was transformed using some day-to-day items into a space for playful...
read more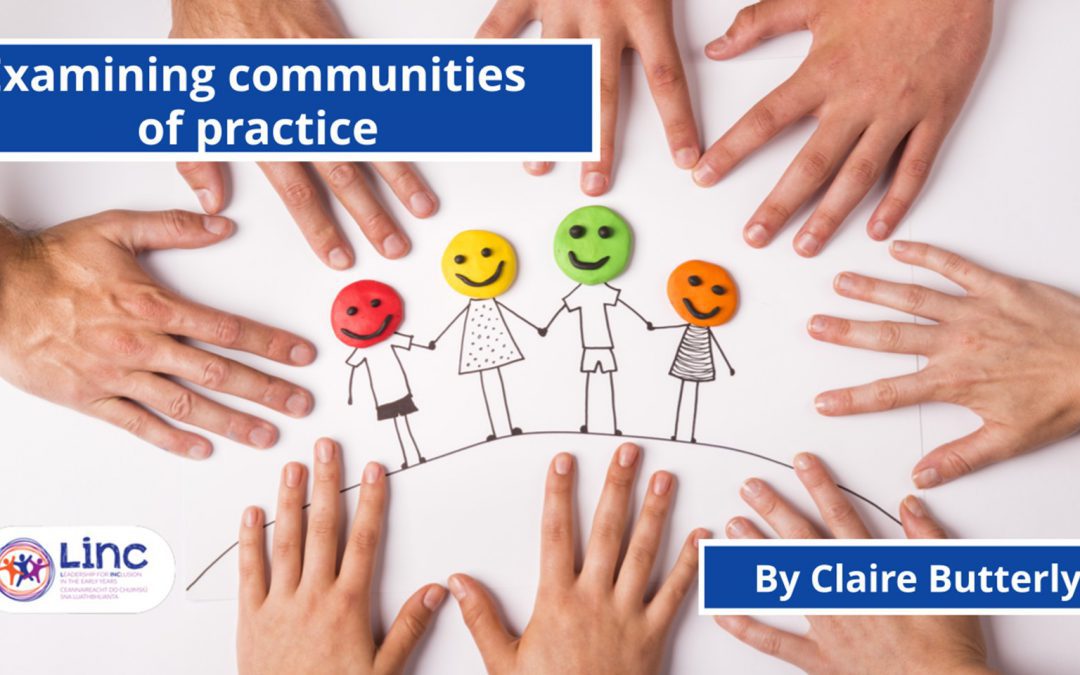 Examining Communities of Practice In this edition of the LINC Blog, LINC+ Tutor Claire Butterly examines the reasons for, and benefits of communities of practice as the first package of the LINC+ Programme Communities of Practice in Early Learning and Care is...
read more