In this week's blog, Ann Keating O'Neill, Owner/Manager of Shining Stars Preschool Lisronagh, Co. Tipperary and LINC graduate, describes how she manages the two major transitions for children in her setting.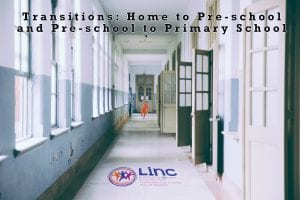 I have always put a lot of thought into the importance of transitions for children during my years as an early years' educator. One of the most important transitions for me has always been the transition from home to pre-school.
During my LINC training this year, I had a lot of time to reflect on our transition policy to ensure it was inclusive of the needs of all children. Every year we have an open morning, where we invite parents and their children to come and meet with the teachers and to become familiar with our pre-school room. We usually end up with both parents and all their children attending, and it is nice for the children's older siblings to know what their brother or sister's class looks like.
That morning the children are free to use all the resources within the classroom and they naturally gravitate towards their own area of interest. This could be animals, cars, dinosaurs, the creative area, construction area, puzzles etc; or just sitting on a chair observing the other children at play. It affords us the opportunity as teachers to get to know each of the children a little that day through interactions and observations. It gives parents time to meet us and to discuss any specific needs that their child may have, or any concerns they may have around their child's transition to pre-school. After all, this is the first step on their educational journey. We have several handouts to assist them such as:
Our school brochure detailing our curriculum statement
Our ethos and information about our setting
Our personalised brochure on AIM which I put together as part of my LINC training this year
Aistear Curriculum Framework parental handout and other literature
Having their child start pre-school whether it is their first or last child, is a huge transition and major step for parents too. They need reassurance that we will do everything to ensure that their child is safe and happy and fully included in all aspects of their learning environment.
A child profile form is given to parents prior to the start of the school year to enable us to gather important information on each child. This includes information on: their family circle, their favourite toys, colours, food, areas of interest and any areas of difficulty they may have. Health and vaccination details are also included.  This form enables us to plan out our resources in the classroom at the beginning of the year before the children first arrive at pre-school. It gives us time to put strategies in place to ensure an inclusive classroom environment for settling in and getting to know each other.  It also allows us to put in place resources planned around the children's interests from their profiles.
On our first day this year, we met and greeted all the children and then their parents. Immediately we had a strategy in place to distract them from their parents leaving, and it worked. The children hung up lunch boxes under their name stars and we engaged with them, asking if they had seen our wobble bikes outside and to leave on their coats as we were going cycling. We further distracted them by helping them to put on their green cycling helmets. We had one or two children in the following few days who were slightly unsettled at first, but the "magic wave/funny face" strategy where the parents make funny faces in the window as they leave worked a treat. By week two the children ran in and went straight to greet their friends.
Studying on the LINC programme this year has made me further reflect on how we can ensure that all children are enabled to feel secure, happy and content in our pre-school room. To support this we have added a visual schedule for the children to learn the sequence of our day. It allows us to change the pictures around for the children to see what activity is happening on any given day. We incorporate lots of outdoor play, which varies from day to day with different activities. Eithne, our personal trainer, comes on a Tuesday and the children take part in a "fit kids programme". This is one of the children's favourite physical activities along with riding on the wobble bikes.
We have reduced our daily transitions down to the bare minimum and this works so well for all the children.  We have arrival, free play outdoors, hand wash/lunch, free play indoors (this includes the option of small group/story-time), then it's home time. We sing when we need to let the children know that a transition will soon be happening to give them a few minutes to finish an activity. We also have a timer that we use for activities that take a longer period to finish. This gives the children plenty of notice that the activity is about to end.
Our theme for our first month is "I am special, because I am me". We are continuously observing the children, ensuring they are happy, settling in and making friends. We are also planning additional resources around their interests. While studying on the LINC programme, I added a lot of new books to our library to reflect difference and promote inclusion and diversity. The children have begun to make new friends and have shown great interest in animals and small-world resources. There are fun times ahead as we enjoy our year of "learning through play while having fun."
Transition to primary school
Earlier this year we put in place a new transition policy for the parents of children transitioning to primary school. As part of this policy we send a monthly newsletter, and it has proven to be a great way to develop a strong partnership with parents. At the beginning of the year we began to include information in the newsletter on important things that parents should know for the transition to be a smooth one, especially for each child i.e. we never use the words "leaving or going" we say, "moving to big school". We are very lucky that our preschool is on the grounds of our local national school. The school Principal drops in throughout the year and all the children are very familiar with her being in the classroom. The children had two occasions where they visited the school during the year and they got to meet with their new teacher.
We put together a transition form, where we asked parents to get their child's permission for their information to be passed on to the school. The parents were then asked to use the child's section of the form to have their child's voice heard on things such as: what it was they were looking forward to in "big school" like any worries they had, their favourite activities, likes and dislikes, friends etc.  There was also a section where parents were asked to answer similar questions on any aspirations/worries they may have and return the form to us. The final section was for the early childhood teachers to input information about each child's strengths, abilities, special areas of interest, their dispositions, friends and any concerns/wishes they had regarding this transition. We also included any strategies which we had used throughout the year.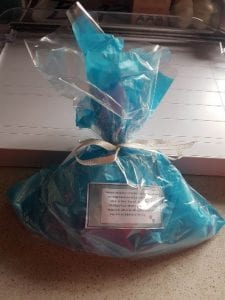 The primary school teacher visited on our last week in preschool and she chatted to each of the children while they were at play and the interactions were very natural. I gave the teacher a folder that included each child's transition form and this enabled her to plan for the needs of every child in her class, for their first day in school and the year ahead.
We had our graduation day in June. Each of the 13 children sang their chosen songs and danced to their favourite tumble tots action songs for their parents. This was how they chose to celebrate their transition. It was our best graduation to date as it was fully child-led and such fun. On our last day as the children said 'Slán' it was a day of mixed emotions for us staff and parents. For the children however, it was a very easy day they were prepared to move to "big school."
The final part of our transition programme was to send a pack with two "thinking of you" bands in the post with a note to each child. One band to be worn by them and one by Mum and Dad, who could share them.  These packs were well received by both the children and their parents and it is something which we will continue to do in the future. It is nice to hear your name being called each morning as the children pass, to see them run in the primary school door and to know that they are happy and settled. Job done.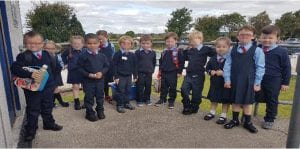 The LINC programme would like to express its sincere thanks to Ann for sharing her experience with us. Applications for the programme open in March 2019, for more see www.lincprogramme.ie.