Aims & Objectives
The programme is designed to equip participants to be Inclusion Coordinators within their settings, and has a variety of aims and learning outcomes to meet this requirement.
Structure
Comprised of 6 modules over a full year (Sept-June), the full programme contains 60 credits and is a level 6 special purpose award. In addition, a Barnardos reference book is provided.
Learning Approach
Using a blended learning methodology, each module has a classroom-based day plus up to 6 weeks of online units comprised of lectures, activities and weekly chat tutorials.
Further Education
There are a range of options for further training & education and students can be facilitated with entry onto other programmes at MIC or MU.
Programme Overview
The  Leadership for INClusion in the Early Years programme, LINC, is a Level 6 Special Purpose Award (Higher Education), to enable early years educators to perform the role of Inclusion Coordinator. The development of the programme is part of a government response to local, national and international demands for high quality education and training leading towards graduate pathways in the combined field of early childhood care and education (ECCE). The programme seeks to address the need for continuing professional development (CPD) in relation to the inclusion of children with additional needs.
LINC Aims
To equip participants with the knowledge, understanding, skills and competencies to support the participation of children with additional needs in early years settings.
To prepare participants to adopt a leadership role within early years settings that enables them to support and supervise other staff in the setting to plan for, implement and review inclusive practice.
To support participants to develop their professional knowledge, understanding, skills and competencies in relation to the inter-related areas, which comprise the programme modules, with a particular focus on embedding inclusive practice in Aistear – The Early Childhood Curriculum Framework and Síolta, the National Quality Framework. 
To provide on-going support in ICT and study skills for participants throughout their time on the programme.
LEARNING OUTCOMES
On successful completion of this programme participants will be able to:
Knowledge – Breadth and Kind
Actively engage in creating, understanding, connecting and critically reflecting on knowledge for, knowledge in and knowledge of supporting children with additional needs in an ECCE programme setting.
Identify the theory, key concepts, policy and legislation and pedagogical practice pertaining to including children with additional needs in an ECCE programme setting.
Demonstrate competency upon completion of the programme in offering instructional, management and administrative leadership in their professional settings, through practice and advocacy towards social change.
Know-how and Skills – Range and Selectivity
Facilitate critical engagement with early years' curricula, pedagogy and assessment in including children with additional needs in an ECCE programme setting.
Design and implement early learning programmes for children with additional needs that effectively link theory to practice while meeting and assessing children's diverse learning needs through on-going critical reflection.
Demonstrate proficiency in communication skills and the use of ICT for teaching and analytical purposes.
Competence – Context and Role
Display professional and ethical practice in keeping with current legislation.
Demonstrate an indepth understanding of professional identity in leading and co-ordinating the inclusion of children with additional needs in an ECCE programme setting.
Competence – Learning to Learn
Adopt an on-going, proactive role in managing personal and professional learning needs related to including children with additional needs in an ECCE programme setting.
Engage with opportunities to learn through a variety of delivery methods and to reflect on practice in a structured manner within early years educators' own professional settings.
Demonstrate critical awareness of different and diverse perspectives through participation in synchronous/asynchronous online activities and discussions at all levels which foster autonomous and collaborative learning.
Integrate and apply the latest technology into early years' practice and curriculum development while challenging themselves to try new technologies through engagement with authentic tasks introduced through the blended learning programme.
Competence – Insight
Collaborate with colleagues, parents, other professionals and communities to forge strong teamwork alliances on behalf of children with additional needs in an ECCE programme setting.
Assess the importance of research in solving issues and concerns in including children with additional needs in an ECCE programme setting.
Develop a personal philosophy and understanding of practices that will facilitate early years' educators in becoming leaders and advocates for the inclusion of children with additional needs in an ECCE programme setting.
Programme Structure
The programme comprises 6 modules which will be delivered over 3 semesters (autumn, spring and summer). Based on the blended learning model, each module will involve online learning plus one Saturday classroom session. The table provides a summary of module titles, their associated European credit transfers (ECTS) and the semester in which they will be delivered.
A mentoring visit to participants' ECCE settings will also be provided to support learners' professional learning in leading the inclusion of children with additional needs in the early years.
A range of assessment techniques will be employed, including coursework; quizzes; reflective diaries and development of materials related to specific modules. Assessments will focus very specifically on supporting learners in linking their practical knowledge of working in ECCE settings to the module content.
Course Reference Book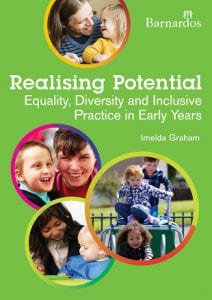 Each student on the programme will receive a free copy of Realising Potential, a unique publication by Barnardos.  Realising Potential: Equality, Diversity and Inclusive Practice in Early Years seeks to challenge, to inform and to support early years educators in addressing equality, diversity and inclusion issues. Through this book, which supports the Diversity, Equality and Inclusion Charter and Guidelines for Early Childhood Care and Education, current policy and the national frameworks, educators will find support and tools to develop high quality inclusive practices that will endure in the lives of the children with whom they work. Additional copies can be purchased online on the Barnardos Website.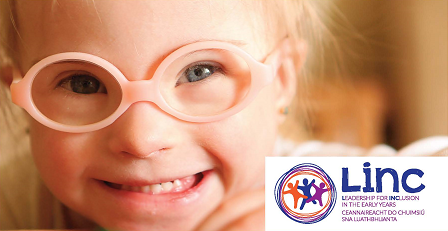 | | | |
| --- | --- | --- |
| Module Title (credits) | Semester | Module Outline |
| Inclusion in Early Years Settings: Concepts and Strategies (12 ECTS) | Autumn | View |
| Child Development (6 ECTS) | Autumn | View |
| Promoting Collaborative Practice for Inclusion in Early Childhood Care and Education (12 ECTS) | Spring | View |
| Curriculum for Inclusion (6 ECTS) | Spring | View |
| Leadership for Inclusion (12 ECTS) | Summer | View |
| Portfolio Module (12 ECTS) | Summer | View |
Classroom Sessions (Saturdays)

17%

Synchronous Online Learning (Online Chat Tutorials)

8%

Asynchronous Online Learning (Online Lectures & Activities)

75%
My experience with the LINC programme has been very positive and enjoyable. I have found the online learning system very easy to use. The course content has been very interesting and quite manageable in my busy lifestyle, and has brought lots of new ideas to improve inclusion in my service. By training as an Inclusion Co-Ordinator I have also added to the quality of my service for families to benefit from in the future. Yvonne O'Keeffe
The programme is based on a blended model of delivery (i.e. online learning and classroom sessions), addressing the flexible learning requirements of the ECCE sector. As the majority of study/collaboration will take place online, each participant will only attend classroom sessions on 7 Saturdays over the year: Each of the six modules will have a one-day classroom sessions plus a mandatory programme orientation day, which will provide participants with an overview of the programme and allow for the setup of relevant IT accounts.
Classroom sessions will run from 10 am to 4 pm and will be held in the following 11 locations: Donegal; Dublin City; Dublin South; Dublin West; Galway; Louth; North Wexford; Offaly; West Cork; Sligo and Tipperary.
Participants will participate in synchronous/asynchronous online activities and discussions, which foster autonomous and collaborative learning:
The main online learning is asynchronous online learning. This is designed to enable participants to log onto the e-learning platform at any time that suits them, in a flexible manner that takes account of their work, family and other commitments. This learning will include online lectures and learning activities which students should complete each week at a time that suits them.
There will also be synchronous online learning involving participation in weekly online chats which will require students and tutors to be online at the same time. This element of learning enables participants to engage in discussions, ask questions and seek clarification in real time. The tutorials will be scheduled on Tuesday or Wednesday evenings each week and participants will be allocated one time for the duration of the programme.  There will be some flexibility in the allocation of these sessions.
In total, it is estimated that students will take 8-10 hours per week to complete a module. You can find a detailed programme calendar for the 2018/19 Academic Year by clicking on the following link: LINC Calendar 2018/19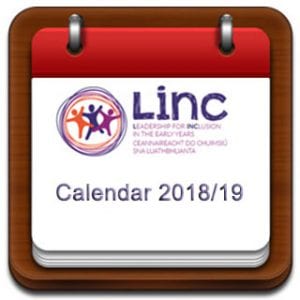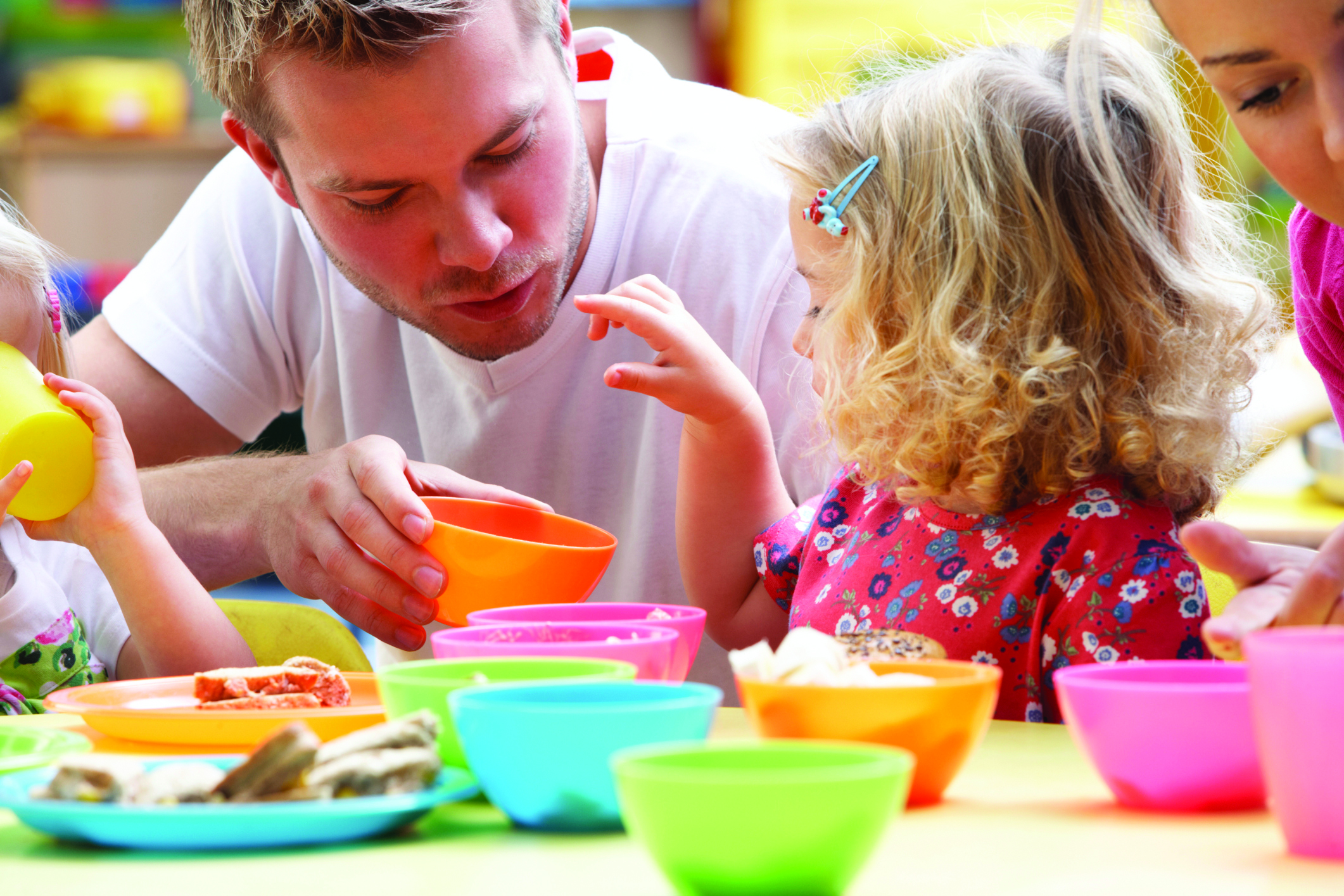 FURTHER TRAINING AND EDUCATION
Early Childhood Ireland, Mary Immaculate College (MIC) and Maynooth University (MU) are actively committed to research in the area of early years education and special education. MIC and MU-Froebel Dept. are in a position to facilitate students to progress on the National Framework of Qualifications (NFQ) through entry into higher education early childhood care and education (ECCE) programmes at Levels 7 and 8 on the NFQ.